Tim Howard, Brad Guzan to rotate at goalkeeper, says Jurgen Klinsmann
HARRISON, N.J. -- After sitting behind Brad Guzan in his first three games back with the U.S. team following a year-long hiatus from international play, Tim Howard will get another crack at being the Americans' first-choice goalkeeper.
Howard, who made a World Cup-record 15 saves in the U.S.'s second round loss to Belgium at last year's World Cup in Brazil, stepped away from the team after the tournament in order to spend more time with his two children. He backed up Guzan in friendly games against Peru and Brazil last month and in Saturdays 3-2 CONCACAF Cup loss to Mexico.
But he was back between the posts in his home state for the Yanks' 1-0 friendly loss to Costa Rica on Tuesday. Afterward, U.S. coach Jurgen Klinsmann declared the keeper competition wide open once again.

United States

Costa Rica
Game Details
"Going forward they will probably rotate," Klinsmann said of Guzan and Howard. "We have two exceptional, international caliber goalkeepers and we need both of them on board. That's what I told them."
The 36-year-old Howard, who plays for Everton in the Premier League, looked as sharp as ever in his comeback game, making several aggressive saves -- including a late one-on-one chance that kept the Ticos from adding a second goal.
"I'd like to play every game," Howard said. "Brad would like to play every game. I think the reality is we have two good goalkeepers. I would like to get my fair shot. There's no problem. Brad and I compete well, we get along well. I'm there for him, he's there for me. Nothing changes."
Klinsmann said that having two top-end keepers in his player pool -- Guzan, 31, starts for Aston Villa -- forces him to make difficult decisions. But given the lack of depth elsewhere on the field of the U.S., it has to be considered a high-quality problem.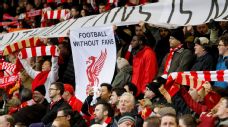 "For us coaches, it's extremely important to have both of them," Klinsmann said.
"I cannot afford to lose one of them because he's not playing his games or he gets frustrated. They are two outstanding characters. They are givers, both of them. They respect each other. They help each other. Whoever is in the backup role pushes the one that starts and so on. So our job is to keep both with us for the upcoming years."