Hungary have nothing to lose at Euro 2016 after unexpected qualification
Hungary haven't qualified for a major tournament for three long decades, and it looked like they would need some help from above if they were to end that barren run. According to the TV commentator Istvan Hajdu, that is exactly what happened on Thursday in the first leg of Euro 2016 qualifying playoff against Norway in Oslo.
With three minutes remaining and Hungary leading 1-0, Norway midfielder Stefan Johansen's shot hit the bar. The ball came to Pal Andre Helland who had an empty goal at his mercy, but his header came off the very same spot on the bar, before the visitors somehow managed to clear the danger.
"Well, it could have been pushed over by Marton Fulop, because it was a help from heaven," Hajdu remarked. Earlier that day it had been announced that Fulop, the former Tottenham, Sunderland, Leicester and Manchester City goalkeeper who had 24 caps for the national team, had died of cancer at the age of 32. The win was dedicated to his memory.
Some unexpected success stories during the qualifiers were down to brilliant long-term planning -- especially that of Iceland, whose first ever participation at a European Championship is richly deserved. Hungary's story is completely different. At times it looked as if there was no planning at all. They had three different coaches over the course of the campaign, and very few fans actually believed they could make it through, even though UEFA enlarged the tournament to 24 teams.
Hungary

Norway
Game Details
There was little to no progress in Hungarian football in recent years. The 2014 World Cup qualifiers ended with a humiliating 8-1 defeat to Netherlands, which led to the immediate resignation of coach Sandor Egervari, who called the performance "miserable." Attila Pinter replaced him at the end of 2013, but he was fired after his very first competitive game as Hungary conceded two late goals and succumbed to a 2-1 loss to Northern Ireland in Budapest at the beginning of Euro 2016 qualifying. That was a desperate start in what appeared to be a relatively comfortable group, and the FA didn't really know what to do.
That is when they turned to Pal Dardai, a former Hungary international midfielder who worked as youth trainer at Hertha Berlin, having played for the German club for 14 years before retiring in 2011. Initially, Dardai was supposed to stay until the end of 2014 only, but he managed to take seven points from his first three games, and was asked to stay until the end of the qualifiers. The problem was that Hertha took notice. In February, Dardai was named interim coach at his club as well, following Jos Luhukay's dismissal.
The 39-year-old proved to be the real deal at Hertha, saving them from relegation, and he was rewarded with a long-term contract on one condition -- he had to stop coaching Hungary. That demand went against provisional agreements, but the Hungarian FA decided not to make a fuss. Instead, they named little-known German coach Bernd Storck as another interim replacement until the end of the qualifiers.
Storck is quite a curious case. The 52-year-old worked as Jurgen Rober's assistant for many years at Hertha, Wolfsburg, Partizan Belgrade and Borussia Dortmund. Rober is the man responsible for bringing Hertha back to the Bundesliga in 1997, and Storck was instrumental in signing Dardai for that team and improving his skills. Eighteen years on, it was Dardai who advised the Hungarian FA to sign Storck as its new sporting director in February.
The cooperation flourished, and the German was put in charge of the under-20 team for the World Cup in New Zealand in June, where the Hungarians qualified for the last 16, even though they only won against North Korea and finished third in their group. Apparently, Storck specialises in finishing third. That is what he accomplished in Euro 2016 qualifying as well, even though there was a chance of overtaking neighbours Romania to claim the runners-up spot. The crucial game was the big regional "derby" in September in Budapest, but it turned out to be a dull goalless affair.
Overall, Hungary were indeed quite boring in the dullest qualifying group. Only 13 goals were scored at both ends in their first nine fixtures, before the bizarre 4-3 thriller in Athens on the last matchday made the average look much more attractive. They were organised at the back, but lacked flair up front, and Storck made a curious attempt to change that ahead of the playoffs.
In came the so-called Hungarian Paul Scholes, the red-headed youngster Laszlo Kleinheisler, who hasn't played football at all this season after refusing to sign a contract extension with his club, Videoton. Kleinheisler made a positive impression last term at Puskas Academia, established as Videoton's youth team by prime minister Viktor Orban in his home town of Felcsut. Orban regularly visits Puskas Akademia's home games, as they are strangely allowed to play in the first division, and -- according to reports -- the industrious Kleinheisler became his favourite player.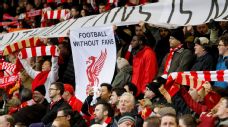 Whether that had anything to do with Storck's decision to give the inexperienced 21-year-old -- with no match practice -- his national team debut in Hungary's most important game of this century so far is unclear, but the gamble paid off handsomely. Kleinheisler was the best player on the pitch in Oslo, and he scored the only goal, albeit thanks to Orjan Nyland's mistake between the posts.
Fans were especially jubilant, because the result was hugely unexpected. "We could have qualified as the best third-placed team, but in the end other results went against us, and people felt desperate. Many supporters thought that we will lose in the playoffs, regardless of the draw. The whole campaign was an emotional rollercoaster, and we looked hopeless at times," Matyas Szeli of Nemzeti Sport said.
It was easy to understand the pessimism. Hungary had failed to qualify for every tournament since the 1986 World Cup. When fortunate enough to reach the playoffs ahead of France 1998, they were thrashed 12-1 on aggregate by Yugoslavia, with no fewer than seven of the goals coming from Predrag Mijatovic. Their performances under pressure were usually poor, and the squad is lacking a world-class player. Yet after Kleinheisler became the unlikely hero in Oslo -- with the late Fulop helping "from heaven" -- the whole attitude has changed completely. Suddenly, it felt like Hungary's qualification was written in the stars.
It became possible because all the players played their hearts out. Gabor Kiraly, the 39-year-old veteran goalkeeper in his famous grey trousers, was absolutely brilliant. Balazs Dzsudzsak -- once such a promising rising star at PSV Eindhoven before his career went so desperately wrong in Russia -- rolled back the years, fought for every ball and was the true captain. Adam Lang, at just 22, was extremely confident in central defence, and it's worth noting that Hungary only conceded once in the four games with him in the starting lineup.
The list can be continued, and we should certainly not forget Tamas Priskin. The former Watford and Ipswich journeyman, whose career took him to such unlikely destinations as the Russian second division and Israel, is plying his trade for Slovan Bratislava nowadays. Having only started in one game during the qualifiers, he was surprisingly chosen by Storck in the return leg against Norway on Sunday, and scored an absolutely stunning individual goal on the counter to put Hungary in front after just 14 minutes. That's when 22,000 fans who filled the modern Groupama Arena understood that it is going to be their day, and the qualification was duly assured in a 2-1 win.
Obviously that doesn't mean that Hungary are now bound to become world beaters. They will most probably have the weakest and least experienced squad at Euro 2016, and finishing as one of the best third-placed teams in their group is the most they can realistically dream of. Hungary legends Ferenc Puskas, Sandor Kocsis, Nandor Hidegkuti, Zoltan Czibor, Jozsef Bozsik and Gyula Grosics would probably have won against the current team in a six-against-11 game. And yet it is their time to celebrate, and their newly found spirit shouldn't be underestimated.
After all, few teams will have a former European champion on their bench next summer. Hungary will enjoy the services of assistant coach Andreas Moller, who was unexpectedly called up by Storck after he dismissed Dardai's part-time coaching staff last month. The Euro '96 winner, who famously scored the winning penalty against England in the semifinals, is another piece in the German puzzle that is built in Budapest. Now that Storck has officially been retained for the tournament itself, calm preparations will start, and Hungary have absolutely nothing to lose in France. They have surpassed expectations already.
Michael Yokhin is ESPN FC's European football writer. Follow him on Twitter: @Yokhin