O'Neill must patch together Ireland in the face of Bosnian star power
After so much talk about the benefit to Bosnia and Herzegovina of playing in a fervent and "special" Bilino Polje Stadium in Zenica, and so many questions about the amount of players that Ireland are missing for the Euro 2016 playoff between the two teams, Edin Dzeko tried to be diplomatic.
"It doesn't matter," the striker said. "I think it's 50-50."
For all the genuine respect that Dzeko was giving the Irish, though, far more revealing was his response to the next question. The striker was asked which available Irish players had impressed him.
"They are all good players," Dzeko said, somewhat evasively. "[Ireland] are a good team, with many players in the Premier League."
It was a typically diplomatic response in these kinds of round-table news conferences, but it was still difficult to escape the impression that Dzeko didn't know all that much about some of the Championship players he'll be facing, such as his likely marker Richard Keogh. At the same time, it's also difficult not to frame the match in precisely such terms.
Bosnia have genuine identifiable star quality in Dzeko and his Roma teammate Miralem Pjanic, to form a free-flowing creative side. Ireland have some of their best-known and most-influential players missing, meaning they're going to have to put out a patched-together side. That crux -- and that decision for manager Martin O'Neill -- is effectively what this playoff comes down to: a tie that otherwise would probably have been the most competitive of the four.
Ireland will be looking for their second qualification in four years, and Bosnia their second in succession after reaching Brazil 2014, but only the former must find a solution to some key selection issues first. While Bosnia can be content and play on their terms, other than having to compensate for the suspended Muhamed Besic, the Irish manager basically has to reconfigure his entire team.
It isn't an overstatement to say that how O'Neill handles that will essentially dictate this match. That's especially true considering the pillars of the Irish team have basically been eroded.
Senior defensive player John O'Shea is suspended, meaning Ireland will be lacking leadership at the back. Key goal scorer Jon Walters is similarly suspended, meaning Ireland are without the player whose strikes are responsible for more points than anyone else in their campaign.
Leading man Shane Long is injured for the first leg, meaning Ireland are without the match-winning goal scorer against Germany and that physical force that really adds a rare edge to the team. With 35-year-old Robbie Keane now reduced to little more than an impact-substitute role at this level, O'Neill is probably going to have to field Daryl Murphy up front.
The Ipswich Town striker is back scoring goals in the Championship, but that's hardly the kind of quality Dzeko was talking about.
By contrast, Bosnian manager Mehmed Bazdarevic has the boost of Dzeko himself after a recent injury. It adds to the sense of momentum. With Bosnia having won five of their last six and with only one absence, Bazdarevic could talk bullishly enough about being able to concentrate on their game rather than Ireland's.
"We're not going to change anything," he said. "When it comes to the opposition, yes, they do pose problems but we are going to stick to our game."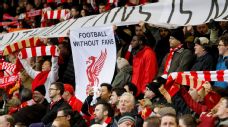 Dzeko echoed that, indicating a side in sync.
"We really have to focus on our game."
Despite all that, the one question is whether Bosnia will slightly refocus the emphasis of their play. The expectation might be that they seek to overwhelm a patched-together Ireland from the off in such an intimidating venue, and Asmir Begovic recently spoke of how "the Bosnian mentality has always been to play attacking football," but there have been suggestions they may tweak that slightly.
Those close to the squad say that, although recent results and the change of manager from Safet Susic to Bazdarevic have restored confidence, they are still not at the levels they were before the 2014 World Cup. That may bring a touch more caution, and a slight deviation in style.
O'Neill has far bigger changes to make. He may have to restructure his team, but he typically tried to reshape the debate, insisting that the absences aren't as important as made out.
"Missing key players seems to be the talk of the week but it hasn't come from myself," he said. "It is almost inevitable we will miss players. It's how you cope with them that's important.
"In two weeks' time, nobody ever remembers who was injured. That's the nature of it. That happens. We'll deal with the people who are here. We have to be ready for the challenge, and it's a big challenge."
The biggest decision O'Neill will probably face is over starting Wes Hoolahan. That decision will say much about how the manager plans to tackle the two legs, and whether there is any final evolution in Ireland's approach as we near the end of the campaign. While the Norwich playmaker is seen as by far the most creative player in the squad, and was the technical foundation of the brilliant 1-0 win over Germany, O'Neill is hugely reluctant to use him in away games. The only one Hoolahan has started in this campaign has been away to lowly Gibraltar, as the manager has clearly sought a more pragmatic style for more-awkward games like this trip to Zenica.
As such, the decision will indicate much. While Ireland's absences would seem to leave O'Neill with no choice, he does have a range of defensive midfield options as well as the excuse of the fact that Hoolahan is one booking from a suspension. Ireland must decide whether to dig in and just make it difficult for Bosnia, or offer a bit more in the hope of an away goal.
Bosnia will be seeking to make the best of a stadium they have chosen because they have such a good record there.
"This is somewhere special for us," Dzeko says. "It gives us more power, we love this place, we have a good record here. Hopefully we can do the same tomorrow.
"We all know why we're here, and I think we're ready."
O'Neill is readying a new team.
Miguel Delaney covers the Premier League and Champions League for ESPN FC. Twitter: @MiguelDelaney.