James Milner: Liverpool devastated by Europa League loss to Sevilla
Liverpool captain James Milner admitted his team weren't at their best and were devastated to have lost 3-1 to Sevilla in the final of the Europa League.
The Reds started brightly in the first half, with Daniel Sturridge putting them in front in the 35th minute with a brilliant left-footed shot to beat David Soria to give his team the lead at half-time.

Liverpool

Sevilla FC
Game Details
However, the second half belonged to Unai Emery's Sevilla, who levelled within a minute of kickoff after the break and went on to dominate the rest of the match to secure their third Europa League trophy in as many years.
"We never started in the second half and it is devastating," Milner said. "We didn't show near our ability and that is the biggest disappointment.
"We were ready, we made sure we said the right things at half-time. We gave a sloppy goal away and never got back into the game.
"The lineman's flag went up for the third goal but the referee gave it the other way. It is nothing to do with the referee, it is about us. We didn't do it on the night that mattered."
Milner said the team weren't distracted by or focused on making next year's Champions League, they just wanted to win a trophy after also having lost the Capital One Cup to Manchester City earlier in the season.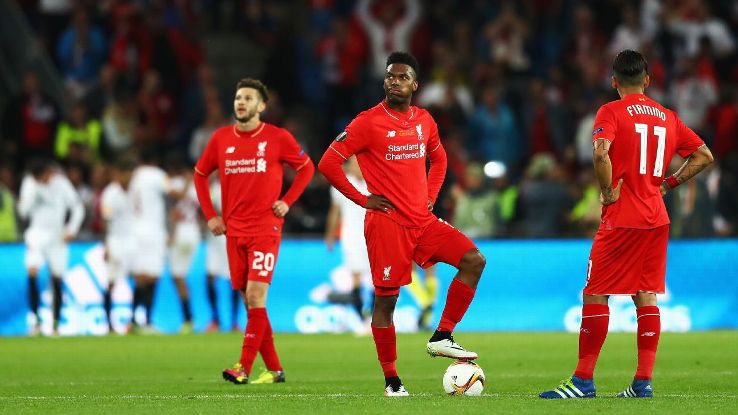 "We didn't manage to get over the line. It is a double blow not to be in Europe next season. We go into two finals and lost both, next time we need to finish the job," he said.
"We have showed our character in the competition but today we could not do that."
Liverpool manager Jurgen Klopp felt his team lost faith in their tactics after Sevilla scored just after the break, which set his team off on the downward spiral that ultimately cost them the game.
"The start I was not happy with, we scored wonderful goal and had a disallowed goal. [Leading] 1-0 at half time is usually good," Klopp said.
"The first goal is not a problem, what happened after that is the problem. We lost faith completely in our style of play, we lost shape and we were nervous in defence.
"That shows our development is not as good as hoped. We have to carry on and use this experience, I am sure we will be strong. It is disappointment and frustration tonight."