Explaining the VAR drama: Why Fernando Llorente's goal stood as Spurs eliminated Man City
In a perfect world, we would have been talking only about four goals in 11 minutes, one of the wildest quarterfinal matches in history, how Manchester City's season is reduced to a "mere" potential Treble and how Tottenham are 180 minutes away from their first European Cup final. But we live in an imperfect world, and one of the legacies of Wednesday night at the Etihad is the controversy surrounding Fernando Llorente's goal and the use of Video Assistant Referees (VAR).
After speaking to multiple sources, here's an explainer to help sort things out.
Cox: Tactical keys to the Champions League quarterfinals
Ogden: Seven goals and VAR drama. Best CL game ever?
---
OK, let's get to the point. Was the decision correct?
It was. The reason for all the confusion is that there has been a perfect storm of factors to muddy the waters, from IFAB's decision to tweak the Laws of the Game, to directives given to UEFA referees about how to interpret accidental handballs that lead to goals, to the fact that too many folks simply aren't familiar with the Laws of the Game and their interpretations.
First, we all have to agree that Fernando Llorente's handball was not deliberate because if you think it was, then everything that follows is irrelevant. So based on the directives UEFA use to determine whether a handball is deliberate, his arm was in a natural position, in line with his "body silhouette" and therefore it was an accidental handball, yes?
Sure. He's jumping, his arm is by his side, it's not outstretched... yeah, it's accidental. But I thought IFAB had determined that accidental handballs that lead to a goal would be punished with a free kick...
They did, albeit with certain caveats. In fact, one of the law changes says that it's a free kick if "a player gains control/possession of the ball after it touches their hand/arm and then scores or creates a goal-scoring opportunity." Another one says it's a free kick if "the ball goes into the goal after touching an attacking player's hand/arm."
Llorente's situation was between the two scenarios. The ball touched his arm, but then it hit his hip as well before going into the goal. And you can't really say he gained control of the ball after the touch with the arm, but he did benefit from it as it then hit his hip. The thing to remember is that what you just read is irrelevant here; these rules will apply from next season.
OK, so this season if it's an accidental handball that leads to a goal, then it stands? So why was Neymar's goal in the Champions League final four years ago disallowed?
Well, that incident caused some controversy too, and by the letter of the law some argued it should not have been disallowed. But UEFA has issued directives this season to use a level of discretion.
Regarding Neymar's goal, he obviously gained an advantage from the fact that his header hit his outstretched hand. You can't say it was deliberate (Neymar's good, but not that good) but, quite obviously, if his arm hadn't been out there and it hadn't deflected off it, he wouldn't have scored. So the referee has the discretion to disallow goals like that.
In Llorente's case on Wednesday night, his arm was exactly where it should have been. It was entirely accidental. You can also make the argument that if it had not hit Llorente's arm, it would still have hit his hip and gone in. In other words, it's a discretion call where the referee, in conjunction with the VAR, has to determine what effect the inadvertent touch had on the goal being scored. Some may disagree with the interpretation, but that's the process.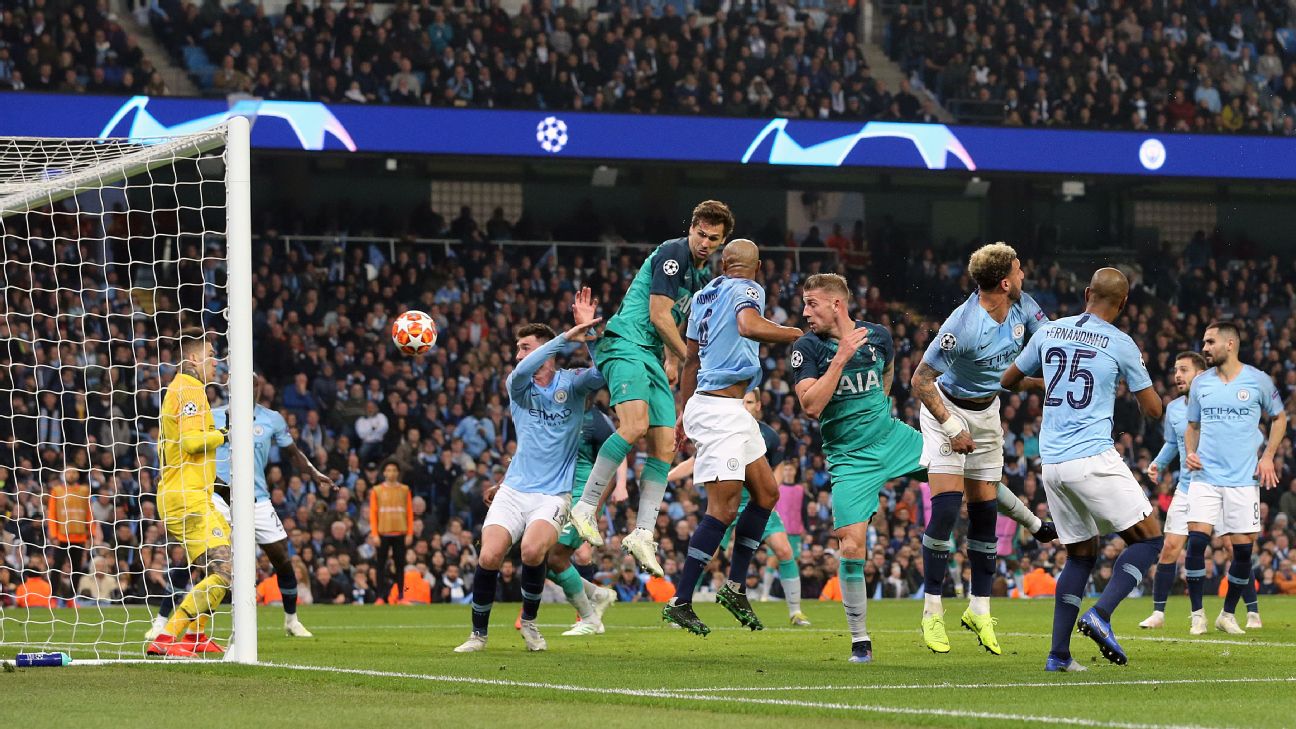 So why did the VAR call the referee, Cuneyt Cakir, to the video monitor?
For two reasons. First, because it's still a huge call and there's an element of discretion. Referees always have the final word on subjective calls. Sometimes they follow what the VAR tells them without checking, sometimes they want to see for themselves. And sometimes VAR wants them to see it.
Second -- and folks have seemingly forgotten this -- the referee didn't have a view of the incident. Llorente's body was in the way. He could guess that it hit a part of his body -- and it's what would have happened until a few months ago in the Champions League, and what will happen until next year in the Premier League -- but it's best if he sees it himself.
What about the fact that, of the various camera angles at the VAR's disposal, Cakir wasn't shown the one from behind the goal, which most clearly shows the ball coming off Llorente's elbow?
What I was told here is that it would not have added anything significant to the decision. Cakir realized as soon as he saw the replays that the ball struck Llorente's arm: you can see the impact it makes on his skin. That part of the equation thus was never in question and additional angles weren't needed.
What did matter was whether his arm was in a natural position (it was: he couldn't have tucked it any closer to his body) and what the material impact was on what happened next. That too was minimal.
More generally, VARs tend not to use behind-the-goal angles because the depth perception isn't great.
So there was no grand conspiracy?
I don't think so. If there had been, they wouldn't have shown Cakir any of the replays, right? The VAR could have just let the goal stand.