Arsenal face Barcelona while Juventus vs. Bayern is a highlight of UCL draw
Of the eight round of 16 pairings in this season's Champions League, four are repeats of matchups we've seen before in the last three years, and one of them -- Chelsea vs. Paris Saint-Germain -- is repeating itself for the third consecutive season.
Arsenal, meanwhile, complete the old joke by facing both of their regular conquerors, Bayern Munich and Barcelona, in the same season. Having finished second behind Pep Guardiola's German champions in the group stage, Arsenal will be hoping to avoid a sixth consecutive round of 16 exit.
Here's a look at each matchup and a prediction for who will make it to the last eight.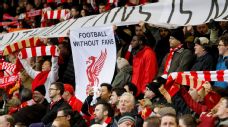 Bayern Munich vs. Juventus
The pairing of the round and perhaps the clash between the two most equally matched sides. Even though is a repeat of a recent matchup -- the two teams met in the quarterfinals in 2012-13 -- the status of both sides has at least changed since then.
That earlier meeting was something of a launchpad for Bayern's rise to become of the genuine super clubs, as they won the Treble that season and have stayed at the level of Real Madrid and Barcelona ever since.
On the other side, it was a reality check for Juventus about how far they still have to go, but one they quickly learned from. Within two seasons, they were in a final, where they were beaten 3-1 by Barcelona last season. Juventus seemed to suffer a slight hangover from that, starting this campaign poorly, but they have picked up significantly in the last few weeks.
Matching a Guardiola side on this form is going to be a challenge. It looks like it could finally be Bayern's year, so long as Guardiola's men stay fit and focused.
Prediction: Bayern Munich
---
Barcelona vs. Arsenal
Arsene Wenger once used the term "super-favourites" to describe Barcelona, and he'd know. Arsenal's regular second-place finishes in the group stages means they tend to come up against the team that bears that tag almost every season, and this is the third time his side have met Lionel Messi and the Catalans in the last five years.
Wenger now has to come up with an idea of how to stop them, and that looks like a tall order. Messi, Neymar and Luis Suarez are playing far above anything Arsenal have managed this season. For this match to be close, it's going to take a very bad night for that trio and a very good night for Arsenal.
Prediction: Barcelona
---
Real Madrid vs. Roma
Some may see this as a mismatch, but in fact it could be rather close. Real Madrid qualified for the round of 16 after Cristiano Ronaldo scored more goals in a group stage than anyone in history, with 11. Roma, meanwhile, got through despite conceding more goals than any of the other sides in this round and with the lowest number of points ever needed to qualify (6).
However, it's a bit more complex than that. Real has destroyed sides like Malmo, but these big wins have obscured the fact they've been very patchy this season and Ronaldo has struggled for goals in individual games as Rafael Benitez seems to have constrained their attack. Part of Roma's group record, meanwhile, is because they were destroyed 6-1 by Barcelona. Otherwise, there's been a glorious chaos to the Italians' campaign -- especially in the matches against Bayer Leverkusen -- and this match could go the same way. It could be very close.
Prediction: Real Madrid
---
Chelsea vs. Paris Saint-German
These two teams have been paired up more than any others in the past few years, but at least the matches are unpredictable because they are so evenly matched. This year's is more unpredictable than ever. That's primarily because it's hard to know what Chelsea will turn up in February. They have been bad domestically, but there have been hints of an upturn of late, and Branislav Ivanovic recently told ESPN FC of how the side have felt released in Europe.
Paris Saint-Germain, meanwhile, have moved up a level since beating Chelsea on away goals in the round of 16 last season. That was also the point at which we started to see a different and more restrained Chelsea, and the question is whether these changes can swing the match. With so many variables that could easily change the outcome, this pairing could go either way. The teams' last two round of 16 meetings have been decided by the away-goal rule or extra time. This one may go the same way.
Prediction: Chelsea
---
Wolfsburg vs. Gent
Perhaps the least glamorous matchup, but one of these teams will be reaching the quarterfinals for the first time and, in a competition where a lack of variety has been a problem, that is something to cherish. Gent have been one of the stories of the season, brilliantly knocking out Valencia in the group stage.
Even though Wolfsburg have never been in the last eight, they aren't quite a surprise package given the quality in their squad and the money they've spent. The way their swift football exposed Manchester United to knock out Louis van Gaal's side emphasised that, and that technique should be enough here.
Prediction: Wolfsburg
---
PSV Eindhoven vs. Atletico Madrid
Given the departures of key players like Memphis Depay and Georginio Wijnaldum, combined with injuries to key players, PSV's passage to this stage is arguably more stunning than Gent's. The Dutch club, who beat Manchester United at home and drew at Old Trafford in the group stage, have done supremely well to get this far, greatly defying the odds.
The problem here is that they're up against a side who have been there and have mastered defying the odds, both in Spain and in the Champions League. Atletico, runners-up to Real Madrid in the 2014 final, should prove too much.
Prediction: Atletico Madrid
---
Benfica vs. Zenit St Petersburg
These are two sides that have made themselves very hard to beat, making this match hard to call. The pair met in last year's group stage, with Zenit winning twice, and the Russian side did enjoy a five-game winning streak to finish first in their group.
The problem with them is that they've been so frustratingly unreliable in knockout stages, whereas Benfica have developed a great deal of experience in that regard due to their Europa League runs. That was under manager Jorge Jesus rather than Rui Vitoria, though, so that change might just tip it towards Zenit.
Prediction: Zenit
---
Dynamo Kiev vs. Man City
This match offers the chance of a breakthrough for both these teams. Dynamo have reached the round of 16 for the first time since 2000 -- and the first time in the modern Champions League without either Andriy Shevchenko or Serhiy Rebrov up front -- but that in itself gives City the chance to finally reach the quarterfinals for the first time in their history.
Dynamo ultimately finished second after making life difficult in the group stages for Chelsea and Porto, while City overcame defeats to Juventus to finish first. Manuel Pellegrini's side should have too much firepower, even if they do suffer one of their customary drops in intensity.
Prediction: Manchester City
Miguel Delaney covers the Premier League and Champions League for ESPN FC. Twitter: @MiguelDelaney.