England's once-dominant position in Champions League looks an anomaly
On the eve of the new season, Premier League chief executive Richard Scudamore admitted his fears. "Our UEFA coefficient is coming under some pressure because our clubs haven't performed as well as they should," he said. Three Champions League defeats for English clubs in the opening group-stage week have ratcheted up that pressure, as has continuing discomfort in the Europa League.
Should such a state of affairs persist, then there is a genuine chance that Italy could replace England as a top-three-rated UEFA nation, taking away one of England's four Champions League places. A nation that once dominated the competition is sliding and none of this season's quartet -- including last season's domestic champions Chelsea, the sole English club to have reached a semi in the past three seasons -- appear to have much chance of being victorious in May's final in Milan.
Jose Mourinho's team may be ranked fourth by UEFA rankings, but they lie behind a cartel of European superclubs that lords it like the English once did. In each of the 2006-07, 2007-08 and 2008-09 seasons, there were three English semifinalists in the Champions League but Barcelona, Real Madrid and Bayern Munich now assume those positions. Only Barca's quarterfinal exit to Atletico Madrid in 2013-14 prevented the trio being in each set of semis since 2011-12.
While Scudamore's Premier League, flush with TV deals that dwarf the rest, could boast a growing collective of wealth -- with 30th-placed Stoke City joining the 13 other English clubs in Deloitte's Football Money League -- only Manchester United (on €518 million in revenue) broke up the trio of European aristocrats.
United were second behind Real's €549.5m and ahead of Bayern's €487.5m and Barcelona's €484.6m, but, despite being current Premier League leaders, are still within the rebuilding process that followed Sir Alex Ferguson's May 2013 retirement. Missing out on last season's Champions League after a moribund season under David Moyes was a setback that could take significant time to recover from. In that time, Bayern, Barca and Madrid have sailed streets ahead.
The reasons for latter-day English failure are usually placed with the Premier League's competitiveness, and United manager Louis van Gaal joined that chorus at the weekend.
"It is always a struggle and a battle in England, and then you play in the Champions League in midweek," Van Gaal said, looking ahead to Wolfsburg on Wednesday. "The difficulty is all these players are in a rat race. It takes a lot out of the players every week."
The implication from Van Gaal was that winning the Premier League, or even qualifying for the next season's Champions League from a top-four position, precludes a decent performance in the European competition itself. It is an argument that holds water, and is perhaps best illustrated by Chelsea, England's last winners in 2012, finishing sixth in their domestic campaign that season.
Such an opinion has become an accepted truth in English football, although Scudamore himself voiced a different opinion back in that Champions League heyday. "It's a pity we couldn't have had all four of our clubs in the semifinals," he said in April 2009. "The whole point of a competition is the best come out on top and that is what is happening.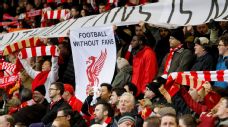 "There are no easy games in the Premier League and that prepares clubs well for Europe. What matters is that the best teams play the best football, entertain the fans and win matches."
Something has changed. That Chelsea triumph in Munich in 2012 now looks an outlier, or the last breath of an expiring trend. In 2009-10, no English clubs made the last four, while for 2010-11 there was just one as United lost that season's final to Barcelona. An examination of England's period of Champions League success, from Liverpool's victory in 2005 to Chelsea in 2012 against what was happening elsewhere now suggests that this was a period of opportunity for the English rather than proof of superiority.
Barcelona may have beaten Arsenal in the Champions League final of 2006, but it took Pep Guardiola's arrival in the summer of 2008 and his clear-out of fading stars like Ronaldinho and Deco to shape a team around Lionel Messi and build the machine that still delivers.
Real Madrid at that time were a post-Galactico muddle. David Beckham joined from Manchester United in 2003, and never got further than the quarterfinal he reached in his first season, working under six coaches in four seasons at the Bernabeu before signing off in 2007 with a Liga title won under Fabio Capello. It took Jose Mourinho's arrival from Inter in the summer of 2010 for Real to reach their first semifinal since 2002-03.
Bayern, despite collecting five domestic titles during the first decade of the new millennium after being European champions in 2001, did not reach a semi for seven years from 2003 to 2010, when Van Gaal took them to the final. During those years, coaches Ottmar Hitzfeld and Felix Magath could not breach the last 16 and a disastrous wrong turn was taken in appointing Jurgen Klinsmann in 2008 before Van Gaal began the revival completed by Jupp Heynckes winning a treble in 2013.
Italian football, meanwhile, suffered a series of crises. The 2006 Calciopoli scandal derailed Juventus, who were relegated to Serie B, as a period of austerity succeeded the big spending that had allowed Serie A to dominate the European scene in the 1980s and 1990s. AC Milan's 2007 triumph proved the end of a line for an ageing squad, and it took Mourinho at his very apex, backed by owner Massimo Moratti's millions, for Inter to win the 2010 Champions League -- a heightened state that the Nerazzurri have never quite recovered from.
That all gave free rein to the English during the second half of the last decade. The time since has seen the continental giants modernise. Powerful finances, garnered using practices learned from the Premier League, reduce margins for error.
Bayern's sponsorship partners is a list of blue-chip German companies. Barcelona enjoy vast sponsorships from Qatar, while Real Madrid continue to milk their highest revenues from deals with Adidas and Emirates, and the aggressive marketing of stars like James Rodriguez and Cristiano Ronaldo. The Spanish giants have also reaped huge revenues from taking an unequal share of TV revenue: €140m per season as against next-best Valencia's €48m.
Such riches allow those giants to buy the players who keep the English clubs at bay, and now looking over their shoulders.
John Brewin is a staff writer for ESPN FC. Follow him on Twitter @JohnBrewinESPN.