Bayern Munich, Leverkusen, Wolfsburg all start strong in Champions League
Last season, it was all about overtaking England in the UEFA coefficient rankings. Now that the Bundesliga has managed to do just that, it's not that easy to come up with a dashing tag line for the German clubs' 2015-16 Champions League campaign.
Taking on the Spanish is out of the question in light of La Liga'a seemingly unassailable dominance in recent years. Keeping the Premier League at bay in third place for a little longer would be very welcome, of course, but it's immaterial as the English top flight has become largely immune to embarrassing underperformance on the European stage. Once the new TV deal kicks in next season, the Premier League will financially outperform Germany's first division by a ratio of at least 3-to-1, up from roughly 2-to-1 now.
This season, then, everybody is simply out for themselves. For Bayern Munich, England's incoming wave of cash and the likely departure of Pep Guardiola at the end of the season has only increased the impetus to gun for the trophy. Bayer Leverkusen dream of "doing a Dortmund" and surprising a few big names with a deeper run. VfL Wolfsburg (enjoying first CL since 2009-10) want to make it to the knockout stages as proof of their progress. As for Borussia Mönchengladbach, last seen in the old European Champion Clubs' Cup in 1978, it's the taking part that matters.
Here is how the quartet fared in Matchday 1.
Group B: VfL Wolfsburg scrape by
Wolves beat CSKA Moscow 1-0 with a controlled, if unspectacular, performance courtesy of a goal from new signing Julian Draxler. Dieter Hecking had his team line-up in a new 4-1-4-1 system with Luiz Gustavo as the sole holding midfielder, but it was obvious that last season's runners-up in the Bundesliga were careful to avoid counter-attacks from the visitors. "We saw that we can play differently as well," said attacking midfielder Max Kruse. "I think we will benefit [from that flexibility] in weeks to come."
The addition of Kruse (a transfer from Gladbach) made Wolfsburg's threat more central and helped offset their bluntness on the wing. Without Kevin De Bruyne, who would often find space on the flanks, Andre Schurrle and Daniel Caligiuri need to be more incisive if the Lower Saxons are to make it into the next stage. All in all though, it was the sort of measured game that more experienced sides would have been happy with at this stage.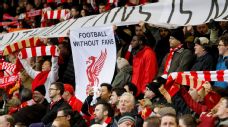 "The team were focussed throughout and were always in charge, one couldn't really expect that after a six-year absence from the Champions League," beamed coach Dieter Hecking. Unfortunately, his side's positive start was somewhat overshadowed by the depressingly low turn-out in the Volkswagen-Arena. Only 20,126 people -- including 1,200 refugees with complimentary tickets -- made it into the ground on Tuesday night. "The team deserved more fans," said sporting director Klaus Allofs.
Fifty thousand of the 125,000 inhabitants work at the local car factory, many of them in evening or overnight shifts. The game against Man United on Dec. 8 will be sold out, but the low turnout hints at a structural disadvantage for Wolfsburg that will counteract their recent success on the pitch. As a relatively new top club (they were promoted in 1997) in a small city, they have a problem growing their fan base and will thus continue to rely on money from sponsors and owners Volkswagen to close the gap to the more established sides.
Group D: Borussia Mönchengladbach destruct in Spain
The Foals went into the match away to Seville in disarray, having lost all four of their opening games. After an encouraging and goal-less first half, they duly self-destructed in the space of 20 minutes, conceding three penalties and two goals before Yann Sommer punched the ball in his own net late on.
To lose 3-0 at the home of the Europa League winners wasn't unexpected given their current circumstance but Gladbach were once again unrecognisable from the team that notched win after win in the league only a few months ago. The departures of Christoph Kramer and Max Kruse or the injury to captain Martin Stranzl alone are not to blame; Borussia have always relied on their collective strength and tactical excellence under Favre instead of individual heroics. But everything is missing at the moment: confidence, pace, concentration.
"If you lose five in a row, the head starts to come into it as well," said Tony Jantschke, who's been unbelievably poor in recent weeks. It almost feels as if the spell that coach Lucien Favre had cast on the team since taking over in February 2011 has been lifted. "It's taken four years for Gladbach to turn from a counter-attacking side to a cultured possession team," wrote Suddeutsche Zeitung, "and now it has only taken four weeks to turn this development on its head -- for the moment."
Favre experienced a similar crisis at Hertha Berlin in 2009, losing his job after nine games without a point following a stellar season in the previous year. It won't get to that at Gladbach, but a win in the derby away to 1. FC Koln is imperative if they're to disperse fears of a relegation struggle. It's a sad story, especially for the supporters: the Champions League is in danger of becoming a mere distraction before it has even properly started.
Group E: Bayer Leverkusen cruise to an expected win
BATE Borisov provided the easiest challenge of all the German teams' opponents on the opening matchday, but Leverkusen still recorded a 4-1 win that was notable for its style and verve.
Roger Schmidt's team press the ball so vigorously that there's sometimes not any energy left for decent passing or shooting. At the BayArena on Wednesday, however, a Leverkusen line-up brimming with attacking quality in a 4-1-4-1 system showed that they can also play defensive teams off the pitch by using their pace and power with the ball. Two goals from the rapidly improving Hakan Calhanoglu and a strike each from new signings Admir Mehmedi and Javier Hernandes made it a comfortable victory in a group that will test Bayer's credentials in due course.
Barcelona away and then two matches against Roma will give us a better idea whether the hype is justified. Leverkusen's depth is certainly remarkable. While another new signing, Kevin Kampl (Dortmund) proved his value at this level with a man of the match performance, key players like World Cup winner Christoph Kramer and captain Stefan Kiessling couldn't even get into the starting line-up. "It's been a great start for us," said a happy Schmidt.
Group F: Bayern Munich made to work for their victory
The champions huffed and puffed on a difficult pitch ("beyond the pale," Matthias Sammer called it) in sticky conditions at Olympiakos on Wednesday. Threats of violence to the visiting supporters before the game in Piraeus and unprovoked police brutality (Bayern issued a complaint to UEFA about the treatment of their fans) accompanied the difficult match at Olympiakos, but in the end, Bayern's class could not be contained in a 3-0 win.
After Thomas Muller's mishit cross/shot made it 1-0, French substitute Kingsley Coman set up a goal for Mario Gotze (2-0) and was fouled in the box to allow the irrepressible Muller (11 goals this season) a second of his own from the penalty spot. The Bayern forward had been willing to let Thiago take the last-minute spot-kick, but Guardiola intervened from the sideline to uphold the existing order.
Bayern might not be at their exhilarating best at the moment, but it would be churlish to overly criticise them for a win in the same Georgios Karaiskakis stadium where the hosts have beaten Arsenal, Manchester United, Benfica, Atletico Madrid and Juventus over the past three seasons. The Bavarians avoided a similar fate by keeping possession and successfully cutting off angles for counter-attacks; Manuer Neuer only had two serious saves to make.
All in all, it was an encouraging beginning to the new campaign. By now though, Bayern know that it's much better to hit your best form in spring, not in the fall.
Raphael Honigstein is ESPN FC's German football expert and a regular guest on ESPN FC TV. He also writes for the Guardian. Twitter: @honigstein.