'Difference-maker' Sacha Kljestan ready to seize latest U.S. team chance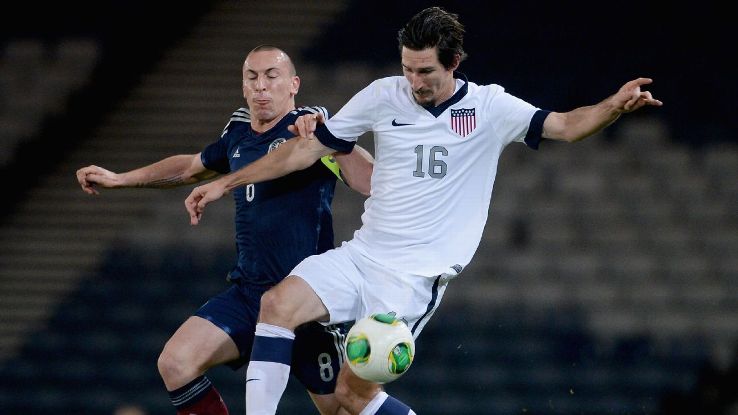 JACKSONVILLE, Fla. -- Sacha Kljestan thought his first U.S. national team call-up in more than two years was a prank.
It was around 11 p.m. Sunday night when Kljestan received a text from U.S. manager Jurgen Klinsmann giving him the news he had long waited for. In that moment, the New York Red Bulls midfielder didn't recognize the number, and his troll deflector shield immediately went up.
"It was a 949 phone number, which is where my brother lives and close to where I grew up, so I thought it was maybe one of my friends that was having a joke with me," he told reporters prior to Tuesday's training session with the U.S. national team. "I didn't really want to text back like I was excited, [which] I was, so I just wrote, 'Please call me.' [Klinsmann] called me a few minutes later, and we talked for a few minutes, and I told my wife and she didn't really believe it either. I'm here now. It's pretty exciting."
Kljestan's wait has certainly been well-documented -- and excruciating -- for a player who first made his U.S. debut in 2007. He most recently appeared for the U.S. in a 2-0 loss to Ukraine on March 5, 2014, in a match that was moved to Larnaca, Cyprus. Kljestan's fading international prospects were made even tougher to swallow as he moved to Belgian side Anderlecht, won league titles and played in the UEFA Champions League.
He returned to MLS in 2015 with the New York Red Bulls and put together an impressive season as the side won the Supporters' Shield. His stellar form has continued into this season, as he has tallied five goals and a league-leading 15 assists.
None of that was good enough for Klinsmann. Although Kljestan was called up with a fair bit of regularity in 2012 and 2013, he essentially fell off the international map thereafter. In a recent interview with ESPN FC, Kljestan called the snub "a small mystery." Consider it now a mystery solved, mostly.
"The reason Sacha is back in this group is he deserves it," Klinsmann said in an exclusive interview. "He's a difference-maker at [the Red Bulls], and he's more mature. He seems very driven."
Klinsmann insisted that he has been watching Kljestan over the years and said that he considered him for Copa America, though the New York attacker didn't make the 40-man provisional roster. The U.S. manager noted that players such as Michael Bradley, Jermaine Jones and Kyle Beckerman created something of a logjam in the center of midfield. But as Klinsmann explained this thinking, it became clear that the difference-maker tag -- however he defines it -- has been the dividing line for whether Kljestan gets called in.
"We always ask national team players to be a difference-maker," Klinsmann said. "Whatever position you play, you've got to be different to whatever the other players out there in your league and your club that play your position. That needs to be there. There's always a special piece to a player that becomes a national team player.
"So if you play a No 8 or a No. 10 now -- he plays more a No. 10 at Red Bulls -- then I need killer passes, I need you to get in the box, I need you to be decisive on set pieces, certain things that make a difference. That's what Kljestan is doing. When he was three, four years with us, he struggled to do that for whatever reason. Now there's another opportunity."
Kljestan understands full well why this chance has come about. Jones is out because of a lingering knee problem that includes an LCL strain, and Bradley is suspended for Friday's World Cup qualifier against St. Vincent and the Grenadines. Kljestan's experience is such that the circumstances don't bother him in the least. He knows that his smarts and ability mean there is a real chance that he'll see the field against the Vincy Heat or, failing that, against Trinidad & Tobago four days later.
"I think it's up to me in the next couple of days in practice to prove that I'm ready for that level again," he said. "But yeah, I've been asked this question a million times over the last couple of years, and I said, 'If I get a chance, I'll be ready.' If I get a chance to play in either of the games, I know I'll be ready, and I know I'll help the team."
Klinsmann certainly sounds like a believer, even though it's been a long time coming for Kljestan.
"It's great to have [Kljestan] back, and without putting pressure on Sacha, it's an opportunity for him now to prove a point," he said. "He doesn't have to prove that point in these eight days. It's not that I want to see miracles from you. I just want you to take the initiative."
Consider that a message received.
Jeff Carlisle covers MLS and the U.S. national team for ESPN FC. Follow him on Twitter @JeffreyCarlisle.