Fabian Johnson talks about Gladbach, Klinsmann, USMNT and his year so far
Fabian Johnson isn't one to show a lot of emotion on the field, but last weekend he couldn't help himself. Upon scoring Borussia Monchengladbach's final goal in a 3-1 win over Bayern Munich, an immense smile creased Johnson's face, his arms spread out in joy. And he kicked the corner flag with such ferocity that it snapped out of the ground.
"It was unbelievable," Johnson said via telephone. "It wasn't just the goal, it was just that we won against them. I don't think anyone was expecting us to win the game against Bayern. You could read it in the newspapers for the previous five, six days. It just feels good to prove everybody wrong."
The goal was just the latest in a remarkable run for the U.S. international. He now has six goals on the season in all competitions and has scored four goals in his past three games. Two of his strikes have come in UEFA Champions League matches, including a well-taken goal in a 1-1 draw against Juventus back on Nov. 3.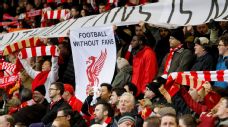 "I can't even explain it," Johnson said about his remarkable run. "I think the whole team is having a great run right now. I think that we're all feeling comfortable in our way of playing, our style of playing."
Johnson does note that after spending a large portion of his career for both club and country playing as an outside-back, he has been slotted into a wide midfield role for Gladbach for much of the past 18 months. Yet he has been given plenty of freedom to tuck into central positions as well, a consistency that has allowed him to get settled and get forward with more regularity.
"I'm feeling confident in this position and getting more in a good run," he said. "I know where to run, where to pass, how to defend, how to attack. If you play a position over a long time, it just gets easier to play."
There have been plenty of surreal things about this season for both Johnson and his club. Based on last year's third-place finish, Gladbach qualified for the group stage of the Champions League for the first time. But Johnson was injured in the first game of the Bundesliga season, and Moenchengladbach proceeded to lose its first five league matches. By the time he returned, manager Lucien Favre had resigned even though the club wanted him to stay on, and he was replaced by Gladbach's U-23 manager, Andre Schubert.
"When I came back from my injury, all of a sudden I had a new coach," he said. "It was kind of difficult because I don't know if I'm going to play, how I'm going to play. And it was a hard situation for the whole club. I don't think anybody could imagine that we would lose our first five games in the Bundesliga."
Since then, Gladbach has been transformed. The Foals have taken a remarkable 26 points from their past 10 league matches, vaulting them up to third place. Every coach has a different twist on how to send out his team, and Johnson notes that Schubert is no different.
"[Schubert] is trying to give us confidence," Johnson said. "He's trying to get us to press the other teams high and keep the ball. Try to attack quick and each player just has one or two contacts, quicker in transition. I think the whole team has just been comfortable with it. I think the results speak well of the new coach."
Against Bayern, Schubert trotted out a 3-5-2 that saw Gladbach pack the midfield in a bid to thwart the possession game of the reigning champions. "We trained it like two times or something because we didn't have a lot of time," Johnson said. "But given the short amount of time we did pretty well."
Their Champions League campaign hasn't been as successful. With one game to play on Tuesday at Manchester City, the Foals have already been eliminated from the competition but Gladbach haven't done badly. They've drawn twice with group leaders and last year's beaten finalists Juventus, and a win at City on Tuesday will see the Borussians qualify for the Europa League for finishing third in the group.
"I think the whole city was just proud and happy that we made to the Champions League," Johnson said. "I think we also gave back a little bit with our way of playing. I think the games here at home, the way we showed up and played our game was pretty good. We didn't get the results that we wanted but I think our supporters were proud of us."
But Johnson is eager to see both the club and himself qualify for the UCL once again. The team has now had a taste of what the competition is like, and Gladbach's recovery in the league means their target is well with reach. "It's just a great experience for every player," he said. "Of course, it's faster. We had a very tough group with world-class players. And if you play in the Champions League, it's going to be more about the details; how good your first touch is, how you defend."
Beyond his injury, the biggest hiccup in Johnson's season came when he was sent home by U.S. manager Jurgen Klinsmann following the Americans' 3-2 extra time CONCACAF Cup loss to bitter rival Mexico. Johnson had asked to come off in extra time claiming he was injured, but Klinsmann felt that Johnson should have carried on. The 27-year-old was subsequently omitted from the squad that faced Costa Rica.
Did Johnson get any extra motivation from his treatment by Klinsmann? "I mean it didn't affect me at all," he said. "I just was trying to perform and keep my form right. I never talked about the situation with the media. I just talked to the coach."
Johnson also insisted that he and Klinsmann have since patched things up. He was recalled for World Cup qualifiers against St. Vincent and the Grenadines as well as Trinidad & Tobago, and scored against the Vincy Heat. "I think everything is fine now and I'm just trying to keep on going," he said. "We talked before the qualifiers in St. Louis. I'm happy to be back in the national team. We just talked about the situation from his point of view and from my point of view. Now I'm trying to leave it behind and look forward."
The Bundesliga will embark on its winter break after this weekend's slate of games but given the recent form of Johnson and Gladbach, it almost seems a shame. But Johnson noted that the respite will have its benefits: the time off will give players struggling with injuries, such as Martin Stranzl, Nico Schulz, André Hahn, Patrick Hermann and Ibrahima Traoré, time to recuperate and regain their form.
"I think having those players helped us last season to get where we got," he said. "I think it's quite a good thing that we have a little bit of a break. Of course, I don't know if we'll get back to our great run, but after our last winter break we also had a great run, and we made it to third place. I think we lost like two games. I hope we can repeat that in the second half of the season."
Johnson will be hoping for the same from himself as well.
Jeff Carlisle covers MLS and the U.S. national team for ESPN FC. Follow him on Twitter @JeffreyCarlisle.