United States facing center back, striker questions in Brazil contest
BOSTON -- Before taking on Mexico next month with a Confederations Cup spot on the line, the U.S. national team meets Brazil in a final tune-up on Tuesday (8 p.m. ET, ESPN2/WatchESPN), a match that U.S. coach Jurgen Klinsmann on Monday said "will help us to get a lot of information toward the Mexico clash."
Here are five questions that could be answered against the five-time world champions.
1. Can the U.S. build on last week's win?
Friday's 2-1 come-from-behind victory over Peru in Washington, D.C. has the Americans riding a wave of confidence heading into Tuesday's tilt. But with next month's CONCACAF Cup looming afterward, playing the most accomplished national team of all time isn't without risk.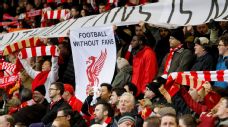 "I think games like these are really crucial for the players in terms of psychological preparation, to have an understanding of how important the mental side really is in our game," Klinsmann said the eve of the match. "Just believing that you can play against the best in the world and actually do well against the best in the world, to build this kind of understanding and feeling is very, very important, and you only get that if you play them."
Historically, the Yanks have usually kept games against the Brazilians close. But the only time a Klinsmann-coached U.S. side faced the Selecao, in May of 2012, they were thumped 4-1. Another lopsided loss could dent morale heading into the biggest game of the year. "We all have respect for them, but if you have too much respect for them, then you can really get crushed," Klinsmann said. "We don't want it to end up in a lesson in terms of result. We want to give them a game."
2. Who will start at center back?
John Brooks and Omar Gonzalez got the nod against Peru, but that tandem is far from a safe bet to be in the lineup at Gillette Stadium. Klinsmann said Brooks, who missed Sunday's training with what the coach described as muscle tightness, "should be fine" come kickoff. But Gonzalez was yanked at halftime against Peru, and on Monday Klinsmann talked up Gold Cup starter Ventura Alvarado, who replaced Gonzalez for the final 45 minutes in the nation's capital.
"I think we have a huge talent there with Ventura," Klinsmann said. "He's technically very gifted, very calm on the ball, and he can be highly aggressive as well, which you need to be as a center back. "What we've seen [from Alvarado] now over these 6-9 months is very impressive," Klinsmann said. "So that competition is really heating up there in the center back role."
3. Is Geoff Cameron in the mix in the middle?
One player apparently not in the mix for a spot in the heart of the American back line is Cameron. Before and after the 2014 World Cup, Klinsmann insisted that the rangy 30-year-old's best position was either in central defense or as a midfield destroyer, despite playing primarily as right back in the Premier League with Stoke City.
Through the first month of this season, however, Cameron has played exclusively in the middle for the Potters. Yet Klinsmann suggested that the glut in the middle and the dearth of suitable options on the outside will keep Cameron -- who earned his first minutes of 2015 on Friday -- out wide for the U.S. for now.
"We see the situation with the fullbacks: DaMarcus Beasley not there, Fabian Johnson on the other side not there," the coach said of the two injured veterans. "Yeah, Geoff can also play center back. But in this moment now, coming in, he's a strong character, he's also a little bit intimidating also in there, [so] maybe we need him more on the right side."
4. How does Klinsmann line 'em up?
Captain Michael Bradley's return after skipping the Peru game to stay with Toronto FC all but guarantees at least one change to the lineup. "Obviously if he feels good, if he feels fresh, if he recovers quickly -- and usually he recovers really easily because he's in good shape -- then he's going to be on the field," Klinsmann said of Bradley.
So who sits? It could be Alejandro Bedoya, who manned Bradley's role alongside Jermaine Jones last week. Another option could be to move Gyasi Zardes up front with Jozy Altidore in place of Bobby Wood and slot Bedoya into a wider midfield spot, although that would remove Zardes speed from the flank. "We always try to put together the puzzle the best way we believe is helping the team to get a result."
5. Which forward will emerge?
If Zardes stays out wide and Klinsmann sticks with two forwards up top, who pairs with Altidore? Wood and Aron Johannsson are the favorites, along with Andrew Wooten, who is still looking for his first cap. Stanford University's Jordan Morris, who was added to the squad on Sunday after Clint Dempsey was allowed to remain in Seattle to rest his sore hamstring, could also see minutes.
If he shows well, he could even stick with senior squad for the Clasico against El Tri rather than joining the U.S. U-23 for Olympic qualifying. "Jordan is just getting better every game he's playing right now for Stanford -- I had people out there watching his games," Klinsmann said. "We haven't made the decision yet on Jordan, if he joins us toward the Mexico game or he goes with the Olympic team."
Doug McIntyre is a staff writer for ESPN The Magazine and ESPN FC. Follow him on Twitter @DougMacESPN.