United States with a midfield conundrum for Brazil contest
BOSTON -- When it comes to a team's midfield, balance is one of those attributes that is as desirable as it is elusive. There's a craving for attacking flair and defensive responsibility; possession as well as grit. Combining all of those elements is a constant and tricky process.
In the second half of last Friday's 2-1 victory over Peru, the U.S. men's national team achieved an impressive state of midfield equilibrium. You had Jermaine Jones providing the kind of high-energy performances reminiscent of his play in the 2014 World Cup. Gyasi Zardes and DeAndre Yedlin added some rocket fuel down the respective wings, making them a constant menace in attack while also offering defensive awareness. Yedlin in particular did plenty of tracking back. Mix Diskerud came off the bench and complemented Jones well in the center of midfield, pressing smartly and delivering sharp passes.
"I thought we shifted well defensively, and attacking-wise in the second half I thought we had great spells," Zardes said.
Yet ahead of Tuesday's friendly against Brazil, it appears there will be continued ebb and flow in terms of the midfield construction. Michael Bradley is one of three players being added to the squad and is a lock to regain his spot in the lineup.
"Bradley is the core of our team," U.S. midfielder Alejandro Bedoya said. "His leadership both on and off the field is good for the younger guys and for all of us. You know what you're going to get out of him, and that [midfield] position is his. He's the guy that sets the tone, whether it's with his aggressive play, stepping to [the ball], whatever it is. Keeping possession, winning balls, he's a guy who helps the team tremendously."
Bradley's return causes something of a domino effect, however. He appears set to resume his role as the more advanced central midfielder, but what exactly does that mean for those players around him? The impulse is to pair Jones with Bradley, but the duo hasn't always performed with the required synchronicity in the past, and at the World Cup, Jones was pushed into more of a box-to-box role with Kyle Beckerman in the dedicated holding role. If Jones slides into a wider position on Tuesday, that means sitting either Zardes and Yedlin, which would be a shame given their performances of late as well as the pressure they put on opponents. With Brazil likely to have more of the ball, reducing the amount of speed on the field might compromise the Americans' effectiveness on the break.
And what of Bedoya? The Nantes midfielder was forced to defend for most of his 45 minutes on the field against Peru, nullifying much of his attacking game.
"In the first half against Peru, our lines, we were dropping too deep, too far back," Bedoya said. "And that gave them more space, and for me it was tough to get on one of their defensive center-mids."
In prior performances, Bedoya has looked more comfortable starting from wide positions and then moving more centrally. He also has the kind of playmaking ability to take some creative pressure off Bradley, so a return out wide might suit him better. Then again, at whose expense?
It all makes for a bit of a conundrum for U.S. manager Jurgen Klinsmann. It's tempting to think each game he basically has the same puzzle pieces to work with, but that isn't the case. Changing personnel and different opponents doesn't mean he has to start from scratch, but it does require a bit of reassembling. In this case, playing with a single striker might allow him to stack his midfield, especially in the absence of Dempsey. But the U.S., for whatever reason, has performed better in a two-striker system, so it looks like some midfielder will have to be sacrificed.
After the disappointing performances that characterized the Gold Cup, the midfield options are a nice problem for Klinsmann to have. But it doesn't take much for the midfield chemistry to spontaneously combust either, especially against a team as talented as Brazil.
Klinsmann will need to mix carefully.
Notes:
-- In addition to the long-expected addition of Bradley, Klinsmann announced several other roster moves ahead of Tuesday's match. Stanford University sophomore Jordan Morris and Chicago Fire goalkeeper Sean Johnson will be added to the squad, while Leon goalkeeper William Yarborough and Sporting Kansas City defender Matt Besler returned to their clubs. Clint Dempsey was originally scheduled to join the squad but will remain with the Seattle Sounders.
Klinsmann said via a press release he was pleased with Besler's play this week.
"We definitely saw what we needed to see from [Besler] as we prepare for the Mexico clash, and Sporting KC badly wanted him back for Wednesday, so we agreed to send him home."
As far as Dempsey is concerned, Klinsmann stated the decision was more precautionary in nature since Dempsey went 81 minutes in Saturday's 2-1 win over Toronto FC, a match in which he scored the game-winner.
"I had a good conversation with Clint," Klinsmann said. "He's still not 100 percent, and we agreed it's best to let him stay with Seattle to allow him to continue making progress ahead of next month's match against Mexico."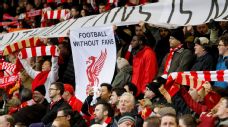 -- Tuesday's match at Gillette Stadium will be a homecoming of sorts for Geoff Cameron. The Stoke City defender grew up in nearby Attleboro, Massachusetts, and hasn't played at the venue since 2012 when he was a member of the Houston Dynamo.
"It's good to be back in front of family and friends," he said. "It will be the first time I'm with the national team playing in front of them. It's an honor and a pretty special time to be here."
After playing most of his Premier League career at right back for Stoke City, Cameron has played as a center back this season, fulfilling a long time wish of Klinsmann's. Of course, the fickle soccer gods contrived to create an injury crisis among U.S. outside backs with Fabian Johnson and DaMarcus Beasley both ruled out of the Peru and Brazil friendlies. Cameron says the back and forth doesn't bother him at all.
"I'm just trying to do whatever I can to help the team," he said. "If [Klinsmann] needs me to be there to play right back, I'll play right back. My focus is just on playing hard and letting my play do the talking."
-- Defender John Brooks exited Sunday's training session shortly after it started, as he hobbled off with a strain of his right hamstring. A U.S. Soccer spokesman said the training staff made the decision as more of a precautionary measure.
Monday's training session should be a better indication of the severity of the injury.
-- Lastly, according to U.S. Soccer, 24,000 tickets have been sold for Tuesday night's match.
Jeff Carlisle covers MLS and the U.S. national team for ESPN FC. Follow him on Twitter @JeffreyCarlisle.