Aron Johannsson has chance to assert himself for U.S. in pre-Mexico friendlies
WASHINGTON -- Right away, Aron Johannsson wanted the ball.
His Werder Bremen teammate, Anthony Ujah, had barely hit the ground after being fouled inside Borussia Monchengladbach's penalty area late in the first half of Sunday's match between the Bundesliga mainstays. After going scoreless in his first two appearances with his new club, Johannsson wasn't about to let the opportunity to net his first goal in Bremen green pass him by.
"As soon as the whistle blew for a penalty, I was ready to step up and take it," Johannsson told ESPN FC on Tuesday in the U.S. capital, where he's training with the national team ahead of Friday's friendly match against Peru at RFK Stadium. "You always want to get the first goal out of the way. Now there's a little less pressure."
For any striker, though, the stress of having to perform the most difficult task in the sport -- namely putting the ball into the net -- is never far off. It comes with the job description. Simply put, forwards are paid to produce.
While Johannsson did that regularly during his two seasons at Dutch club AZ Alkmaar, finishing with 29 goals in 58 Eredivisie games, the Alabama-born, Iceland-raised 24-year-old also knew that carving out and converting chances in the more tactical, physical German top flight would pose a significantly stiffer challenge.
"So far, I still haven't gotten a clear opportunity to score (from the run of play)," said Johannsson, who has played in three Bundesliga games so far and started the last two. "In Holland it's more open. You get chances every game."
Speaking of chances, Johannsson has a golden one with the United States this week.
Clint Dempsey, the most efficient striker in U.S. history with 48 goals in 119 appearances, is scheduled to skip Friday's match before joining the U.S. team ahead of next week's exhibition against Brazil in Foxborough, Massachusetts. That leaves at least one open spot up front alongside presumed starter and U.S. national team returnee Jozy Altidore, Johannsson's onetime AZ teammate.
And Johannsson feels that he's in a better position now to seize it than he was in July, after Altidore was sent home by coach Jurgen Klinsmann halfway through the Gold Cup campaign because the hamstring injury he suffered before the tournament had compromised his fitness. Johannsson had just one goal in five games during the regional championship, but the circumstances were far from ideal.
"Before the Gold Cup, I was on vacation for almost three weeks," Johannsson said. "Now I've been training. I'm fit and ready to play."
But with fellow youngster Bobby Wood in form and back in Klinsmann's squad and newcomer Andrew Wooten -- the joint-top scorer in Germany's second tier -- also in the mix for the first time, competition will be fierce. Johannsson is easily the most experienced of the three, but the coach has made it clear that goals, and goals alone, are what will tip the balance in the lead-up to the Oct. 10 Confederations Cup playoff against archenemy Mexico.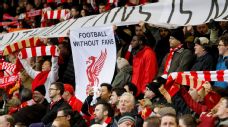 "So far nobody has a real big advantage over another guy," Klinsmann said after naming his roster on Sunday. "We are eager to see the next generation of forwards becoming consistent. By that I mean first of all scoring goals."
Despite the heightened stakes, Johannsson insisted he won't feel any more anxiety than usual.
"Obviously I'm mostly judged by my goal-scoring record, and I put a lot of pressure on myself," he said. "But I think over the years, I learned that the more I worry about it, the further I get from scoring. So now, I start by doing the basic, simple things: run hard for my team, fight, and then the goals kind of take care of themselves."
Johannsson said the aim is to get to the sort of place mentally where he feels he can't miss. It's an elusive space for any striker, and when it arrives the feeling can be intoxicating. Johannsson has felt it at various times during his career, most recently at the end of an injury-plagued 2014-15. When it's gone, only a goal can help get it back -- part of the reason he wanted to take that spot kick over the weekend.
"It's a kind of momentum," he said. "You can miss a shot and it hits the defender and goes in. Sometimes that happens, and it's amazing. You feel invincible. That's the difference -- every time you get a chance, you know you're going to score. When you start doubting yourself, you start thinking a little more. Belief in yourself is hugely important."
In other words, you have to want the ball.
Doug McIntyre is a staff writer for ESPN The Magazine and ESPN FC. Follow him on Twitter @DougMacESPN.