United States eliminated from Gold Cup after Jamaica loss
ATLANTA -- Jamaica handed the U.S. a humbling 2-1 defeat in the semifinals, meaning the Gold Cup hosts will miss out on the tournament's final for the first time since 2003. Meanwhile, Jamaica is headed to its first-ever championship game.
1. U.S. finally punished for defensive mistakes
A knee injury that kept Timothy Chandler out of training for three days meant Brad Evans came in at right-back, but otherwise U.S. manager Jurgen Klinsmann reverted to the same back line he's used for most of the tournament, with Fabian Johnson at left back and John Brooks coming back from suspension to partner with Ventura Alvarado in the middle.
The central pairing had been a calculated risk the entire tournament, with the duo making mistakes that went unpunished, but on Wednesday the U.S. wasn't so lucky. A long throw from Kemar Lawrence in the 31st minute seemed easy enough to deal with. However, while Brooks and Alvarado sandwiched Darren Mattocks, neither player put enough of a body on the Jamaican forward, and his looping header deflected off the far post and in to put the Reggae Boyz in front.

United States
Jamaica
Game Details
But if that error was chalked up to youthful inexperience, the next goal was the result of an error from a veteran player who should have known better. Brad Guzan collected a loose ball in the 39th minute, but in his effort to deliver a long throw, he crossed the top of the 18-yard box and was whistled for a handball. Giles Barnes duly buried the free kick and the U.S. suddenly found itself down 2-0.
That was by no means the extent of the defensive frailties. Before the goals, a poor throw-in in the 27th minute from Evans and subsequent loose pass from Brooks had resulted in Garath McCleary setting up Barnes with a simple finish, only for him to miss the target completely from just 9 yards.
Without question, the decision to persist with Alvarado and Brooks will leave Klinsmann open to some major second-guessing. The duo's form throughout the tournament didn't warrant their continued selection, with Omar Gonzalez and even Tim Ream performing better when they saw the field.
For all of Alvarado and Brooks' collective skill on the ball, they have yet to show the kind of one-on-one defending and toughness in the box to inspire confidence. World Cup qualifying starts later this year. At that stage, there will be no room for on-the-job training. Form should begin to have more of an influence on Klinsmann's decisions.
With a new Gold Cup champion set to be crowned now, the U.S. will be forced into a playoff for a berth in the 2017 Confederations Cup.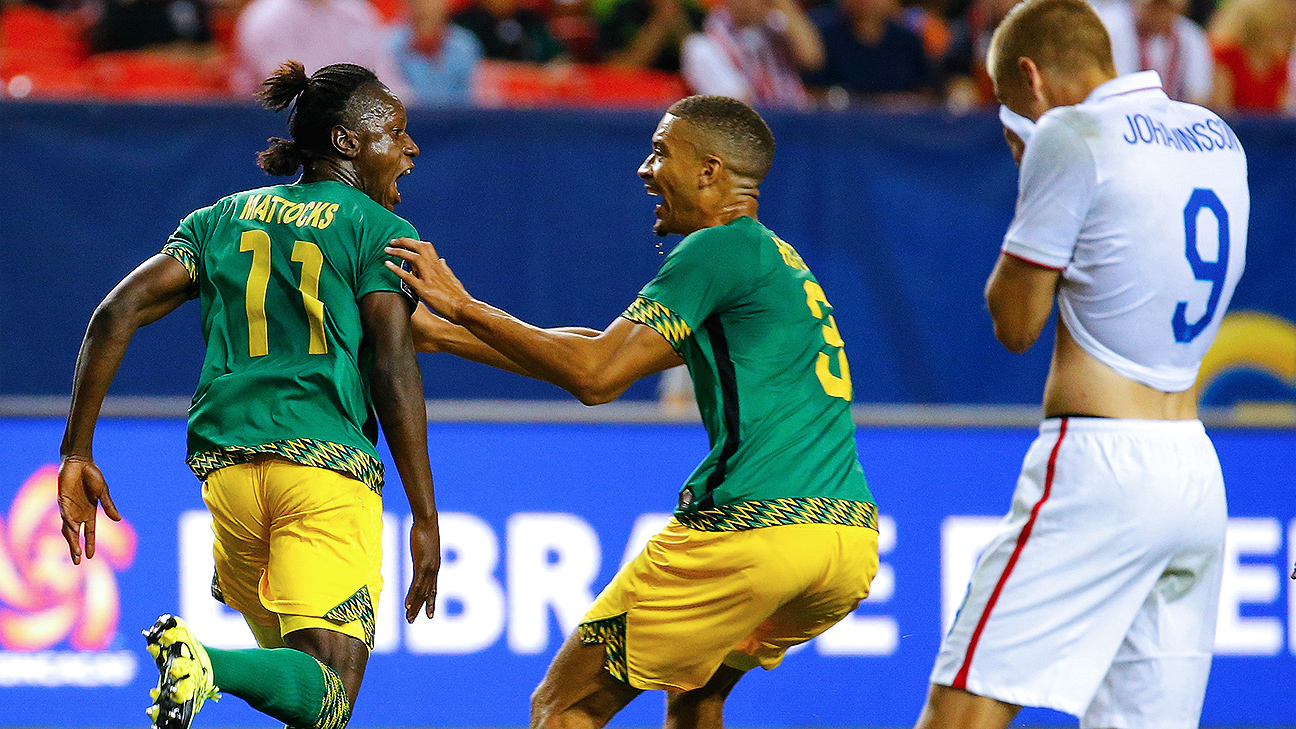 2. Lots of missing pieces in U.S. puzzle
The match proved odd in many respects. For example, in some ways the U.S. played its best game of the tournament. The Americans' combination play cut Jamaica open numerous times, only for a last-ditch tackle to thwart the attack. But there can also be no sugarcoating this result. The U.S. was playing at home in front of a partisan crowd. Those factors should make the result especially tough to swallow.
Without question, Michael Bradley did everything he could to inspire the Americans' second-half fight, and Johnson played an inspired match from his left-back position. But on a day when Clint Dempsey was a bit too quick to resort to tricks, the other candidates to step up were found wanting.
Aron Johannsson will no doubt have nightmares about the chances he missed, including a second-half header from all of 6 yards that didn't hit the target. Meanwhile, Gyasi Zardes' touch let him down too often and the U.S. subs had little impact.
This is not to say that these players should simply be discarded and never see the field again, but this match, and in fact the entire tournament, has been a sobering reminder that the construction of this side is a long, long way from being complete.
Ironically, much the same was said when the U.S. fell in the Gold Cup final to Mexico four years ago. The pieces ultimately came together and saw the U.S. get some impressive results. Klinsmann can only hope that the same occurs in this cycle as well. He certainly has a lot of work to do.
3. Jamaica's simple plan proves to be the winning formula -- barely.
Manager Winfried Schafer has instilled an impressive amount of discipline since taking over Jamaica back in 2013. On this day, his plan was simple -- defend in numbers and try to nick goals on the counterattack and through set pieces. On a day when the U.S. made some mistakes -- both characteristic and uncharacteristic -- it proved to be enough to get the Reggae Boyz to their first Gold Cup final.
To be sure, Jamaica endured plenty of anxious moments. Johannsson nearly picked goaltender Ryan Thompson clean in the 28th minute, only for his toe-poke to go just wide. Johnson then forced a fantastic diving save out of Thompson a minute later.
The second half was one-way traffic for the most part and, with Thompson treating nearly every shot as if it were a grenade, there was no shortage of goalmouth incidents.
This was especially true after Bradley slotted home his goal in the 48th minute after Thompson failed to corral Johannsson's initial shot as well Dempsey's follow-up attempt. Another Bradley drive in the 57th minute handcuffed the shaky goalkeeper but deflected off his chest, onto the post and away.
But ultimately, Jamaica defended tough when it mattered and were left to celebrate just their second-ever victory over the Americans.
Jeff Carlisle covers MLS and the U.S. national team for ESPN FC. Follow him on Twitter @JeffreyCarlisle.