U.S. beat Guatemala as Zardes, Yedlin, Bradley shine, while others struggle
In the end, the win was a comfortable one for the Americans in Nashville, Tennessee. The 4-0 victory over Guatemala looks good on paper, but wasn't nearly as easy as the score line might indicate. A few strong performances stand out from a mostly average game across the rest of the field.
Jurgen Klinsmann used all six of his substitutions, giving him plenty to evaluate ahead of Tuesday's Gold Cup opener against Honduras in Frisco, Texas.

United States
Guatemala
Game Details
Player Ratings (1-10; 10=best. Players introduced after 70 minutes get no rating)
GK Brad Guzan, 5 -- Guzan was not at his best. Appeared uncertain on when to leave his line, made a mess of a few relatively simple Guatemala attacks. Lack of communication with his defenders troubling.
DF Timothy Chandler, 5 -- Gets a bonus point for his goal, but Chandler did more bad than good on the night. Struggled defensively and was bailed out by teammates several times.
DF Omar Gonzalez, 6 -- Aside from one moment of indecision that nearly led to disaster, Gonzalez played well. Dominant in the air as always, though his passing out of the back needs to be sharper.
DF John Brooks, 6 -- It was a solid, mostly uneventful night for the young center back. Stepped up to cut off Guatemalan attacks smartly, and won his share of balls in the air.
DF Fabian Johnson, 7 -- In a fairly pedestrian first half, Johnson stood out for runs up the left flank, often overlapping Graham Zusi and getting into the attack. Defensively, he didn't have much to do.
MF Mix Diskerud, 5 -- Diskerud put in an uneven performance in the holding midfield role behind Michael Bradley. Appeared unsure of his positioning more often than not. Contributed more in the attack in the second half.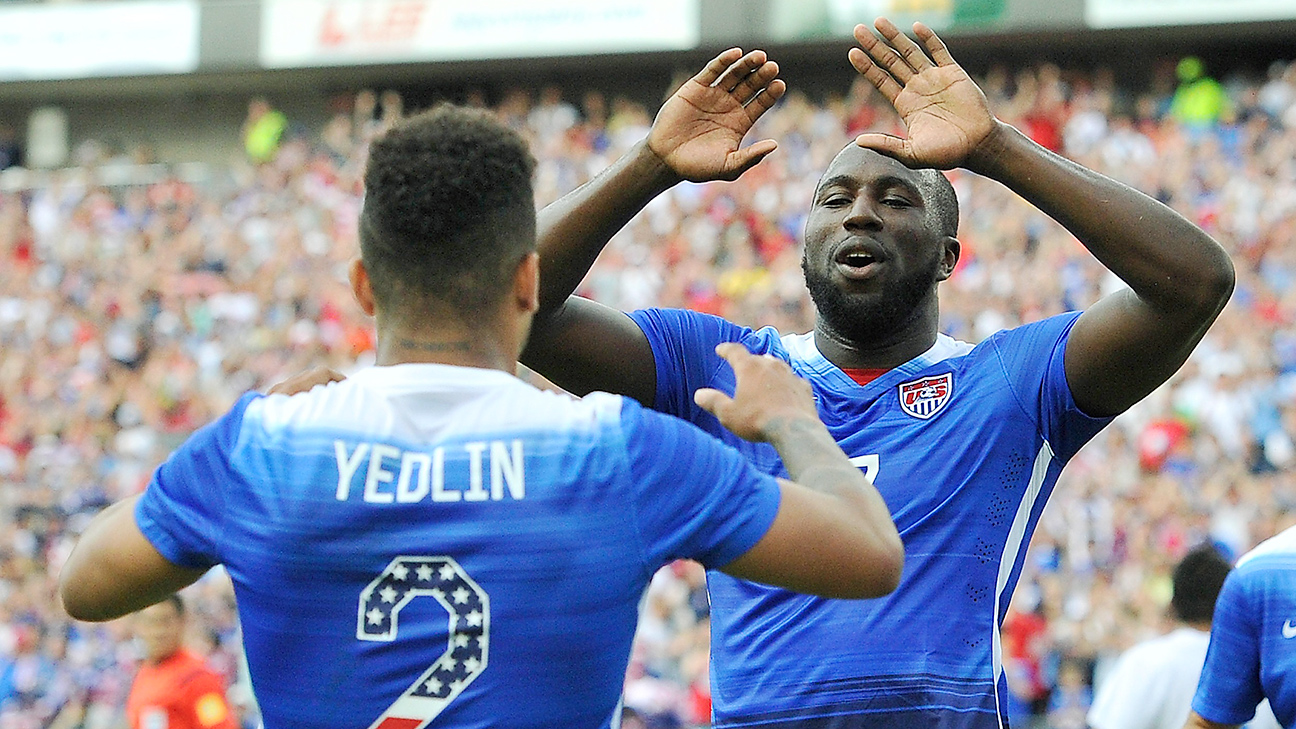 MF DeAndre Yedlin, 7 -- Much better going forward than dropping into defensive positions, an issue exacerbated by the interchange with Chandler going wrong several times. When flying up the flank, Yedlin provided most of the U.S. attack through the first 45 minutes.
MF Michael Bradley, 7 -- A solid, if unspectacular, night for the captain. Per usual, most of the American effort going forward went through Bradley, who orchestrated with his passing from the middle. Did struggle to pick the right pass in transition.
MF Graham Zusi, 4 -- After a long stretch away from the national team, Zusi looked to have more than his fair share of rust. Playing opposite his more comfortable spot in the midfield, he hit several poor crosses. Did have a few good moments working in tight spaces.
FW Clint Dempsey, 5.5 -- Scored a second-half penalty to get on the goal sheet and fulfill his role as the team's primary goal scorer. Played a very wayward forward, which put him on the ball more often while also pulling him away from goal. As always, provided a few bright creative moments.
FW Jozy Altidore, 4.5 -- The missed penalty kick stands out from a disappointingly toothless night from the TFC striker. Off-the-ball work seemed lacking, and his holdup play was spotty. Suffered some from Dempsey's tendency to drop deep.
Substitutes
DF Ventura Alvarado, 5 -- Entered for Gonzalez at halftime. Kept up the standard for the most part. Slow to commit occasionally, which led to danger from Guatemala.
DF Greg Garza, 6 -- Got forward to great effect. Competent defensively, worked the balance well with Gyasi Zardes. Not an improvement over Johnson, but not much of a drop-off.
MF Gyasi Zardes, 7 -- A dynamo up the left, creating chances from the moment he stepped on the field in the second half. Set up Chris Wondolowski for the final goal of the night.
MF Alfredo Morales, NR -- Struggled with the pace of game, looked unsure of himself. First impression wasn't a good one when he gave away a foul just outside of the U.S. box.
DF Tim Ream, NR -- Made no obvious mistakes, but was also in the game when Guatemala began to find opportunities in the latter quarter hour.
FW Chris Wondolowski, NR -- Put in an energetic shift in his time on the field, and got on the end of Zardes' ball to score the Americans' fourth tally.
Jason Davis covers Major League Soccer and the United States national team for ESPN FC. Twitter: @davisjsn.