Brad Friedel ends an illustrious career but still offers much to US Soccer
And then there were none.
Tottenham Hotspur and former U.S. international goalkeeper Brad Friedel announced on Friday he will retire at the end of the season, which means the last active link to a hugely transformative period for U.S. soccer during the 1990s and early 2000s is set to go into the history books.
It's astonishing what Friedel accomplished in a career that lasted a mindboggling 23 seasons. At club level he set a record with 310 consecutive Premier League starts and 450 overall.
Despite spending the bulk of his career with modest clubs, he even managed to claim a bit of silverware, helping Blackburn Rovers win the League Cup in 2002. Along the way he proved to be one of a group of pioneers who helped raise the reputation of American players performing overseas.
"I think anyone who played with Friedel -- be it a week, a year, a decade -- would probably say that he was the epitome of what a professional should be," said former international teammate and current Fox Soccer analyst Eric Wynalda. "Nobody worked harder than him."
At international level, Friedel played 82 times for the U.S. and was part of three World Cup squads. He was immense during the team's run to the 2002 quarterfinals, saving two penalties in a tournament that remains the high-water mark for the U.S. in the modern era.
"There was such a sense of security, that it was going to take a fantastic effort to beat him," said current Columbus Crew manager Gregg Berhalter, who played in front of Friedel during that tournament. "He was at the top of his game, and he was just a very intimidating goalkeeper because he could save everything. He gave us a lot of confidence."
In some ways, it's a shame that Friedel called time on his international career in 2005. Not that there has been any shortage of American goalkeeping talent since then because Kasey Keller, Tim Howard and Brad Guzan have all been exceptional.
In fact, it was Friedel's long duel with Keller that contributed to his international retirement. Indeed, an argument can also be made that, by focusing exclusively on his club, Friedel extended his career.
But the decade-plus that has passed since he last played for his country has seen a fading of memories, even as he continued to excel at club level. Granted, in some ways it's the nature of pro sports in that the new always seems destined to eclipse the old. Yet one can only hope that Friedel's decision to retire will provide an adrenaline shot of perspective as to his accomplishments.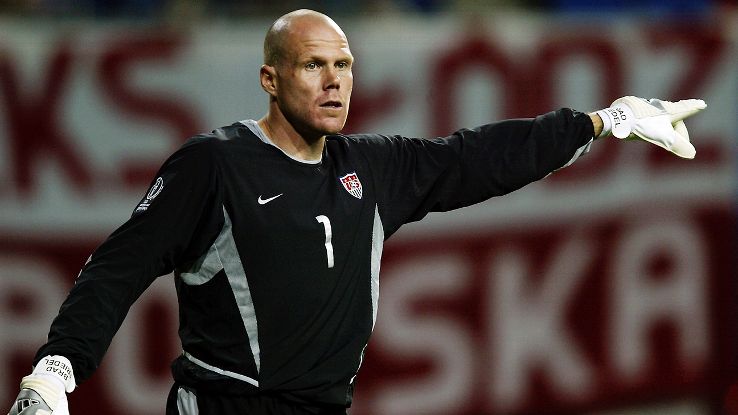 What made Friedel so tough to beat? There was no questioning his athleticism and Wynalda recalls how, during a national team camp in the 1990s, a competition was held to test the players' fitness. The events included the beep test, standing broad jump, vertical leap and 40-yard dash.
"When the list came back, Friedel was at the top in like five out of eight categories," said Wynalda. "We knew then there was something special about him."
Friedel's reflexes were uncanny and his notoriously long arms allowed him to save shots he had no business getting to.
"I remember even in training, when you're talking about trying to score, it had to be in the corner, or you're not scoring," said Berhalter. "Then as a shooter you'd try to get more precise and that's where you'd make an error."
But there is more to goalkeeping than just the physical aspect. So much of the position is played with the head rather than just the heart, and Friedel excelled in the cerebral part of the game as well.
"When you have the ball and you're shooting, you'd like to think that you're dictating the play, that you're are in charge," said Wynalda. "Friedel was different because he had the ability to get in your head, especially if it was a play where he had enough time to come out and get his feet set. He altered your thinking on every occasion, if you knew him. If you didn't know him you'd shoot and one of two things would happen. He'd save it, or you'd get lucky."
Like most outstanding keepers, Friedel had a way of inspiring confidence, communicating information with the right tone, even resorting to humor at times. Wynalda recalled a World Cup qualifier against Mexico at the Estadio Azteca in 1997 when he was forced to play outside back after Jeff Agoos was sent off. The amount of running, high altitude, and poor air quality resulted in Wynalda vomiting near the goalpost.
"He was like, 'See? You like this defending stuff? Now you're really playing. Now you're officially a soccer player. Now you have to run and defend.' I just looked at him with puke all over my jersey, and he laughed at me," Wynalda said.
As for what is next, Friedel has made it well known that he is pursuing his coaching licenses. He already has his UEFA "A" license and is less than a year away from getting the coveted UEFA-Pro certification.
That is why he'll remain with Tottenham in the short term as an ambassador. Whether Friedel will go the coaching route remains to be seen but Wynalda is among those who hopes he does.
"Friedel has all the knowledge in the world, more so probably than any of us as far as Americans are concerned," he said. "But he also has the ability to communicate in a precise way, to give instruction and give you confidence. He's a very talented coach.
"I'm hoping that Friedel's legacy isn't his playing career. It's what he does after. He has a far greater opportunity to change the landscape of soccer in this country with what he does now. I could see him being commissioner of MLS or the president of U.S. Soccer some day."
If it ends up being half of what Friedel accomplished as a player then it will be a mighty legacy indeed.
Jeff Carlisle covers MLS and the U.S. national team for ESPN FC. Follow him on Twitter @JeffreyCarlisle.