Howard's historic night marred by loss
SALVADOR, Brazil -- As Tim Howard walked through the post-match mixed zone, he had a shiny metal case in his hand. It contained his Man of the Match award for his heroic effort in the U.S. national team's round of 16 match against Belgium.
The new hardware told only part of the story, however. There were his slumped shoulders and the rueful grin that revealed Howard and the rest of his teammates had come out on the short end by a score of 2-1.
Of course, if not for Howard, Belgium could have easily won the match by three or four goals instead of being forced into 30 minutes of extra time.
"[Howard] is one of the best goalies in the world, he's our backbone in the back," said U.S. defender Matt Besler. "It's nice as a defender when you know you have that behind you. He played unbelievably tonight."
On the night, Howard was officially credited with saving 16 shots, though it seemed like he repelled double that amount. Even with his tally at 16, it was the most saves in a World Cup finals match since 1966.
But even the most impregnable walls can eventually be breached, and Belgium finally broke through for goals by Kevin De Bruyne and his Everton teammate from last season, Romelu Lukaku. A late tally by Julian Green gave the U.S. hope, but the Americans' late rally fell short.
Tuesday's match brought back memories of Kasey Keller's remarkable performance against Brazil in the 1998 Gold Cup, when he came up with 10 saves -- most of them otherworldly -- in a 1-0 win. Brazilian striker Romario said, "That was the best performance by a goalkeeper I've ever seen."
Howard's performance certainly belongs in the conversation for the best performance by a U.S. goalkeeper. Unfortunately, he was left to contemplate how playing the game of his life wasn't enough for the U.S. side on this night.
"I didn't really keep count [of the saves], it sucks that we lost," he said. "I think that's the overriding thing, unfortunately.
"Thirty-one teams get their heart broken, and it has to end some time. It ended a little bit early for us. We felt like it was a good Belgium team. Sometimes you give everything you have and do your absolute best, and it doesn't stack up."
The first half was fairly even, though Howard got an early sign of what kind of night it would be when Divock Origi forced him into the first of several saves with his feet with the match less than a minute old.
As the match progressed, Belgium started attacking in waves, and the second half turned into 45 minutes of Howard's Greatest Hits. A save with his foot off Jan Vertonghen, a parry from substitute Kevin Mirallas' shot, another foot save off Origi, a tip over the bar from an Eden Hazard blast. He even managed to push aside a mishit from Vincent Kompany.
And on it went.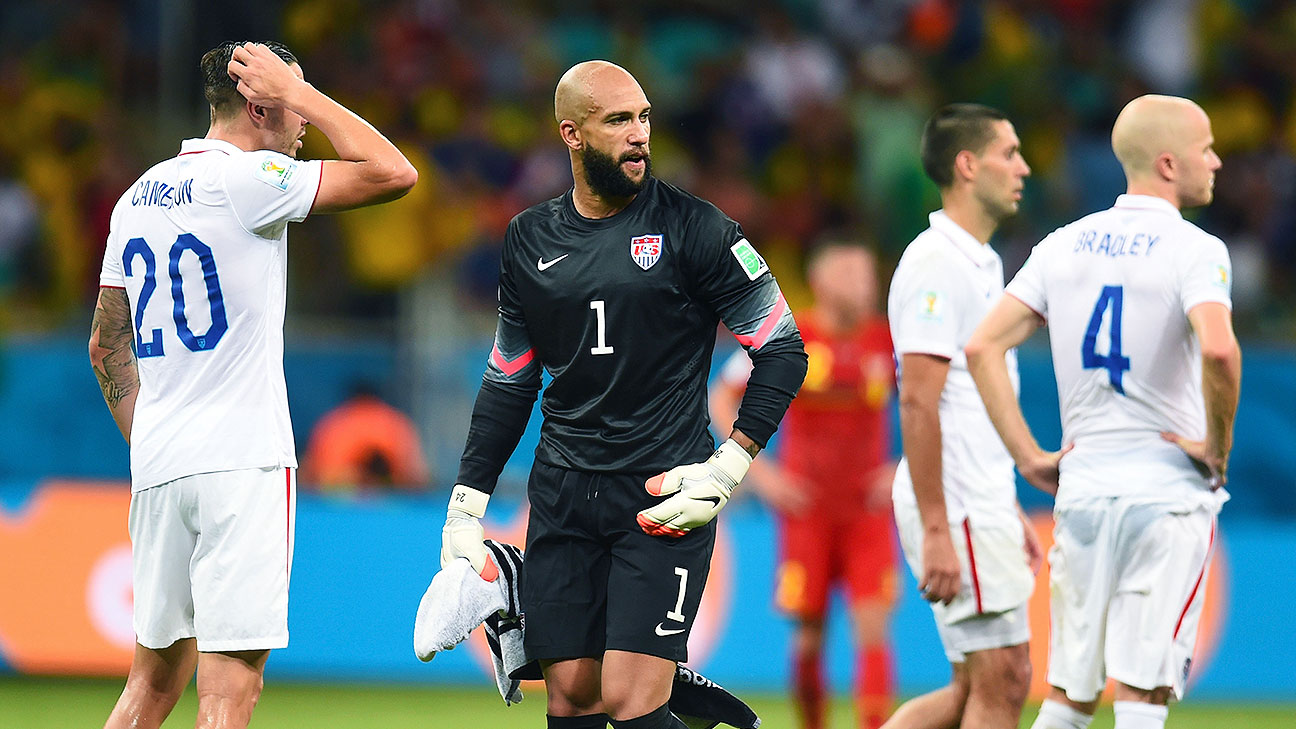 It's nights like these when a goalkeeper can feel like he's catching a beach ball, that he can't be beat, no matter how long the onslaught lasts. Howard had a different take.
When asked if he felt like the saves meant this would be the Americans' night, he said, "No, I felt like if this continues we'll be in trouble."
Trouble did indeed find the U.S. just three minutes into extra time with De Bruyne's strike nestling into the corner, just inside Howard's right post. Making the goal even more agonizing for the U.S. keeper was that he felt he got a piece of it.
"I felt it hit me," he said. "Especially with a right-footed shooter, he finished it well obviously because he was always going away from the goal. I was just trying to make myself as big as possible, and get something on it."
His Everton teammate over the past year, Lukaku then beat him in the last minute of the first extra-time period after Howard had stopped him previously.
"[Lukaku] hits the ball a ton," he said. "I see him every day. I probably made two saves off of him there down low. I just didn't get to that one."
Afterward, U.S. Soccer Federation President Sunil Gulati said he'd be open to the possibility of having Howard back at the World Cup in four years time. Howard, who signed a contract extension with Everton that will keep him at the club until 2018, said now isn't the time for such discussions.
"Those decisions will be made when I'm less emotional and things settle down," he said. "I need to have a few important conversations with important people."
Howard then walked off through the remainder of the mixed zone. Earlier he had been asked if the Man of the Match Award he was carrying was his least favorite.
"That's for sure," he said.
But for those who watched his spectacular performance, it will also rank as the most memorable.
Jeff Carlisle covers MLS and the U.S. national team for ESPN FC. Follow him on Twitter @JeffreyCarlisle.