Young players shine for U.S. in Brazil
SALVADOR, Brazil -- Even in the aftermath of a bitter loss, there are still plenty of positives to pick from the ashes of U.S. team's valiant World Cup run.
The journey ended in what man of the match Tim Howard called a "heartbreaking" extra-time defeat to tournament dark horse Belgium. But there were some promising individual performances, particularly by some of the youngest players on the squad, that bode well for a future that will arrive sooner than many may realize.
Belgium

United States
Game Details
"I made a point of saying to a few of the young guys that we have some big stuff coming up," veteran midfielder Michael Bradley, surely this team's next captain, said after it was over.
"The tendency at times right after a World Cup is for there to be a bit of a lull, a stretch that you're playing friendly games and it feels like the next meaningful tournament or the next big game is pretty far away. It's not."
He's right.
The U.S. will play in a Gold Cup next summer that could seal the team's passage into the 2017 Confederations Cup in Russia -- the dress rehearsal for the main event there the following year. In 2016, there's the Centennial Copa America to be played on home soil. And, perhaps most important, there is the Rio Olympics back in Brazil a couple of summers from now.
The U.S. didn't qualify for the London Games two years ago, a failure U.S. coach Jurgen Klinsmann pointed to often when he talked about how some of the program's most prized talent -- one-time World Cup roster shoo-ins such as Juan Agudelo and Brek Shea -- had their development stunted to the point that they ended up not even making the 30-man preliminary roster.
Now, though, three key players on the next U.S. Olympic qualifying team, which is limited to players under the age of 23, will already have experience at the sport's highest level under their belts.
At the beginning of this year, few would have predicted that John Brooks, Julian Green and DeAndre Yedlin would all make Klinsmann's final squad for Brazil, let alone make significant contributions at this World Cup.
But they did.
In the June 16 opener against Ghana, the 21-year-old Brooks capped a solid defensive performance in relief of injured Matt Besler with a crucial game-winning goal. Green, 19, became the youngest American ever to play at a World Cup on Tuesday, and he scored on a spectacular shot to give the Americans some badly needed life after going down 2-0.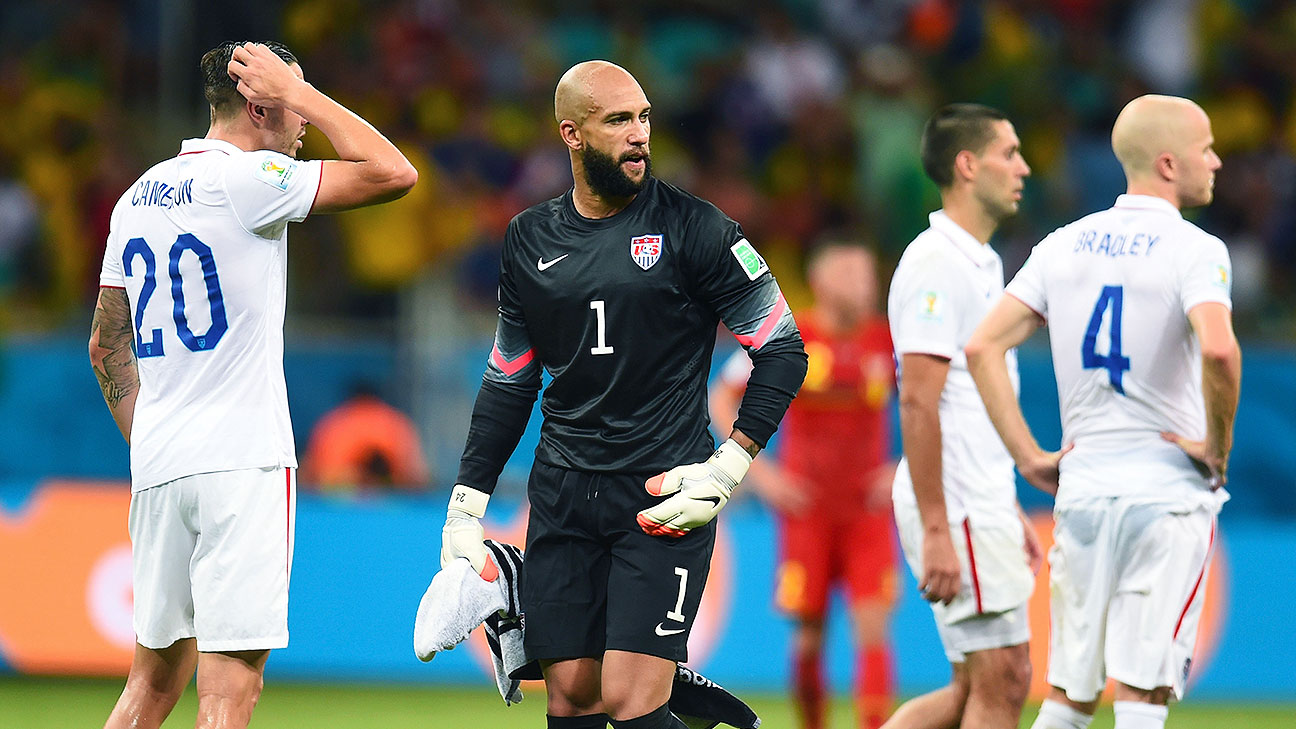 Meanwhile, Yedlin was a revelation in all three games he played. Besides Howard, the 20-year-old was the Yanks' best player against Belgium.
"He has tools that other guys don't," Besler said of Yedlin, noting how he blew by lightning-quick Chelsea midfielder Eden Hazard in the first half. "The composure that he had, the fight that he had, I think all of us can be very excited about the potential that he has."
Green has plenty of potential, too, even if he didn't get to show it off until the team's final minutes in Brazil.
"Julian has been growing at a very fast speed in the last seven weeks, and we guided him through that process," Klinsmann said after the game. "He knew that he might get this chance today. It was just phenomenal how he came in and scored that goal and gets us back in it."
The loss still hurts, of course. But the way Brooks, Green and Yedlin performed here provides a genuine silver lining for the national team program as it sets out onto the road toward Russia 2018, even if it's hard to see right now.
"The young players now have a taste of what it's like to play and compete at this level," Bradley said. "And in a lot of cases, they not only have a taste of it, but they kind of saw for themselves that not only can they play here, but they can play well.
"This will be an exciting four years."