Mexico Hot List: Alvarez's Gold Cup play thrusts youngster into spotlight
With El Tri's (disappointing) journey in the 2017 Gold Cup now done and dusted, and the 2017 Apertura now underway, it's time to bring back our weekly hot list which evaluates Mexico's top players.
Following plenty of recent Liga MX and El Tri action, here are some of the best and worst performances seen on the pitch.
Warming Up
Edson Alvarez, DF, Mexico (Gold Cup)
Why he's here: Unexpectedly, Alvarez was the stand out player for El Tri in the Gold Cup. No matter which position he played, the 19-year-old was confident and reliable for the national team.
What this means: Due to his versatility, the defender should continue to earn call-ups from Mexico manager Juan Carlos Osorio. With a good run for club and country this year, a potential place in a World Cup roster might not be out of the question.
Jesus Isijara, FW, Necaxa (Liga MX)
Why he's here: The winger wasted no time in Necaxa's season opener. During the 2-0 win over Veracruz on Sunday, Isijara provided a goal and a handful of dangerous shots from the right flank. After hitting the post, the Necaxa player was unlucky to only have one shot find the back of the net.
What this means: Is Isijara set to once again look like one of the most dangerous Liga MX wingers? With Edson Puch now gone, the 27-year-old Necaxa will be responsible for much of the attack.
Jose de Jesus Corona, GK, Mexico (Gold Cup)
Why he's here: Although many point to his bad positioning that allowed Jamaica's game-winner during Sunday's 1-0 semifinal loss, Corona can still hold his head up high after the Gold Cup. Were it not for his highlight-worthy saves throughout the tournament, El Tri could have easily had a catastrophic run.
What this means: In spite of his age, the 36-year-old veteran is still relevant to the national team. He might not be a starter over Guillermo Ochoa, but at the least, he should continue to be one of the best backup options.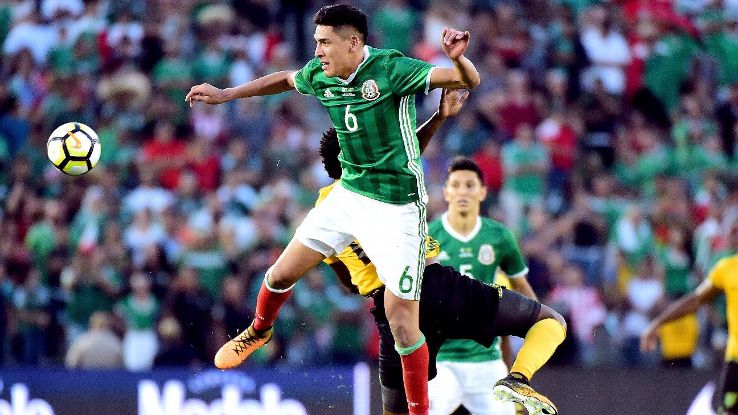 Cooling Down
Gibran Lajud, GK, Club Tijuana (Liga MX)
Why he's here: Unfortunately for Lajud, his Apertura season has kicked off with the blunder of the weekend. Friday, the young goalkeeper fumbled a simple header which provided Cruz Azul's first goal of the 2-0 win against Tijuana.
What this means: Last week's mistake is just one of many that seem to occasionally plague his budding career. The 23-year-old has been able to produce moments of beauty in the past, but if he continues to struggle with consistency, a backup such as Jose Antonio Rodriguez could take over.
Erick Gutierrez, MF, Mexico (Gold Cup)
Why he's here: Before the start of the Gold Cup, the 22-year-old was set to be one of the most thrilling players of the tournament. Instead, the young Pachuca star was lost and ineffective in Mexico's midfield. Gutierrez was arguably one of the biggest disappointments of the competition.
What this means: There's no doubt that he is an El Tri star in-the-making, but for now, Gutierrez will need to once again prove his worth when he returns to Pachuca. Luckily for him, he'll have some help from newcomer and Japanese superstar Keisuke Honda.
Erick Torres, FW, Mexico (Gold Cup)
Why he's here: Following a brilliant start to the MLS season, Torres struggled to make much of an impact during the Gold Cup. Without a single goal to his name, the striker has now moved down a place or two in El Tri's depth chart.
What this means: Will Torres earn another opportunity to shine for Mexico in the near future? Even if he maintains his exciting form for the Houston Dynamo, this summer was likely his big chance to make a case for himself before the World Cup.
Cesar Hernandez covers Liga MX and the Mexican national team for ESPN FC. Twitter: @cesarhfutbol.