Mexico need to regroup after loss
There currently seems to be two overwhelming reactions from fans and critics after Mexico's 1-0 loss against Bosnia and Herzegovina.
The first is frustration: frustration over Mexico's defence, over manager Miguel Herrera's decision to utilize three separate formations and frustration over a 1-0 loss against a team that has only one known player to most El Tri fans.
- Marshall: Chicharito's miss his lone bright spot
- Hernandez: El Tri player grades reflect poor showing
Then, there is the second reaction. There are those who are skeptical about the severity of the 1-0 loss yesterday. They recognize the fact that Herrera used a very experimental squad and that although it hurts to see Mexico lose any game, it might not be the end of the world -- or World Cup.
My gut tells me to lean more toward the latter than the former when it comes to the postgame reactions, but that doesn't mean that I'm fully confident with the level of play that the squad is currently at, either.
Before the game had even started, most fans and critics predicted convincing wins for Mexico on Twitter. I was one of those people; I imagined the game would be close but end in a scrappy win for El Tri. I imagined that Javier Hernandez would be foolish to not play his best at this point before Brazil and that Carlos Pena would shut up all of his naysayers. I predicted a goal from each of those players who were still contending for a starting spot. I was wrong.
Like the two separate reactions from fans after game, there were also two separate stories to tell from El Tri's match against Bosnia and Herzegovina. In the first half, Mexico found it difficult to control the midfield and looked at times listless in defence. The red-orange colors of Mexico's jerseys appeared fitting, as they truly looked like cones in defence as Edin Dzeko moved around them with ease.
Later in the half, Hernandez almost scored his first goal since last summer, but the right post decided to further his goal-scoring drought for another game. It would have been a monumental moment for Hernandez and El Tri in the match but also symbolized the chances that Mexico would later have on goal.
In the second half, Herrera utilized a 4-4-2 and then a 4-3-3 that gave a bit more momentum for the Mexican squad. Soldier Field was filled with chants of "Si se puede" as Giovani dos Santos, Andres Guardado, and Alan Pulido all pressed for a late equalizer in the game. Every opportunity wasn't enough to find the oh-so-desired goal, but it was plenty enough to almost make me fall off my seat in exasperation at the press box.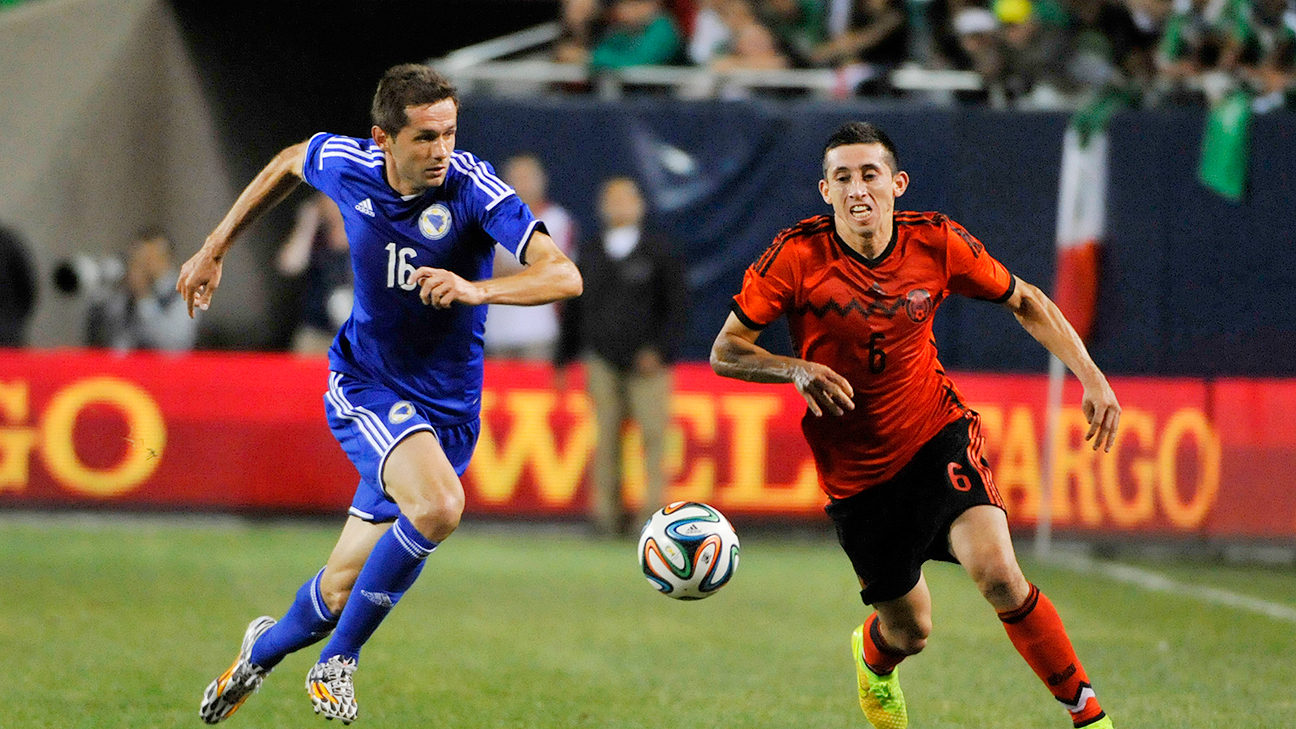 Yes, it's hard to deny that it was a frustrating experience, but El Tri will be fine -- for now. Herrera used a highly experimental squad, and the result says more about the failures of the fringe players and not the starters. Unfortunately for Herrera, the loss will put a substantial amount of pressure on the coach for the Portugal game.
Herrera will field what he considers to be Mexico's best XI on Friday, and if Herrera loses for a second time, there will be plenty of mixed emotions going into Brazil.
Then again, does two losses necessarily mean much for the World Cup? How strong is the correlation between a team's performance in the World Cup and their performances in the friendlies beforehand?
It shouldn't be that significant. Yet, with the lack of preparation time and the various injuries that the squad has endured, Mexico will need any motivation or morale boost that it can get.
Herrera, whose legs were shaking in irritation during the news conference last night, reiterated multiple times that the game was friendly, downplaying the weight of the loss. It was interesting to see the coach be so defensive and angry after collecting his first loss with the Mexican national team.
Herrera does have a point, though. It was just a friendly, and there were maybe only 3-5 players on the starting lineup who are expected members of the starting XI. Let's also not forget that some players might even be hesitant to play 100 percent after watching Luis Montes, Juan Carlos Medina, Rafael Marquez and Jesus Corona all injure themselves recently.
As mentioned, Herrera will have an enormous task on Friday. There will be no room for excuses, such as friendly tactical experiments or lineup changes, against Portugal.
Will Herrera and El Tri be ready?