Honduras national team becoming a beacon of hope in San Pedro Sula
SAN PEDRO SULA, Honduras -- Rivera Hernandez, San Pedro Sula bears no resemblance to the French or Italian Riviera. A quick Google search clears that up. Violent photos, ugly news stories and tales of hardship pop up, not picturesque and quaint coastline.
But ahead of Honduras' World Cup qualifier against Mexico on Tuesday in the city with the highest homicide rate in the world, there is one football-related initiative attempting to both give a lift to a struggling national team and keep youngsters away from the negativity that all too often surrounds them.
Local youths from the Rivera Hernandez area have been brought together and given the opportunity to start a supporters group -- named La Barra Catracha -- for the Honduran national team, and will be inside the Estadio Olimpico for Tuesday's game. It is a community scheme backed by local politicians with the aim of uniting youths often divided by their situations and even gang loyalties.
"We've just started for this World Cup, Tuesday is our debut," explained Humberto Orellano, the group's leader and founder. "Rivera Hernandez in San Pedro Sula has been identified as a conflict zone, but thanks to initiatives like this one, they are giving us a chance and showing the world that if our young people are given an opportunity, they can do positive things."
Orellano met ESPN FC on a motorbike on the edge of Rivera Hernandez on Sunday evening. A trip into the unknown followed, driving for five minutes and then making a sudden right turn into a neighborhood with no paved road and little in the way of lighting. Fortunately, there was a soccer field, and that did have bright floodlights.
On it, La Barra Catracha were waiting. They had been practicing their chants and choreographed movements ahead of Tuesday's game all day, and the 48 blue-and-white-clothed fans were eager to show of what they had learned. Led by Orellano, they went through their repertoire. There were smiles, sweat, the banging of drums as well as the occasional shouting if the choreography didn't go smoothly.
"They are youngsters that have had difficulties," explained Orellano. "A lot of them have been at social risk because of what our neighborhood goes through."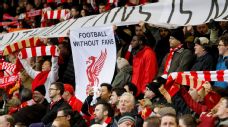 What their neighborhood goes through is tragedy after tragedy. For every 100,000 inhabitants, 169 are murdered each year, according to CNN. That works out to be roughly three every day.
Enrique Soto stuck out. He was the youngest of the group at 14 years old, although he looked younger. Soto had changed out of his Celtic shirt -- the club Honduras full-back Emilio Izaguirre plays for -- into a Honduras one, with a blue-and-white top hat and Honduran flag wrapped around him as ESPN FC's camera turned on.
"It's the first game I will have been to, I'm very happy," said the shy Soto, predicting his Honduras side will win 3-0 on Tuesday.
"It is something special," added Daniel Ojeda, another young member of the group. "I love it. My passion is driving on the Honduras national team. It is in my veins and I don't lose faith when my 'H' loses."
Rain fell on to the pitch as the preparations continued and drum beats rumbled on. A small crowd gathered alongside the field, intrigued by the goings on.
Tuesday's match will be an important day for the members of La Barra Catracha from Rivera Hernandez and in the lives of the likes of Soto, who has never seen the national team play live before.
But Orellano and La Barra Catrachas' dream doesn't end on Tuesday. The group's leaders are investigating if there is any way for La Barra Catracha to make its way from Rivera Hernandez, up through Guatemala, over the Mexican border and into the Estadio Azteca for next September's final match in this stage of qualifying.
Orellano calculates it will take 29 hours to reach Mexico City by bus, and he says taking in the game in person will be worth every minute of the journey. Logistical issues remain, like raising the finance and getting the paperwork sorted for the members to be able to cross the borders. It would be some story if they could put it off.
"It's like the song: Wherever Honduras go, we'll be there to support," said Ojeda of the possible trip. "It'll be another Aztecazo," referring to Honduras defeating Mexico in World Cup qualifying at the Azteca in 2013.
There is a long way to go in the group stage of CONCACAF qualifying, but Honduras already needs a lift against Mexico following its 1-0 loss to Canada on Friday. At least off the field on Tuesday, La H can count on La Barra Catracha from Rivera Hernandez to provide it.
Tom Marshall covers Liga MX and the Mexican national team for ESPN FC. Twitter: @MexicoWorldCup.