Salzburg finally get their glory vs. Leipzig in the 'Red Bull battle'
LEIPZIG, Germany -- They were loud and they were present. Three hours before kick-off, they gathered at the Richard-Wagner-Platz in Leipzig's city centre. Some were drinking beer while others waited in anticipation of things to come.
This was their night, this was their match and this was their club: RB Salzburg. But it wasn't their city, and not even their name. In Europe, they go by the name of FC Salzburg as UEFA don't allow sponsor names. (Their opponents, RB Leipzig, maintain plausible deniability given that the RB stands for Rasenballsport, or "Lawn-ball sport.)
Salzburg's sponsor, Red Bull, has strong links with both clubs and only last year, the European future of both sides was in jeopardy. UEFA's integrity rules prevent multiple teams with the same ownership from playing in one European competition. But ahead of Leipzig's first-ever Champions League campaign in 2017, UEFA said they were not able to prove that Red Bull has the "ability to exercise decisive influence in the relevant decision making of itself and the other club."
Fast forward to 2018 and they were drawn against each other in the Europa League group stage after the Austrian side once again failed to qualify for the Champions League. And so, on Thursday, around a thousand Salzburg fans made their way from the Austrian city to Germany's east for the first European meeting of the two RB clubs, both part of Red Bull's global soccer network.
"There's no other person we hate more than Ralf Rangnick," says one of the leading Salzburg fan says as he gets ready for the march to the stadium. "He nearly destroyed our club."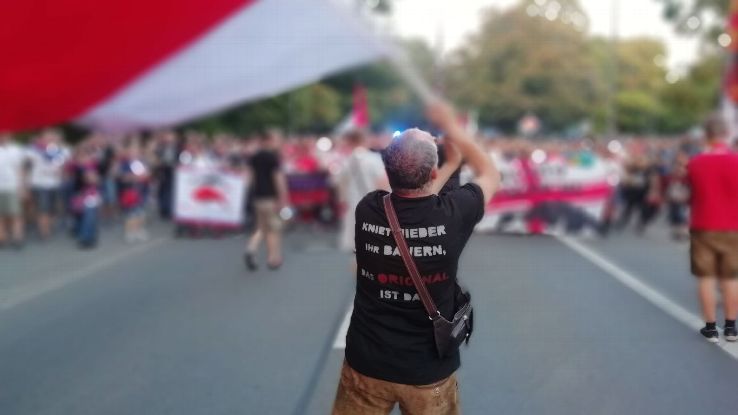 From 2012 to 2015, Rangnick had served as the sporting director for both clubs. It was during his tenure that Salzburg became Leipzig's de facto farm team. Throughout the years, close to 20 players joined the team in Salzburg before being "promoted" to Germany.
One of them, Naby Keita, left for Liverpool this summer. Another one, Sadio Mane, went to the Premier League when he joined Southampton in 2014, two years before Leipzig reached the German top flight. On Thursday night, four Leipzig players (Dayot Upamecano, Marcel Sabitzer, Stefan Ilsanker and Konrad Laimer) had made a direct switch between the two clubs while Kevin Kampl rejoined the RB family following stints at Dortmund and Leverkusen. Yet despite strong ties between the two sides and amid the din of public outrage from football fans in Europe fearing Red Bulls' continued expansion, both teams battled it out in front of a mere 24,057 supporters at Leipzig's stadium.
"The better team should win both [group] games," said Red Bull co-founder Didi Mateschitz following the group draw that granted both RB teams the right to fight it out on the pitch.
On Thursday night, only Salzburg showed up for the first 45 minutes. They bossed the midfield, closing the passing lanes, chasing down their opponents, forcing them into errors. Intercepting one of several bad Leipzig passes, Salzburg's Munas Dubbar opened the scoring after 20 minutes and barely two minutes later, Hannes Wolf initiated an attack with a wonderful through-ball to Andreas Ulmer on the wing. Waiting in the middle, Amadou Haidara doubled the score.
This summer, Leipzig had hoped the 20-year-old Mali international could become the next player to move to the Bundesliga side as they were looking for a Keita successor, but it was not to be; instead, Salzburg signed him to a new deal. And when both teams were drawn against each other in late August, there was no way for Rangnick to force through a bold transfer under European football's watchful eye.
Haidara, ever present on Thursday night, has since become a symbol for Salzburg's resistance against their German sibling. Players will always leave the club, as you'd expect, but those following Salzburg hope they don't go to Leipzig. This summer, Valon Berisha left for Lazio and Duje Caleta-Car headed to Ligue 1 to join Olympique Marseille instead.
Down on the pitch, Rangnick made three furious substitutions at half-time and the German side leveled the score with two late goals from Laimer and Denmark international Yussuf Poulsen. Then, with two minutes left on the clock, Frederik Gulbrandsen, returning from a long injury lay-off, stunned the hosts with a late goal, picking up a back-heel combination in midfield and scoring to give Salzburg a 3-2 win.
"Today, we've shown that we are at least on the same level," said the 26-year-old Gulbrandsen, referencing Salzburg's Europa League elimination of Borussia Dortmund.
In his post-news conference, Salzburg's Leipzig-born coach Marco Rose was beaming. "FC Salzburg has won 3-2 at Leipzig today. This makes me happy. Also [happy] for our fans, who have shown up in great numbers."
In the stadium, the Austrian fans sang "without Salzburg, you wouldn't be here."
Yet Rangnick couldn't resist taking some credit for Salzburg's victory. "Defeats rarely feel good and for three years I was responsible for the quality of that team. Some of them are still there."
The question now will be whether he can continue to get what he wants from the Austrian club as both RB sides return to domestic action.