Neymar and Brazil teammates get chance at redemption vs. Switzerland
Neymar promises to be one of the big stories of Russia 2018. The Brazil star will be 26 at the time the competition is played and will be looking to create brighter memories than four years ago. This is the World Cup that comes closest to catching him at his peak, the tournament when he will seek to make his definitive statement as an international footballer. And it could hardly get off to a more intriguing start.
Brazil open their campaign on June 17 against Switzerland -- wonderfully evocative opponents for Neymar, as well as Philippe Coutinho, holding midfielder Casemiro and goalkeeper Alisson. They all played against Switzerland in the 2009 Under-17 World Cup in Nigeria.
With Neymar and Coutinho already big names, with first-team experience at big Brazilian clubs, Brazil travelled with very high hopes. There was an expectation that they would breeze to the title. The debut game, though, was a disappointment. True, Neymar scored but Brazil needed an astonishing stoppage-time error from the opposing keeper to beat Japan 3-2. Then they lost 1-0 to Mexico, with Neymar so ineffective that he was substituted in the second half.
The group phase came to a close, then, with the clash against the Swiss. Again, Brazil lost 1-0. Again, Neymar was ineffective. Again, he was taken off in the second half with his team needing a goal. The pretournament favourites were out of the tournament, one of just 8 of the 24 teams to fail to make the knockout stage. Switzerland, meanwhile, went on to win the competition.
There are no disasters at the U17 level. Everything is based around experience -- and it seems clear that Neymar learned plenty from what went on that fall in Nigeria. Failure is usually a key part of any success story. In this case, it is certainly arguable that what happened in the U17 World Cup delayed Neymar's move to European club football.
His career has always been taken step by step. Defeat against the Swiss re-enforced the necessity of this gradual approach. Neymar might have been hitting the headlines with Santos in the Brazilian Championship but the global challenge was harder. Chelsea came in for him, and were so confident of taking him to London that they bought him a plane ticket. The seat ended up going unoccupied as Neymar stayed put. He did not think he was ready.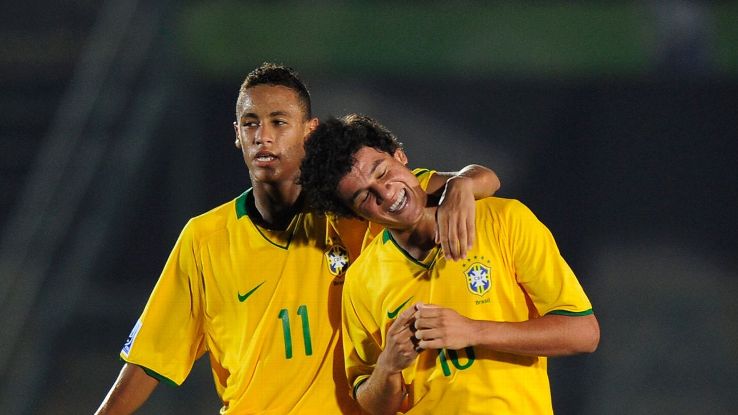 For a while, the 2009 U17 World Cup appeared to leave a scar on his mind. Every time he came up against foreign opposition who were able to close down his space, he did not look like the same player as the man who was enchanting Brazilian crowds. There may have been a technical aspect to this but in part it was also psychological. A player of his type is dependent on confidence, which seemed to desert him on these occasions.
It was, though, only a temporary delay. Year after year there was pressure on him to go to Europe. Recent Brazilian greats such as Cafu advised him to make the move across the Atlantic but Neymar waited until 2013. He could have gone as an 18-year-old youngster. He ended up going to Barcelona as a 21-year-old good enough to light up the world in the Confederations Cup, destroying the Spanish defence in the final. He was ready.
But is he ready for the pressures of next year? Winning the World Cup is a huge target in itself. Shining in Russia is also important in his quest to be named as the FIFA World Player of the Year, which has long been an ambition.
And the march towards glory and success gets underway against the very opponents who blocked his path at the U17 level back in 2009. If Neymar, together with Coutinho, Casemiro and Alisson have graduated through to the senior Brazil side, then Haris Serifovic, Ricardo Rodriguez and Granit Xhaka have done the same for Switzerland. It should be quite a reunion in Rostov-on-Don on June 17.
Tim Vickery covers South American football for ESPN FC. Follow him on Twitter @Tim_Vickery.