Neymar returns to London, where the Brazilian got his first taste of Europe
Neymar comes to Wembley on Tuesday at the peak of his powers. He is the outstanding attacking talent of a successful, attractive team, building up to what promises to be the World Cup in which he makes the definitive statement of his worth as a player.
He is a global star, and pays the price for such status. The French press is full of whispers about a breakdown in relations at Paris Saint-Germain between him and coach Unai Emery, or tension between him and his teammate, Uruguayan striker Edinson Cavani.
With Brazil there is none of this gossip. After Friday's 3-1 win over Japan, coach Tite paid such tribute to Neymar's character that the young star fled the news conference in tears, deeply touched. London, then, can prepare itself for a show on Tuesday when the Selecao take on England.
This is the latest chapter in an on-off story between Neymar and the English capital. London could have been his home. Chelsea thought it would be. They came in with a big-money offer for the Santos starlet, and bought him a plane ticket -- only to be surprised and disappointed when he chose not to take up their interest.
Instead, he opted to stay in Brazil, in part because he had been scarred by his experience in the 2009 Under-17 World Cup, when he flopped as Brazil crashed out in the group stages. Global football was difficult, he and his staff concluded, and the quest for global stardom had to be taken step by step.
The first time a European audience got a look at him was in London, in a friendly against Scotland staged at Arsenal's stadium at the end of March 2011. It was only his third game for his country, and he had just one goal to his credit, a header on debut against the U.S.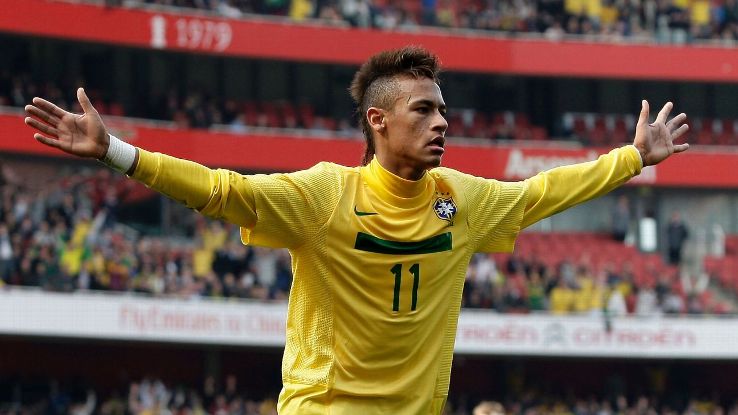 In early spring sunshine he added two more, on the mark both times as Brazil won 2-0. The first was a gorgeously guided shot from a cross from the left; the other a penalty stroked home after he had been brought down in the box. He went down very easily, and the Scottish fans were not impressed. Indeed, accusations of diving follow him to this day. And his tendency to go to ground frequently raises the temperature of the game. He then gets caught up in the emotion, overreacts and picks up cards.
It happened again on Friday, when Brazil were coasting to a comfortable win against Japan. A big Brazilian fear is that this problem could flare up during the World Cup, and he could find himself suspended from a crunch knockout game. The warning lights were first flashing on that afternoon in London more than six and a half years ago.
Neymar was back in London in September 2011, playing at Fulham's stadium in a low-key 1-0 win over Ghana. The following year, on his first visit to Wembley, came the heartbreak of defeat to Mexico in the final of the Olympic tournament.
He was back at the same venue a few months later, lining up in a 2-1 defeat to England in the first game of coach Luiz Felipe Scolari's spell in charge. Soon afterward he played at Chelsea in a 1-1 draw with Russia. And two years later, in March 2015, he was back at Arsenal for a 1-0 win over Chile.
The old city, then, has not really seen him at his best since he turned on the youthful promise in March 2011. But if he was then the boy prince of the Brazilian game, by now he is clearly the king of the hill, a proven performer in European club football, the world's most expensive player and the man most likely to break Lionel Messi and Cristiano Ronaldo's stranglehold on the world's best player award.
He came to face Scotland all those years ago having scored a single international goal. Now he has over 50. It would be fitting if he could add to that total with something special at Wembley, and give those who turned up for the game against Scotland in March 2011 another reason to be thankful they were present at Neymar's European debut.
Tim Vickery covers South American football for ESPN FC. Follow him on Twitter @Tim_Vickery.