Neymar thrives in World Cup storm
TERESOPOLIS, Brazil -- Few people would envy any Brazilian national team player during the past few days. Having survived the scare of their footballing lives on Saturday by needing penalties to fend off Chile in the round of 16, they have spent the past few days being scrutinised at every kind of angle, which included some ethically questionable psychological analysis by shrinks always so happy to stick their boots in. Luiz Felipe Scolari made things even worse by summoning a group of trusted journalists for a briefing that basically backfired horrendously thanks to the smell of desperation emanating from a poorly organised PR coup.

Brazil
Colombia
Game Details
So Brazil did what they have been doing on the pitch in every World Cup game: they unleashed Neymar. Worrying as it seems that a 22-year-old will now also be responsible for the Selecao off the pitch, the Barcelona forward did not balk for a second. On Wednesday, just as Brazil prepared to fly to Fortaleza to face Colombia on Friday in search of a last-four place in a World Cup campaign that has been emotionally and physically exhausting, Neymar was thrown into the deep end once again. It could have gone horribly wrong, judging by how some Selecao players wept copiously after winning the shootout against the Chileans.
It did not. Neymar once again bailed Brazil out. Make no mistake: it was hardly a starstruck affair from the 300 media representatives who packed the deluxe marquee sitting area near the training pitches at Brazil's Teresopolis base. The poster boy for Brazilian football in the past four years, Neymar had to address tough questions from the word go. It all started with the suspicion that he hasn't healed completely from the rough treatment he received in Belo Horizonte on Saturday. Earlier this week Big Phil hinted that Neymar struggled with knee pain. The question was asked not once, but twice.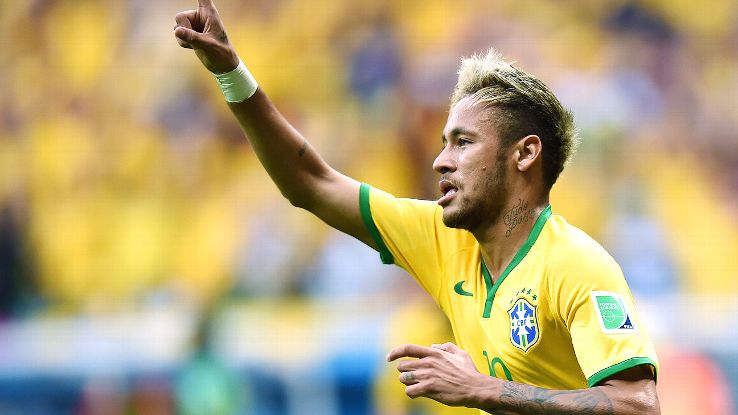 "I am feeling fine, and that means I am under no pain," said the forward, with a wink and the cackle that resembles a cartoon goat but that suggests he is either shy or not really interested.
The sound kept coming back, no matter what was thrown at him. On Wednesday in Teresopolis, Neymar once again had to carry the Selecao on his shoulders, this time without teammates to help share the burden a bit. He was the one defending teammates like Fred, whose abysmal displays for the Selecao have already made Felipao toy with the idea of deploying Neymar as a false nine in case the Fluminense man once again fails to at least trouble the opposition at the Castelao Arena.
"It is not for me to decide which system Brazil should play, that's what Big Phil is here for. What I can say is that I am ready to play wherever he deploys me. But Fred is a player who needs to be fed properly by the other players, and I will work my socks off to put him with only the goalie to beat on Friday," promised the young star.
But it was when a question about pressures and responsibility was asked for the umpteenth time that Neymar blossomed as if selling a dummy that makes the defender fall on his backside.
"The pressure to perform exists to every player, but I just find it funny that people talk so much about that. I have dreamed to play in a World Cup ever since I was a kid and saw Ronaldo with that funny haircut lift the trophy in 2002. Now I am about to play for the Selecao in a World Cup quarterfinal in my own country. Why can't we just enjoy playing football? To me, playing the toughest Chilean side in ages and facing this Colombian team with James Rodriguez are challenges that spur me on," he said.
You could credit media training or even a good briefing by Scolari. But no rehearsal could have made Neymar deliver the line about his biggest fear during the Chile game -- yeah, the one in which he had seven lumps kicked out of him, was expected to constantly chase mis-hit passes and still had to "only" take a penalty when the shootout scores were 2-2 and the Selecao had missed two kicks in a row with Willian and Hulk. The only backlash he feared was the one that would be waiting for him at Barcelona's training ground.
"All I could think during the game is that I needed to beat Chile or Alexis [Sanchez, Chilean forward and Barca teammate] would never let me hear the end of it. This is how I feel, just like I am back home playing a kickabout with my mates and nobody wants to lose and get some stick when the banter starts. So now I have won my rights to tease Alexis a bit," he said.
For a brief moment Neymar channeled Romario, and more precisely the joie de vivre that 20 years ago turned the then-also Barcelona man into a national institution. For the first time in a few months a Selecao player expressed his desire to actually enjoy the tournament instead of just quaking in his boots at the mention of Maracanazos and assorted ghosts.
That might have been the best pep talk the Selecao could have before Friday's match.