Bosnia-Herzegovina getting punished for poor midfield play
Mehmed Bazdarevic may have been right when he said that it was too foggy to watch the most of the first playoff match between his Bosnia-Herzegovina side and the Republic of Ireland, but it was visible enough to see how big of an opportunity Bosnia wasted on Friday night in Zenica. The 1-1 draw at the Bilino Polje Stadium is a result that gives a big advantage to Martin O'Neill and his boys.
A combative yet limited Ireland team lacking individual quality did not offer much more than solid defending and couple of set pieces. On the other hand, despite dominating possession, Bosnia failed to exploit any weaknesses Ireland showed. With its cautious and nervous approach at the beginning and the lack of reaction in the second half, the only thing the Dragons did manage to do was to neutralise itself and rarely pose any real danger to the visitors.
The first glance at the lineups indicated that Bazdarevic's biggest concern was the Irish tendency of playing long balls. He gave Edin Cocalic -- a natural centre-back -- his first competitive start with the clear objective of neutralising Ireland's long ball, while giving more freedom for his full-backs in attack. However, as much as the defensive part of the plan worked fine -- partly thanks to Irish passivity -- this setup generated problems in midfield.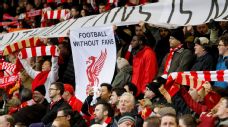 This Bosnian performance on Friday was another fine example of how unbalanced this team is. The struggles that Bazdarevic's side had with transition game were just seen during most of the matches in their qualifying campaign. Switching to a 4-4-2 and having Cocalic in front of his centre-backs this time meant that Miralem Pjanic was the only natural midfielder in the team.
The 25-year old creator is constantly being criticised for not being concrete enough and for failing to reproduce the way he plays for AS Roma with the national team. It was evident that Pjanic wanted to prove his critics wrong; in the first half he was everywhere, going deep and trying to create from the back when there was not enough space in the middle. The lack of any help bred -- not just in this match, but in last three against Belgium, Wales and Cyprus -- a gap in the midfield that neutralized any Bosnian threat that originated from that area.
Bosnia-Herzegovina controlled the possession, but had no idea how to turn that into a something beneficial. Despite looking better than Ireland for most of the game, Bosnia-Herzegovina was actually never in control of this match.
By turning to their "plan B" which haphazardly worked against Wales and Cyprus, the one where Bazdarevic brings in his tallest player, Milan Duric, and hopes that one of dozens of long balls gets Duric a goal, the gap only widened. It was further proof that playing more forward players does not automatically mean more danger up front. With four natural center-backs and three targetmen on the pitch at the same time, it was evident that Bosnia relied on pure luck and nothing else.
This was what disappointed the Bosnian public the most; not the result but another performance that lacked any type of tactical changes.
But, can fans expect something different Bosnia-Herzegovina in Dublin this Monday?
"We still believe that we are good enough to win this and to qualify for the tournament," said Bazdarevic to Bosnian media following the match. "But, we'll have to play differently, change our approach and score from the chances that we create. I expect Ireland to be more aggressive and better than on Friday night, so we need to improve to get the result we want."
Bazdarevic has to say and think this in order for his team to stay positive. This Bosnia-Herzegovina team is, despite limitations, capable of nullifying the away goal advantage that Ireland has. And to do that, Bosnia will have to drastically change their game. The result from Zenica places Ireland in driving seat; it gives them a chance to sit deep and wait for the break.
This means Bosnia will probably dominate the possession once again. To exploit this option better, Bazdarevic would be expected to make some changes in his midfield and try to bring more creativity to it. Everton's Muhamed Besic will be at his disposal with his suspension now ended, while there is a chance he could deploy Haris Medunjanin, who was the hero of the decisive match against Cyprus, even though he has yet to play a single minute for Deportivo La Coruna this season. It would not be a surprise if Bazdarevic returns to a 4-2-3-1 and tries to attack through the flanks, one of the rare things that actually worked on Friday.
However, at the very end of the qualifying campaign one question is inevitable: If they failed to recognise and deal with the same problems over the last couple of months, how likely is Bazdarevic and his side to change things in less than 72 hours?
Saša Ibrulj is a Bosnian freelance journalist who splits his time between Mostar and Stockholm. He contributes to The Guardian, ESPN, The Blizzard, Josimar and others. You can follow him on Twitter @sasaibrulj.