Nice's Hatem Ben Arfa rated by PSG manager Laurent Blanc
Paris Saint-Germain manager Laurent Blanc says he is a fan of Hatem Ben Arfa's style but did not go as far as confirming that the French champions hope to sign him this summer.
Ben Arfa, 28, has enjoyed a spectacular return to form, scoring 11 goals in Ligue 1 and making two more while helping Nice to third in the table.
Nice are expected to have difficulty hanging on to the former Hull and Newcastle attacker at the end of the season and Ben Arfa told Onze Mondial this week that "the door is always open" for PSG.
Since his revival many of the top clubs around Europe, including Real Madrid, have been linked with Ben Arfa and Blanc admitted that he has been impressed too.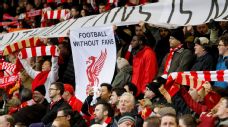 "In any case, he's a footballer that I like," Blanc told reporters when asked about Ben Arfa's comments.
"We're obliged to like him because he does some incredible things. And whoever likes football is of course obliged to like that.
"Beyond that, the young guy, the man, is a bit more difficult. All the good players can interest PSG -- that's the message I'd deliver to Hatem or to others.
"But it's true that for the moment we're not thinking about that. We will be in a short while ... we will always pay close attention to players of talent.
"We won't get all the players that we call, or all the talented players that would like to play at PSG, because it would be unmanageable. There would be too many talented players.
"And a team isn't just that either. You need dutiful players too. That's the mix you need to succeed."
Ben Arfa will not get the chance to impress Blanc or other potential suitors for a while as scans have confirmed that he damaged his right hamstring in Nice's game at Monaco last weekend.
The France international was replaced in the 81st minute of the 1-0 derby defeat and underwent tests to discover the extent of the injury early this week. Nice confirmed on Tuesday that Ben Arfa could be out of action for "between four and five weeks."