Victor Valdes 'to give everything' at Standard Liege after Man United move
Victor Valdes says he wants to help Standard Liege to get back to where they belong following his move to the Belgian club from Manchester United.
Valdes, 34, will spend the rest of the season on loan at Standard after finalising his transfer last weekend.
The former Barcelona goalkeeper signed with United as a free agent in January 2015.
But he made only two appearances there and, after coming through his first training session at Standard, he is now eager to play more regularly.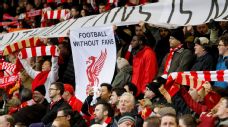 "I want to give everything physically, tactically and technically," Valdes said in an interview posted on the club's official website.
"I'm here to help my team and my teammates with a common goal -- first of all to get back into the top six to play in the playoffs and to win the cup."
Standard have recovered from a disastrous start to the season and have invested heavily over the winter in a bid to make the championship playoffs.
Yannick Ferrera's side are currently seventh in the Belgian Jupiler League table with seven games left in the regular season, after which the top six teams will play off for the title.
Les Rouches also have a strong chance of making the Belgian Cup final as they lead 2-0 after the first leg of their semifinal tie against Genk.
Valdes took in Standard's 3-0 defeat against league leaders and defending champions Gent last Sunday and he was impressed by the fans in Liege.
"I came to play in Belgium in the Champions League with Barcelona," the former Spain international said. "I was surprised by the very good atmosphere towards the team.
"Every time a player does something good the supporters applaud and they never rebuke a player for bad play. I find that admirable.
"I think that Standard have fantastic supporters. From the first to the last minute they create an atmosphere like I've never seen before. It helps the players a lot."
Valdes won six La Liga titles and three Champions League trophies with Barcelona and he is hoping that he can enjoy more success in what is expected to be a short stay at Standard.
"I know that Standard are an historic club in Belgium," Valdes said. "So it's important Standard are as high as possible in the standings and get back into the top three in the Belgian league.
"They deserve to because of their supporters, the history and for everyone for whom the club means something, Standard should be back at the top."