Cristiano Ronaldo 'non-transferrable' - Real Madrid boss Zinedine Zidane
New Real Madrid coach Zinedine Zidane has called Cristiano Ronaldo the "soul of Madridismo" and that the Portugal star is "non-transferrable."
Ronaldo was reported to be unhappy under former boss Rafa Benitez and the 30-year-old repeatedly suggested during the first half of the season that he was open to a move away from the Bernabeu.
It has been reported that president Florentino Perez still intends to make changes to the squad in the summer, with Ronaldo among those who could be sold.
However, Zidane -- who has replaced Benitez on a two-and-a-half-year contract -- said the forward is central to his plans for the team and would be given the freedom to enjoy himself on the pitch.
"[Ronaldo] is non-transferrable," Zidane said ahead of his first game in charge, when Madrid host Deportivo La Coruna on Saturday evening.
"He is the soul of this team, of Madridismo. I laugh at your question. When I am here, he will not leave."
He confirmed that Ronaldo will remain first-choice free-kick taker and said: "Cristiano will play as he does. I will say few things to Cristiano. What I want is for him to be happy. The rest comes from that."
There has been a poor atmosphere during recent home games, with Benitez and Perez both having been the subject of fan frustration.
Zidane, who was smiling and appeared relaxed throughout the news conference, said he was hoping to see the a change in mood at the Bernabeu.
"I am happy, very happy, and the players too," he said. "The truth is I feel strong, content and we will go for everything we have in front of us. We want to transmit that happiness to the fans, every time we play at the Bernabeu, for the fans to enjoy their team, the players we have."
Zidane won the 2002 Champions League and 2002-03 La Liga title during his time as a player at Real Madrid, but he did not win any silverware with the club in the three seasons prior to his retirement after the departure of his France teammate Claude Makelele.
Zidane famously questioned Perez's decision to sell the defensive midfielder at the time, saying: "Why put another layer of gold paint on the Bentley when you are losing the entire engine?"
Asked how he would go about establishing the kind of balance that Makelele once gave the side, Zidane said: "Makelele has retired, so we cannot play with him, but I have other players in my squad who can do that.
"Balance does not just come from midfielders -- forwards must defend too, the team must all work together. That is my idea, my message, without the ball we all work. You cannot have one or two or three players who do not defend. The idea is without the ball we defend, with the ball we play."
Depor have been beaten on each of their last eight visits to the Bernabeu, but have been in good form so far this season, losing just three times and currently sitting seventh in the table.
"They are a good team, with quick players on the break," Zidane said. "We know the quality they have. But the important thing is what we can do. I will focus on that, today and tomorrow, on what we will do ourselves."
Zidane has no injury worries for the game, with the only unavailable player being Mateo Kovacic, who is suspended after being sent off in the weekend's 2-2 draw at Valencia, and one of James Rodriguez or Isco expected to come into the starting XI.
Asked if he would be looking to move on some players during the January transfer window, or bring in others, Zidane said he was more than happy with his current 25-man squad.
"I do not believe anyone will leave," he said. "I do not want that. We will see what happens, but I don't want any of them to leave. I don't need signings either -- I have a good group, with numbers, am happy with squad I have.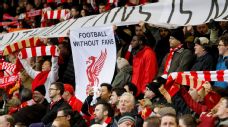 "James and Isco are important players, very good players. The only thing is to give them love and confidence. We are 25 and some will play more than others, but at the end the most important thing is the group. That was my experience as a player -- the strongest group always won."
Asked about negative comments this week from his former France coach Raymond Domenech, Zidane responded by smiling and asking: "What can I say, how can I answer that?
"That is his opinion. He knows me very well, that's true, and knows what I think about him too. So I will not say any more. The most important thing is to focus on the game."