Carlo Ancelotti backed for Bayern Munich job by Ottmar Hitzfeld
Carlo Ancelotti would be a great fit at Bayern Munich, the club's former coach Ottmar Hitzfeld has said.
Former Real Madrid boss Ancelotti has been tipped to replace Pep Guardiola at Bayern, should the Catalan not prolong his stay in the Bundesliga.
Guardiola's decision over his future is expected to be announced in the next few days, according to multiple reports in German and Spanish media.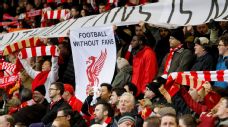 Ancelotti was linked with the job at the Allianz Arena in October, and on Thursday Marca reported that the Italian is set to sign a three-year contract at Bayern, with kicker also reporting the deal's highly likely, while Bild claimed on Friday an verbal agreement has already been struck.
"Ancelotti would be a great fit at FC Bayern. He has been successful everywhere, has won the Champions League three times," the club's former coach Hitfzeld told Bild.
"At this highest level it's important that players know he can do it. And it's also important for the public image. A Bayern coach has to have a high reputation."
Hitzfeld, who retired from coaching following the 2014 World Cup, praised Guardiola as a "pioneer" and "revolutionist" who "created a new football" with a three centre-back defence.
On Ancelotti, who has twice won the Champions League with AC Milan and once with Real Madrid, Hitzfeld said: "He doesn't stick to his system. He can adjust the style of play to the opponents."
The German cited the 2014 Champions League semifinal between Bayern and Real, who stormed past the Bavarians with a 4-0 second leg win at the Allianz Arena.
"He played attacking football at Real, but waited for counter attacks against Bayern."
Ancelotti was recently also praised by former Bayern midfielder Toni Kroos, who worked under the Italian at Real last season.
Kroos said: "He was able to mix the success factors the best: The tactical idea, the human component, which especially at Real Madrid is not easy."
Earlier this week, Hitzfeld said Guardiola will be appointed as Manchester City manager next summer.