Bayern Munich boss Pep Guardiola on his way to Man City - Ottmar Hitzfeld
Pep Guardiola will be appointed as Manchester City manager next summer, according to former Bayern Munich coach Ottmar Hitzfeld.
Bayern are expected to announce Guardiola's decision on his future within the next week, with the Catalan having yet to commit himself to the club despite his contract due to expire next summer.
The Bavarians will play their last match of 2015 at Hannover on Saturday, and club CEO Karl-Heinz Rummenigge has said there will be a meeting with Guardiola during the winter break.
"We'll discuss it after the first half of the campaign," Rummenigge said in November. "We'll then come to a decision and we'll announce it, whatever the outcome."
Guardiola has more than once been linked with a switch to Manchester City next summer, while sources told ESPN FC at the weekend that Manchester United have also stepped up their interest in the Bayern coach.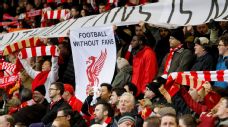 In an interview with Swiss paper Blick, former Bayern boss Hitzfeld said he does not believe Guardiola will still be in the Bundesliga next season.
He added that the Catalan's unwillingness to commit himself to the Bavarians until now is a strong indicator that a departure is imminent.
"My reading is that Pep will leave Bayern because Manchester City will loosen the purse strings even more," Hitzfeld said. "There is no reason to wait until December to make a decision because no titles can be won right now."
Guardiola -- who won a hatful of trophies during his time in charge of Barcelona, including three La Liga titles and two Champions League crowns -- has been at Bayern since 2013.
In his time at the Allianz Arena the 44-year-old has claimed two Bundesliga titles, one DFB Pokal, one FIFA Club World Cup and one UEFA Super Cup.