Steven Gerrard can train with Liverpool but Jurgen Klopp rules out full return
Jurgen Klopp has opened the door for Steven Gerrard to train with Liverpool, but has ruled out a playing return for the former Anfield captain.
Gerrard, 35, graduated through the youth setup at Liverpool, and played for their first team for 17 years before leaving in May to join LA Galaxy on an 18-month contract.
At the time, the former Liverpool and England captain was promised that he could return for training sessions to keep up his fitness between Major League Soccer seasons.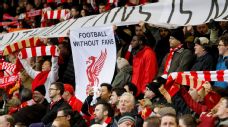 Sources told ESPN FC earlier on Wednesday that Gerrard had spoken to Klopp about coming back to Liverpool to train during the MLS close season, but would not be making a first-team return.
Reds manager Klopp has spoken to Gerrard and has confirmed that he will honour the promise made by his predecessor Brendan Rodgers, but suggestions that the midfielder could secure a loan deal from Galaxy to play for Liverpool again are wide of the mark.
"I had contact with Stevie -- one phone call and a few messages," Klopp said. "I said doors are always open. Stevie is a legend.
"He's young and healthy enough to want to train. If he's in Liverpool and wants to train ahead of next season in LA, that's absolutely no problem. But nothing else. He didn't ask and I don't have to think about it."
Gerrard has scored twice in 14 appearances for the Galaxy, but his hopes of winning the MLS Cup were ended last Wednesday by a playoff defeat to Seattle Sounders.
Klopp was speaking at a news conference in Russia, where Liverpool will play Rubin Kazan in the Europa League on Thursday.
The Reds manager has taken most of his senior players with him for the tie, although Daniel Sturridge has not travelled, and will miss a sixth consecutive match as he recovers from a knee injury.
Liverpool have drawn all three of their Group B matches so far, and were held 1-1 at home two weeks ago by a Rubin Kazan side who played for most of the match with 10 men after their captain Oleg Kuzmin was sent off during the first half.
Klopp said: "It's not always the biggest advantage to play 11 against 10. Kazan did well. We had our chances. We know it will be pretty hard tomorrow. The Europa League is a big challenge for us. We are here to do our best, though, and if we need to work hard for 95, 96 minutes, we have to do this."
Klopp, meanwhile, has played down a comment he once made comparing his favoured high-tempo style to "heavy metal football."
The German was in charge of Borussia Dortmund, preparing for a Champions League match against Arsenal in November 2013, when he suggested that his team had a more exciting style than Arsene Wenger's.
At the time, Klopp said: "He likes having the ball, playing football, pass. It's like an orchestra, but it's a silent song, yeah? And I like heavy metal more. I always want it loud. I want to have this: Boom!"
Asked by Russian journalists to discuss those comments before the match against Kazan, Klopp said: "The problem with my life is that I've said too many s--- words in the past and no one forgets it."
Meanwhile, former Liverpool midfielder Dietmar Hamann believes Gerrard's return is likely to create an unwelcome distraction for Klopp.
Hamann, who played alongside Gerrard in the 2005 Champions League triumph, told talkSPORT: "Klopp has had a decent start and what he needs now is peace and quiet.
"We all know what Steven Gerrard did for the club, but even if he does train at the club, if a central midfielder gets injured, the first question at the press conference on a Friday will be, 'Are you going to give him [Gerrard] a contract?'
"And that's the last thing Klopp needs, constant speculation about Steven Gerrard. I'm not sure even training with them is a good idea."