Manchester City second-highest transfer window spenders ever
Only Real Madrid have spent more than Manchester City in a transfer window, according to a new report.
The Soccerex Transfer Review, compiled by Barcelona's former chief marketing and commercial officer Esteve Calzada, shows City spent €200 million this summer.
That total was topped only when Real paid out €274m in 2009, the year they bought Cristiano Ronaldo, Kaka and Xabi Alonso.
City paid £54m for Kevin de Bruyne, the second most expensive signing in Premier League history, and £49m for Raheem Sterling, their record buy until the Belgian arrived.
They also spent £31.5m on Nicolas Otamendi, who became the second-costliest defender in the history of English football after his teammate Eliaquim Mangala.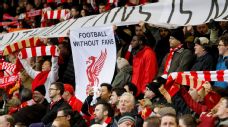 De Bruyne was the biggest signing in Europe this summer and City's expenditure over the past seven years, of €815m, ranks second only to Real's €817m.
Because the 2014 European champions have brought in more money in by selling players such as Mesut Ozil and Angel Di Maria, City have the biggest net spend over that period.
Barcelona are the third-biggest buyers over the seven years, followed by Paris Saint-Germain, Chelsea, Manchester United, Juventus, Bayern Munich, Inter Milan, Arsenal and AC Milan.
Arsenal, who only brought in Petr Cech this summer, were the lowest spenders of those deemed "top teams."
Monaco recouped the most in sales in the 2015 summer transfer window, bringing in €160m, aided by the sale of Anthony Martial, followed by Atletico Madrid, Porto, United and Wolfsburg.
Premier League clubs spent €1.169bn, a record and a 14 percent increase on last year, with United the second-biggest buyers followed by Liverpool, Chelsea and Tottenham.
City were responsible for the two biggest signings and, including Otamendi, three of the top five.
The report said English top-flight clubs had wasted €650m over the past three years on players who were on the pitch for fewer than 50 percent of the minutes played.
United were deemed to have paid the most for "non-successful players" with €161m spent on for footballers like Di Maria, Marouane Fellaini, Luke Shaw and Shinji Kagawa, who were off the pitch the majority of the time, with the £59.7m Argentine described as the "biggest disappointment."
Tottenham were second in that list after paying €138m for signings such as Ben Davies, Roberto Soldado, Paulinho, Etienne Capoue, Erik Lamela, Mousa Dembele and Gylfi Sigurdsson.
City came third after buying Stevan Jovetic, Javi Garcia, Jack Rodwell and Matija Nastasic, followed by Liverpool, with Lazar Markovic, Mario Balotelli, Iago Aspas and Fabio Borini.
The fact that most Premier League sides are able to bring in expensive players was underlined by statistics showing that 82.7 percent of funds paid by French clubs came from the four biggest buyers -- Paris Saint-Germain, Monaco, Lyon and Marseille -- and 72.5 percent by the Spanish top four, but only 45.7 percent by England's four top spenders.
English Championship clubs, who paid out €137m, also have far greater spending power than their equivalents, with German second-tier clubs, the next biggest buyers, spending €35m.