Cristiano Ronaldo doubts he'll pursue coaching career when he retires
Cristiano Ronaldo said he doesn't see himself "becoming a coach" after picking up the Best FIFA Men's Player award on Monday.
Speaking to FIFA following the presentation of the inaugural award for the top male player in football, Ronaldo, who also won the Ballon d'Or at the end of 2016, admitted he couldn't rule anything out.
"Very difficult... never say never," Ronaldo told FIFA's official website.
"I don't know what will happen in the future but in this moment I don't see myself becoming a coach."
Ronaldo's stellar 2016 also included a Champions League and Club World Cup title with Real Madrid, as well as winning the 2016 Euro with Portugal, where the 31-year-old cheered his team on from the bench in the final after leaving the match early with an injury.
Those circumstances against France in the final were hard to handle, according to the Portuguese superstar, who said that despite appearances he was plenty nervous after exiting in the 25th minute of his team's 1-0 extra-time win.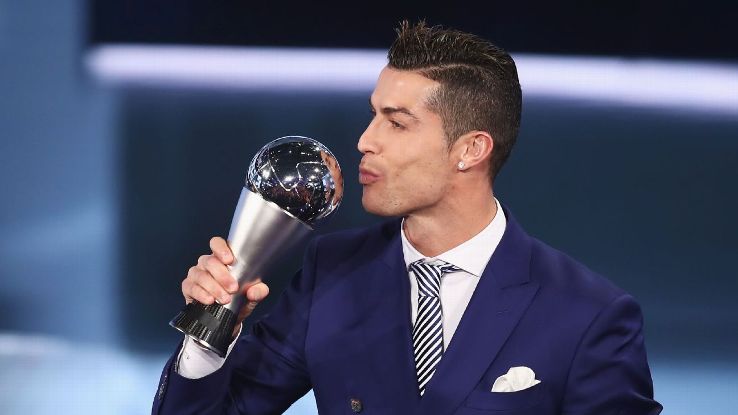 "It was complicated. I started the game but I didn't finish. I was very nervous," Ronaldo said. "I remember that I was in the dressing room. Then I went outside. I think my behaviour speaks for me really. I don't really have anything to say. The images don't lie. People can see how nervous I was. But I think it was a glorious day for Portugal."
When asked about his ability to dominate at the highest level of football after so many years, Ronaldo credited his work ethic and the support of his teammates.
"There's no secret. It's working strong and arduously," he said. "I'm playing for a team [Madrid] that gives me the possibility to be able to compete for these trophies.
"With Portugal also, I thought it was a sensational Euro.
"I'll return to saying again, it was a year of dreams -- the collective performance, the individual performance, the team performance and the performance of the national team."
Follow @ESPNFC on Twitter to keep up with the latest football updates.