Sevilla need their fortress Ramon Sanchez Pizjuan to work its magic again vs. Barcelona
Everyone's a product of their environment, even football teams. Just ask Sevilla. There's something special about the Ramon Sanchez Pizjuan: a communion between the stands and the pitch, players and fans, that genuinely makes a difference and sets the stadium apart. Something that may have to make the difference on Saturday afternoon -- and not for the first time.
There's a line in the club's anthem, an anthem that's new but feels like it has always been there, which declares: "that's why I came here to see you." But they don't only come to see their team here; they seem to come to be their team.
"The Pizjuan never surrenders; it's always special to play here," says longtime winger Jose Antonio Reyes. The club talks about their home -- opened in 1958, host to a World Cup semifinal (1982) and a European Cup final (1986), the stadium where Spain have never lost -- as a "magical" place. Many fans would, of course, but that doesn't necessarily mean they're wrong. In fact, it looks very much like they're right; there's something intangible that translates into something entirely tangible. Call it chance if you like, but it really doesn't look that way. The stats say so.
Barcelona begin their super week at the Pizjuan on Saturday and there's a reason that it's a visit to fear, a reason they're calling it a super week in the first place. It's not only because they go to the Santiago Bernabeu twice (once in the league and once in the Copa del Rey); it is also because they start it by travelling to Seville.
This is the place where Real Madrid were beaten 3-0 earlier this season, where Sevilla have not lost in nine league games. It is the place where Barcelona lost last time they visited in the cup and drew the last time they went in the league; Lionel Messi dragging them back from the death, 2-0 down with two minutes left. The place where Madrid haven't won in the league in four seasons and where Barcelona have won only one of their last four visits. When Madrid did last win there, thanks to a Cristiano Ronaldo hat trick, it ended a 34-game home unbeaten run.
Place is the word; this is not just about the team and the club, although so much has been achieved this century and so many good players have played there. All of those players have been bound up in it. "When you go out there, you become trapped," says the former player and current assistant coach Antonio Alvarez, "when you hear everyone sing the anthem acapella, it's something mystical."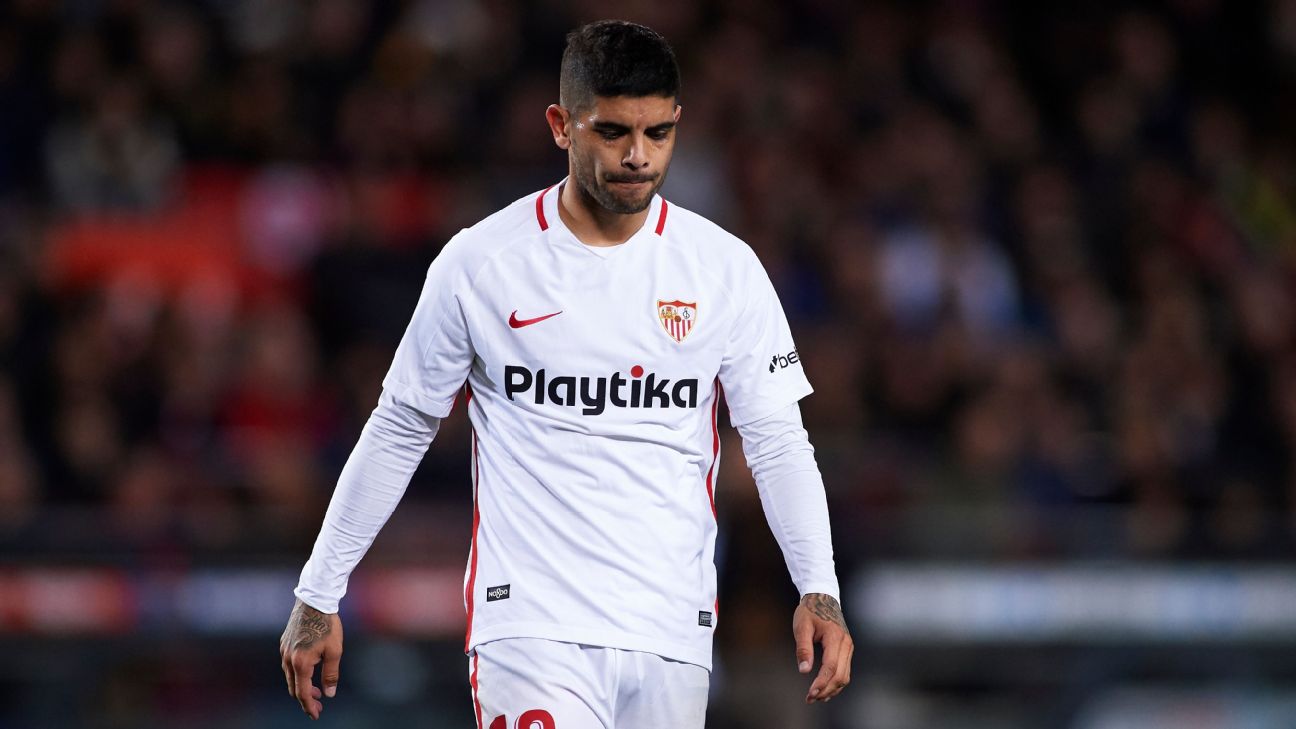 It's something, alright. It really is as if the Pizjuan holds some power over the players on both sides and that goes back some time. Sevilla went the whole of 2017 without losing there; they had the aforementioned 34-game run between 2014-15 and this season they've lost just once at home. So far, so standard maybe as every team tends to be better at home. But Sevilla take that to an extreme. Since 2000, Real Madrid have been beaten 12 times in all competitions there. Nowhere else has defeated them so often.
But leave the Pizjuan and things change. Sevilla, the team that has not lost at home in nine, hasn't won away in nine, going all the way back to September. Their three away wins came in three of their first four away games. They didn't even win away to third-tier side Villanovense in the Copa del Rey. Last season they lost three at home, 11 away. The year before they lost just once at home -- 2-1 against Barcelona -- and seven away. The year before that, when they defeated Barcelona 2-1 at the Pizjuan, they didn't win a single league game away. Not one. And the year before that, they lost just once at home.
It's like Sevilla are two different teams. While they beat the best at home, it could hardly be more different on the road. Take this stat: over the last seven league seasons, Sevilla have picked up four of 102 possible points at Spain's biggest, most historic grounds. Yes, four of 102! The breakdown: 0 points of a possible 21 at San Mames, 2 out of 21 at Mestalla, 2 of 18 at the Wanda Metropolitano/Vicente Calderon, 0 of 21 at the Bernabeu and 0 of 21 at the Camp Nou.
That final figure includes their last visit to the Camp Nou in October when Sevilla were beaten 4-2 by Barcelona. They went there with a chance to go top, with people asking if they could be contenders. They left defeated but it would be nine more weeks before they were beaten again in the league and that question didn't entirely go away.
It has now. Sevilla found their way past Lazio in the Europa League, their competition. They reached the quarterfinals of the Copa del Rey, where they beat Barcelona 2-0 at home but then lost 6-1 away -- there's a pattern developing here. But their form has plummeted. In the league, they have won just one of their last eight games.There have been whistles, murmurs and dissatisfaction as the frustration is starting to show on the surface.
Pablo Machin's formation has been better grasped by opponents and the ball that begins most moves -- the diagonal from deep to one of the advanced wing-backs -- has increasingly been closed down. Injuries have played their part, fatigue too. They are starting to look like what they are: a team that has played 45 games in a season that goes back to mid-July, when the World Cup banners had barely been taken down.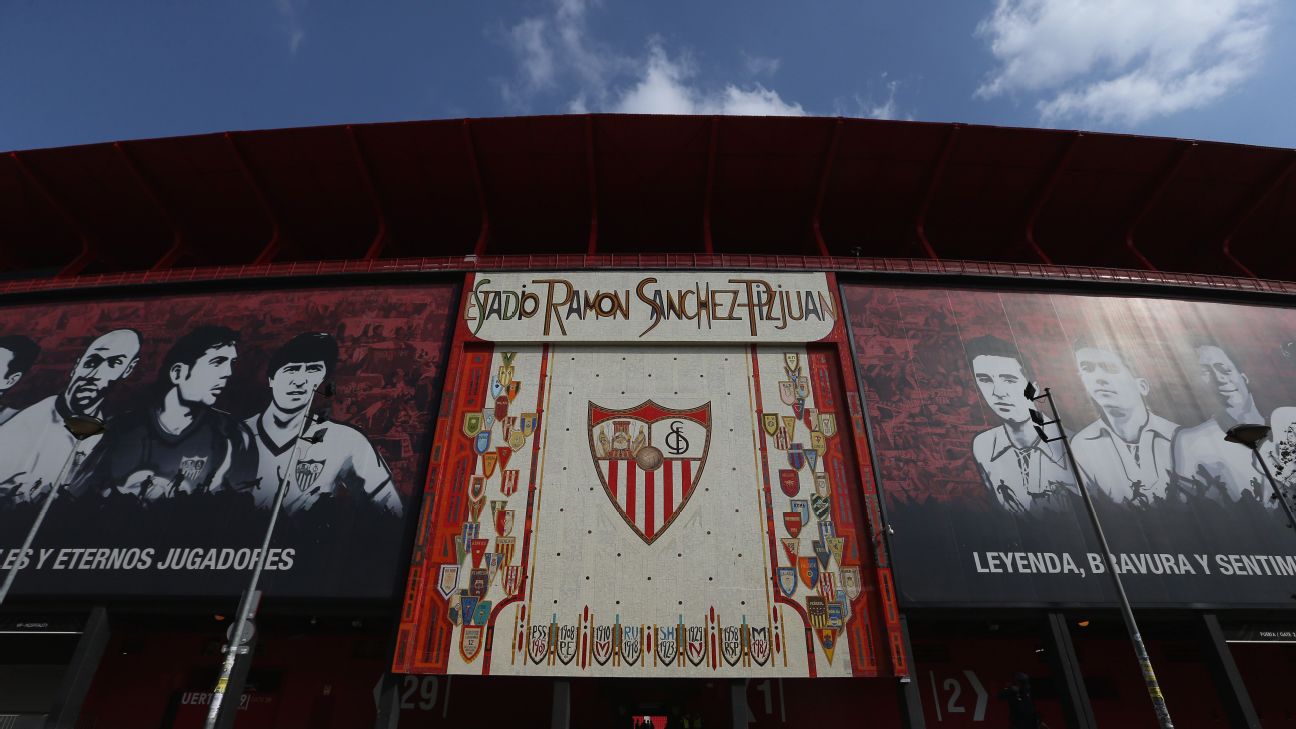 The optimism has gone. Times have changed. From: Could they win the league? To: Could they miss out on the Champions League? The answer is: yes, they could. This weekend the threat is real. When they last played Barcelona, Sevilla had the chance to go top; by the end of this weekend, they could go as low as seventh.
They are already 17 points behind Barcelona, slipping back into the pack -- and rarely has La Liga been more tightly packed. Heading into the final third of the season, the league has never been so uncertain. In the final two months it feels like anything could happen, with just about everyone getting into position for a race that could see them finish just about anywhere. The only real gaps are at the very top -- Barcelona are seven points clear -- and the very bottom, where Huesca are six points off safety. But even that doesn't seem certain. And everything else is even less clear.
Athletic Bilbao sum it up nicely: they're seven points from relegation... and seven points from a Champions League place.
Ten teams, or perhaps even more, could realistically go down, with seven teams currently within six points of the drop zone. Villarreal and Rayo Vallecano, currently inside the bottom three, are only one point from escaping it. Sitting just above them, dangerously close now, Celta have lost seven of their last eight and have just lost star striker Iago Aspas for over a month.
Ten teams or more could also aspire to earn a European place -- and many of those are the same 10. Espanyol, in 14th, are just seven points off a UEFA slot, five points off if seventh-place is sufficient, which it may well be. And of those 10, five -- Valencia, Real Sociedad, Betis, Alaves and Getafe -- might have a chance of getting the final Champions League place, as all are currently within five points.
Alaves and Getafe are just one point away. You heard that correctly: Alaves and Getafe are within a point -- one point -- of a Champions League place.
In other words, one point behind Sevilla. Nor is it just those two closing in: Real Sociedad are three points behind, Betis four, Valencia five. All of which explains why although this is a big weekend for Barcelona, it may just be a bigger weekend for Sevilla.
Fail to win on Saturday, as they have done in seven of the last eight weeks, and Sevilla will almost certainly be outside the Champions League places for the first time in five months. This match, one of Spain's biggest, a game that has produced 27 goals in the last six meetings, couldn't have come at a worse time or against a worse opponent. But then it couldn't have come at a better place.