Barcelona's 'rust' comes at worst possible time with Clasico looming
Close your eyes and think back a year to the first Clasico of last season. Not to the fact that it was a complete humiliation for Madrid: a 4-0 defeat that effectively signalled the end for Rafa Benitez's tenure. Nor to the fact that such a significant portion of the Bernabeu chanted for Madrid's president, Florentino Perez, to resign that the club's apparatchiks turned the horrific postmatch music up so loud that our ears hurt.
No, turn your football brains to the memory of how the victorious team played. And in what circumstances.
Lionel Messi wasn't sufficiently fit to start that match, spending the first 56 minutes on the bench. By the time he joined the fray it was 3-0 Barcelona, the second time since in 31 years that they'd led by three unanswered goals at the Bernabeu. Fifty-six minutes in and the Clasico was already won.
Won by the system. Won without any questions about "Messi dependency." Won by implementing the philosophy that began with Johan Cruyff and was lovingly tended by Pep Guardiola.
Positional play. Superiority of numbers. Possession as both attacking weapon and defensive resource. Pressing. Intelligence. Creativity. Passing options, thousands of them in the one match. A level of work off the ball that few teams (if any) can match.
And there were clearer traces of this specific DNA. A fundamental degree of superiority (both numerical and strategic) was earned by the tactic of Sergi Roberto having the freedom to oscillate between being a full-back, right midfielder, No. 10 and striker.
The lovely expression of "socio de todos" -- it describes a player who's always there for his teammates, always wants the ball, always creates a passing angle and always gives the ball back to those around him in a better position -- applied to him that day more than it has at any moment in his career so far. Madrid didn't know how to cope with the "superiority" of numbers he consistently gave their opponents in attacking positions from the midfield on. In essence, it was the prototype of what the Barca "system" has tried to create between 1988 to 1996 and 2008 to 2015.
If you want to understand the stark, almost unrecognizable, difference in Barca's playing strategy just a year later, there are more things to which you should let your memory drift.
Though he wasn't completely banned from cutting infield, Neymar dribbled far less often and used the left touchline far more often to torment Real's right-back, Danilo. It was from there that the Brazilian scored the second goal. The pitch was opened up, space was created for Luis Suarez in the central striker position and Madrid needed to change radically just 10 minutes after half-time. The chaos that the Brazilian had inflicted on Danilo and James Rodriguez meant that Dani Carvajal was brought on at right-back and Isco was given the task of trying to offer protection from right midfield.
So effective was Neymar, in the position he so rarely has the discipline to play effectively these days, that Isco eventually lost his temper after only half an hour on the pitch and booted him in seat of his pants. Straight red card given, not because of the Brazilian's showboating, excessive dribbling or any "taunting" for which he's regularly accused. But because Barca were playing fast, accurate and intelligent "pass-move-pass-move-press-score" football that bore a vast resemblance to the football of Guardiola's golden regime.
Madrid needed to re-shuffle their tired, dispirited and over-run players before the substitute deserted his duties in desperation. To emphasize my point, this type of performance and result was archetypical of Cruyff's Dream Team, Guardiola's trophy-stream era and Tito Vilanova's title-winning season. But here's one final example.
That night at the Bernabeu, Iniesta gave one of the great performances of his career. He embodied the values of what has become known as the "Barça DNA" even though proportionately, across the history of the club, the years in which that has been applied on the pitch amount to the proverbial blink of an eye."
Iniesta twisted and turned in small spaces in order to keep the ball, both in terms of possession and in moving it around, too. His choice of where to be, how to offer passing options to all the key players in his zones of the pitch, his cold-blooded intelligence in what to do with the ball, his appetite for pressing and "closing" -- everything he did that night was directly taken from the tactical text that Rinus Michels, Cruyff and Pep Guardiola made of biblical importance at that club.
That Iniesta also scored one of the great goals of his career wasn't a mere detail in terms of the result or scoreline. In terms of the magnitude of his overall performance, it could be termed as just the "icing on the cake."
Only two players passed the ball more often than him, only one player had more passing accuracy than Iniesta. His was one of those performances of which only the greatest are capable. But it was also specific to Barca.
And so with the latest Clasico coming into focus this Saturday, and with Barcelona having been comprehensively outplayed, outpassed and outpressed at the Anoeta by Real Sociedad last weekend, the reason I remind you of all those facts about last season's Clasico in Madrid is that the evidence on the pitch that night gave some strength to the explanatory words being consistently used around the Camp Nou since the middle of the 2014-15 season.
As the football at Barca since Luis Enrique's first months became more vertical, less detailed, far less linked to "positional play" and distinctly less interested in using fast-movement of possession around the pitch, we were repeatedly told that all that had changed were "nuances." I spoke one-on-one with Enrique, Iniesta and Gerard Pique on the subject and asked, full of curiosity, whether a fundamental shift on "how to play" and "why" was taking place. Each of them assured me "no."
Each man also told me, clearly and with the patience to fully explain, that the only major difference was that in previous incarnations, the positional play and criss-crossing the pitch in constant passing was to drag opposition about, tire them out, search for space and test their mental resistance to being constantly probed for 90 minutes.
Now, they argued, there were three "beasts" up front in Messi, Suarez and Neymar and while there was simply no semblance of a "long ball" mentality, the philosophy now was that the quicker the ball was placed at their feet, the more likely they'd be to "resolve" the game with moments of magic.
We were all told that the fundamental idea of passing, pressing and possession wasn't being abandoned and would be there when needed. The play between January and June of 2015 spoke for itself: Barcelona would switch, like a Formula 1 race car, through the gears on automatic. They could still outpass, outpress and outplay teams from back to front. But if the opposition dropped its guard for an instant, the ball could go vertically or diagonally more than 40 or 50 metres so that the front three, the fabled MSN, were three vs. three or three vs. two.
Usually, that was that and for a period, brief though it was, the quality of the play was as thrilling and as "winning" as anything under Guardiola.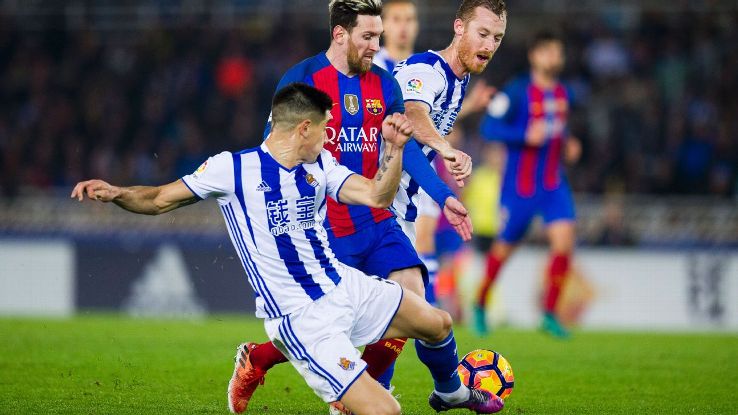 Xavi suggested to me that this "new" team might be even more dangerous and more effective than the best of his era. Add his words to those of the manager, Iniesta and Pique, and then throw in the quality of that Clasico destruction of Madrid last November, and it was impossible to outright disagree. It didn't matter that my poor, tired brain just didn't understand their argument, nor how it was even feasible that such a change in the playing style could remain "the same basic principle." They know best -- top football minds offered good, articulate arguments and on-pitch proof.
What has happened in the meantime is that the old fable of Pandora's Box has been evoked. Something tempting, something apparently glitzy, something temporarily exciting has dispensed with wisdom and problems have ensued.
The "vertical" football has led to an exacerbated importance of the front three. Instead of the Barcelona strikers being made to press, hold their positions and make the right runs, their now-imbalanced importance has begun to mean two key things.
Messi and Neymar in particular seem to play where they want. When it works, it's still devastating and entertaining. But it's not systematic: it's intermittent, it's easier to plan for and block and it has meant that the rest of the Barcelona team (particularly in the absence of Xavi) are now so used to the "get it to the front three" philosophy that they are less sure of the solutions if one or two of that trio happen to be absent.
Secondly, with Neymar apparently free to dribble across the pitch or drop into very deep positions to receive the ball, and with Messi often playing like a "quarterback," there has been a need for midfielders to move into forward positions in order to give passing options, to press and to seek out the "second ball" if the MSN lose possession.
The result is that Sergio Busquets is often isolated. He's certainly offered far, far fewer passing solutions and is increasingly facing a numerical inferiority in key midfield areas. It's a complete 180-degree flip from when he was king of the Barcelona passing-pressing system.
The abandonment of certain Cruyff/Guardiola principles has caused a myriad of other traumatic implications for players used to systematic solutions and habits, but these are the keys. Barca are facing less control of the ball, less control of midfield, a reduction of the solutions to difficulties both in attack and defence, a less effective press, greater vulnerability to the counterattack and a complete, total disintegration of that most valuable psychological advantage: other teams used to be scared to venture against Barcelona for fear of being decimated. Not so anymore.
A year ago this wasn't true, but techniques, tactics and ideas left unused during the months has led to rust. Rust and dysfunction. It all means that if the "wham-bam" nature of how Barcelona play clicks on the night, they can certainly still defeat Madrid. No question.
But the bigger question for that club is this: Given the monumental amount of indisputable evidence that form is temporary and class is permanent, do FC Barcelona really want to continue down a path where the class of the Michels/Cruyff/Guardiola system is subjugated to the form argument that they simply have three phenomenal strikers?
Some observers might even call that argument a close relative of the "Galactico" philosophy. Now, where have we heard that term before?
Enjoy the game.
Graham Hunter covers Spain for ESPN FC and Sky Sports. Author of "Barca: The Making of the Greatest Team in the World." Twitter: @BumperGraham.