La Liga at halfway: Atletico Madrid, Barcelona stellar, Real Madrid flounder
James Rodriguez screeched into training pursued by the police, having raced round the M40 at 200 km/h. Karim Benzema was charged for his part in a blackmail case and banned from the France squad. Rafa Benitez was sacked, 13 days after the president said he would not be sacked. They were kicked out of the Copa del Rey for fielding an illegible player. And now they've been handed a FIFA transfer ban, denying the president's annual moment in the sun -- six months after 2015's moment was denied to him when they ran out of time on Manchester United goalkeeper David De Gea.
Hardly surprising then that Real Madrid want to leave the first half of the season behind.
Now, perhaps, they can. The new year has not been kind, but maybe a new start can be kinder. Not least because, for all that has transpired, Real are really not so far off. They may be down, perhaps, but not out. Except the Copa del Rey, of course -- they're out of that. There's already a feeling of recovery, a new atmosphere engineered, and a relatively comfortable Champions League draw awaits against Roma. They're still in touch in the league, too. Who knows, maybe that Copa knockout might even do them some good.
In one of those rare things that everyone should copy from the organisation of La Liga, Spain's season is split into two vueltas, two halves that mirror-images of each other in which everyone plays everyone once, almost like the apertura and clausura that is commonly used in South and Central America.
Neither is a title in its own right -- although the team that is top at the midway stage is proclaimed "Winter Champions" -- but it does provide a real sense of watershed and an opportunity to look back. More so than the Christmas break does, in fact, even if the halfway mark doesn't give you the time. And, of course, it provides the opportunity to look forward again.
This weekend the segunda vuelta or second lap begins, another full 19 rounds of everyone against everyone. And, for all their problems, it does so with Madrid four points off the top, when the gap could have been far greater. They have a new manager, Zinedine Zidane, after Benitez was wiped out and ignored, dispatched in less than 30 seconds as if he had never been there at all; and with a run of games that could hardly be easier, the perfect programme for the coach to ease his way in: Sporting (H), Betis (A) and Espanyol (H).
Now Madrid can try to forget the first half of the season as quickly as they forgot their former coach. The best thing they can say about the primera vuelta might just be that it is over ... and that, when it came to results at least, it wasn't that bad. It didn't do them as much harm as they might have feared, anyway. For some it has been even worse -- six other managers, like Benitez, have been sacked, for a start -- while for others it has been better, much better.
Atletico Madrid
Spain's "Winter Champions*", with an asterisk. The asterisk being that Barcelona have a game left over from the primera vuelta, against Sporting in February. If they win it, which they would expect to, they would have picked up more points in games in the first half of the season than Atletico. But, still. Still, Atletico are Winter Champions* for the first time since 1996, when they won the double. Still, there's something about them that looks like the Atletico of two years ago, when they won arguably the most impossible league title there has ever been, and not the Atletico of the start of the season. Still, there's something very ominous about them, something frighteningly familiar for their opponents. And still, manager Diego Simeone.
Back in the summer, everyone thought Atletico were evolving into something else: a little more attacking, a little more technical. That was the plan, in fact. They might still do it, and there have been some hints of that, but not yet. Instead, when it didn't entirely work to begin with, they went back to what they knew. And following the defeat against Villarreal in week six, Atletico went nine without getting beaten, winning five in a row up to the Malaga game (their draws were at Deportivo and at home with Madrid). They might have reached this point with six points fewer than two years ago when they won the league, but they also reach it one position higher.(*)
Beating Atletico, as Malaga did, has proven horribly difficult for opponents. They give so little away: just eight goals conceded all season, better than anyone else in Europe. They have made more tackles than any other team and won the ball back more times than any other team. They have a goalkeeper who faces fewer shots than anyone in La Liga. Ten times they have scored a single goal, but only one of those 10 did they lose, so strong is the defence.
At the other end meanwhile they have Antoine Griezmann, and over on the touchline they have the most productive bench in Spain. Seventeen goals have been scored assisted by substitutes. The next best trails by seven. Barcelona's total is two.
Game by game was what Simeone kept saying two years ago; now he keeps talking about "growing." "What," he was asked, "does it mean that Atletico were Winter Champions?" "That we're growing," he said.
Barcelona
When Lionel Messi fell injured against Las Palmas in week six back on Sept. 26, silence descended over the Camp Nou. More silence than normal, that is. His absence led most to conclude that, with the season starting early for the Super Cups, with a short squad because of their transfer ban, with Pedro's departure, with the Club World Cup in Japan, with the first half of the season seeing them going away to most of the strongest sides in Spain, and with the transfer ban, the height of Barcelona's ambitions was to reach the halfway stage in touch with Madrid, ready to close the gap when Messi returned and when more players could join the squad. Aleix Vidal and Arda Turan were already there, waiting, after all.
Instead, they could have been beyond touching distance but for draws with Valencia and Deportivo -- draws that came after Messi had returned.
Messi played only half the game in which they hammered Madrid 4-0 at the Bernabeu, coming on as a second half substitute, the lead already established with a sense of superiority that was startling. And Neymar in particular has been extraordinary, of course. No one has scored more or provided more assists. No one has been fouled more, either. Although the biggest surprise success may just be Sergi Roberto.
It is tempting to wonder if in those two games against Deportivo and Valencia there was a sense of having done the hard part in having taken the lead, born of that lingering idea that had been there since the start of the season of (perhaps subconsciously) conserving energy wherever possible before Christmas, of resisting while they awaited for reinforcements. Against Deportivo, certainly, it seems legitimate to wonder if the fact that they were travelling to Japan 16 hours later saw them back off at 2-0.
Either way, those four points dropped were significant ones -- sufficient to have put them six points ahead of Madrid and two ahead of Atletico with a game in hand as the segunda vuelta begins. As for the primera vuelta, it could have been even better, but few expected it to be this good, even if they were the Treble winners. Sure, Barcelona must still play Atletico, Real, Sevilla, Celta, Athletic and Valencia of course ... but they play all of them at home.
Villarreal
Closing with six wins in a row, Villarreal equalled their best-ever primera vuelta, playing swift, precise football and finishing it in fourth just one point behind Real Madrid. More significantly, they finished it eight points in front of Celta, nine in front of Eibar, 10 in front of Sevilla and 11 ahead of Athletic. Valencia are 16 points behind them, having suffered their worst start to the season this century.
All of which means that a Champions League place looks as secure at this stage as they could have possibly imagined, although there is a word of warning: Marcelino is a hugely impressive but also very demanding coach, focussed on players' weight and condition, and some believe that it risks contributing to a sense of fatigue in the second half of the season. Last year, having reached a European spot and the Copa del Rey semifinals, they fell away badly, winning just two of their last 14 games.
They are great to watch, incisive on the counterattack, with Bruno outstanding as ever in midfield. One of their greatest successes has been Roberto Soldado, yet he hasn't worked out quite the way they might have imagined he would. He has scored just three goals, but then he has provided seven assists. No one in the league has more than him (Neymar, Cristiano Ronaldo and Gareth Bale have as many). His partnership with Cedric Bakambu has been as good as they hoped but not exactly as they hoped. "The truth is that their roles have been reversed compared to what we anticipated at the start," Marcelino says.
Eibar
Read that Villarreal opening line again: "... eight points in front of Celta, nine in front of Eibar ..." Yes, Eibar, the team that finished last season relegated, the team with a ground that barely holds 6,000 in a town of under 30,000 with the smallest budget in the division, are sixth, occupying a European place.
They have just completed their best ever primera vuelta. Now, that is in part because it is only their second ever primera vuelta, but then last year's was pretty good too. They sat on 27 points then and were the best Basque team in the division. And, anyway, they're in a European place, for goodness sake. Eibar, in Europe. The team whose only goal was survival. And still is, in fact.
The fear of course is that what happened in 2014-15 might happen now: Eibar won just once in 18 games in the second half of last season until, on the final day, they beat already-relegated Cordoba, a team whose players had travelled 700km by bus as a punishment for being so bad. It still wasn't enough to survive, although they were then rescued by Elche's relegation for financial mismanagement.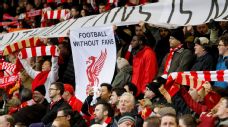 There is optimism that the same downward second half spiral will not happen this season. It is not just because a collapse like that is unlikely for anyone, and that the fact that it happened once before is the best possible warning against it happening again, but because they have three points more than last year, leaving them 10 points from probable safety with 57 points to play for.
Besides, they're different than last year. This is a team that attacks more now, pushing higher up the pitch than ever before and scoring more goals too. Keko and Borja Baston in particular have impressed. Twenty-seven goals are as many as Atletico, only one fewer than Villarreal and as many as any of the teams below them. When the ball hits the net at Ipurua, they set of the siren that they recovered from the old factory in the town. It has been going off rather a lot this season.
Deportivo
Lucas Perez chased down Jose Maria Gimenez, right on the byline, took the ball from him, cut inside and scored, to take two points from Atletico at Riazor. It was part of a run that saw Perez equal a Deportivo record for scoring in consecutive games, previously held by club legend Bebeto. At the end of the game, Gimenez was distraught. The man who went over to comfort him was Perez. It's not just him -- Mosquera has been impressive, while no one in La Liga has won the ball back more times than the brilliantly-named Sidnei -- but the local boy, home at last, at the team he always wanted to play for, has been the undisputed star and that moment feels like the defining image of one of the season's defining players so far.
Betis
And so it happened again: salvation, promotion, sacked. Pepe Mel went to Betis when they were in the second division and in crisis and brought them up to the first division again and then got sacked. 385 days later, he went back again, rescued them again, won promotion again, and ended up getting sacked again. They're not in the relegation zone -- in fact they are five points clear of it with two other teams below them -- but things have not gone well at all. Summer arrival Rafael van der Vaart has been a disaster, not even racking up 200 minutes, and no team has scored fewer goals. No one else has been so bad at home too, winning just once. As for the sacking, history suggests that won't solve anything. Last time they got rid of Mel, they ended up going down again (two coaches later). So here we are: salvation, promotion, sacked ... relegation?
Sporting Gijon
"2015 was the dog's b-------," Sporting coach Abelardo said and he was right, even if they did look at him a bit strangely. He knows that 2016 will be tough, not least because 2015 has been. And they came through that. It wouldn't just be a miracle for his team to survive in the first division; it is a miracle that they were even promoted to it in the first place. "The players are going at 200 percent but I don't know if it will be enough," Abelardo said.
Malaga
At the start of the season, manager Javi Gracia had a very public moan about the sale of Sergi Darder and then quietly got on with a job that had just been made a whole lot harder. At first, results were predictably poor, and they needed Real Sociedad to come along to get their first goals in week seven, but then Malaga went on a run. They ended the primera vuelta 10th, and on a run of seven games without defeat -- including a 1-0 win over Atletico. And now they are selling Nordin Amrabat too as the asset-stripping continues. Carry on like this and Malaga may well have little left, just an excellent manager with his hands tied behind his back.
Sid Lowe is a Spain-based columnist and journalist who writes for ESPN FC, the Guardian, FourFourTwo and World Soccer. Follow him on Twitter at @sidlowe.