Barca, Madrid, Atleti have Liga title dreams while Valencia try to keep up
The most successful, the most skilled, the most advanced and the most technically exquisite football on the planet starts again on Friday. La Liga returns, with all of its virtues and slightly fewer of its faults.
Fewer late-night kickoffs, better timetables for the world audience, the vibrance of Real Betis returns after a season in the Segunda, potentially five teams in the Champions League, more money from TV revenue to be spread beyond the Madrid-Barcelona duopoly and a noticeably more competitive feel to the top seven or eight clubs.
But, for now, a look at what we might expect from -- and what might face -- the four clubs who occupied the hallowed Champions League qualifying positions when La Liga finished its business back in May.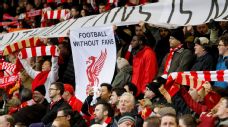 FC Barcelona
The Spanish and European champions present us with one of the most fascinating challenges that sports psychologists and sports scientists have ever seen. This group has already defied history: the first to win the "Double Treble".
Now they have to tilt against something threatening, almost always present, almost always victorious: rust. And they have to do it without spending lavishly on augmenting their squad, at least until January 3 against Espanyol. Until then, no new players will play for Barcelona unless they come from the nursery system.
Those who claim that Barca aren't feeling the effects of their transfer ban because the Camp Nou coffers were able to spring for Arda Turan and Aleix Vidal this summer were taught a lesson by the Spanish Super Cup. The club's summer tour of the United States' East and West coasts, followed by the regrettable 9,000-kilometre round trip to Tbilisi, Georgia, for the UEFA Super Cup, left the Treble holders on their knees at the San Mames. The second-string players didn't step up to the plate.
Barcelona, with Xavi now gone and Jordi Alba and Neymar missing through injury and illness, were crying out for elite reinforcements. More, any club that embarks on a trophy spree almost always subscribes to the "buy when you are strongest" philosophy. Not simply for specific tactical requirements, but to directly challenge victorious players' motivations and to lay down a clear warning that nobody's place is safe or can be taken for granted.
It combats rust.
Luis Enrique's squad has the talent and experience to not only become the first to retain the Champions League, but to repeat the Treble. Honestly.
But will all of them repeat the voracious hunger that drove them to gobble up every significant opponent from January to May? Which of the key players will relax? Or will they suffer the injuries and loss of form that the squad was largely spared last season?
Furthermore, an age-old maxim in team sport is that once a preseason fitness campaign has gone badly, it's impossible to compensate for it during the onslaught of matches from August to May. Fitness, sharpness, stamina, recuperation and even injury rates will all continue to be affected. "But to what degree?" is the question.
We can expect fringe and B-team players like Sergi Roberto, Rafinha, Thomas Vermaelen, Alex Grimaldo, Marc Bartra, Sergi Samper, Munir El Haddadi and Sandro to be used frequently between now and the turn of the year. Not only will this keep key men like Andres Iniesta, Gerard Pique, Dani Alves, Luis Suarez and Ivan Rakitic fresh, but it will demonstrate that they are not guaranteed to start unless their daily attitudes are spot-on.
But, how to calibrate those changes and still win big Liga matches? That's Luis Enrique's challenge.
Last season, Luis Enrique's adjustments were moving Messi to the right side of his attacking trio, and the ball reaching that trident much more quickly. You might say that they worked fairly well.
But opponents study hard, and each season requires a slight reboot. So what does the Camp Nou tactical laboratory have in store for us this time? And if they get it right, is the Double Treble really feasible?
I'd say it is. If they get it wrong, though, if rust wins, then everyone's gunning for this lot and life could be very uncomfortable in the Catalan capital.
Real Madrid
He debuted with an all-conquering 2013-14 season and then followed it up with a very average, not to say disappointing, 2014-15 campaign. Will the real Gareth Bale please step forward?
The arrival of that most British of Spaniards, Rafa Benitez, promises to benefit the Welshman.
Benitez can offer Bale greater projection in his increasingly tense battle for prominence with Cristiano Ronaldo, liberation from the right-wing duties that the Welshman dislikes so much and potentially greater emphasis on the kind of lightning-fast counter attack that so fits Bale's greatest strengths: attacking open spaces, direct races with his marker, out-muscling opponents and shooting and passing on the run.
However, for the moment, the green shoots of his recovery are very pale and small.
"I want Madrid to play good football and to attack," said Benitez, an alumnus of the Bernabeu in both playing and coaching terms, "But I want balance, equilibrium and to concede fewer goals." Ronaldo's preseason back injury has meant little has been learned about how Benitez's preferred 4-2-3-1 will work for the two behemoths, Bale and Ronaldo.
The new manager also wants Benzema to "break the barrier of 20 or even 25 goals per season." The Frenchman has averaged 25 across each of the past five seasons. No mean feat, but not enough, according to Benitez.
"Rotation, rotation, rotation" will be his motto, with deference to estate agents everywhere. He's stated that he will play a double pivot no matter which formation he uses (having deployed a 4-3-3 and a 4-4-2 this summer). Despite having Toni Kroos, Luka Modric, Asier Illarramendi and the increasingly impressive Casemiro at his disposal, Benitez wants to add another central midfielder. New addition Mateo Kovacic can play either as a driving midfielder or patrol in front of the defence. His signing will mean unhappiness for an existing Bernabeu soldier.
"We have to get to the late stage of the season competing for everything, attacking, scoring goals and winning decisive games" Benitez said..
If he's to achieve that, he'll have to placate Ronaldo, stung by Messi's dominance again and sensitive to the increased emphasis placed on Bale's importance. Benitez will have to either integrate David De Gea at the last moment, lacking match fitness, or convince Kiko Casilla or Keylor Navas that, all along, even while courting De Gea, they were really the first choice. "Total faith, dear boy ..."
Good luck with that, Rafa.
Finally, that hoary old chestnut. Will winning games, if he can achieve that with regularity, be sufficient to keep the rapacious Madrid media and demanding Bernabeu faithful onside until the business end of the Liga and Champions League campaigns?
Even for a man who has yearned to return "home," as Benitez has done for so long, it's enough to make you suggest, "Be careful what you wish for, amigo mio."
Atletico Madrid
Two summers ago in this space, I wrote about how clear it appeared to be that Atletico Madrid were, finally, legitimate title challengers. They duly returned to the summit.
Last summer it looked crystal clear to me that they weren't even close. They finished 16 points behind champions Barcelona.
Right now, there's more than a hint that circumstances have once more combined to make the 2014 champions legitimate contenders in 2015-16. Favourites? No.
But while Madrid's search for equilibrium up front remains an issue and while Barcelona seek the momentum and zip that set them apart last term, Atleti have built not just a starting XI but a squad that will allow them to stealthily gain ground while the big two thrash around in the spotlight.
Most exciting for Colchonero fans -- plus those out with the Santiago Bernabeu and Camp Nou who yearn to see Spain's hegemony subjected to a hedge trimmer -- is the pace, power and competition for places up front. Diego Simeone can now choose between Luciano Vietto (the Tyro), Jackson Martinez (the talent whose time has come), Antoine Griezmann (the most improved striker in Europe last season) and Fernando Torres (now with an El Cholo preseason under his belt). Between them, this group scored 82 goals last season.
Behind them, even if he's not yet ready for a 38-game league season, is a thrilling, impish talent in Oliver Torres. The Spanish U-21 international has a scalpel-like skills to beat rigid defences and midfields with either passing or pace. With strikers of this calibre in front of Oliver and an existing understanding with Martinez from their shared season at Porto last term -- plus, the 20-year-old hit seven goals himself in Portugal -- this is the kid who'll catch your eye in match-winning cameos.
Defensively, it was time for Joao Miranda to move on so that Jose Gimenez could blossom. Precisely what type of central-defensive partner he finds in Diego Godin will depend, to a great extent, on whether the club can erase the Uruguayan warrior's belief that he's underpaid and undervalued. Never the right emotion to fuel a title season.
And are Atleti one central defender short of a full complement now? But the return of Filipe Luis will add danger, height, power and stamina to Atleti's vital wing-back play. Behind them, Jan Oblak has proven he's a world-class keeper.
How Koke thrives if and when he's moved permanently to the centre of midfield and asked to control, prompt and patrol -- like Sergio Busquets does for Barcelona -- will be the ultimate test of Atleti's title credentials. If he thrives, Atletico will.
If they thrive and the big two drop their levels even a little, it's game on.
Valencia CF
Football is unfair, and if Los Che didn't already know that they are about to find out.
A year ago the club was consumed by turmoil. Ownership was changing hands, there was some financial relief but deep resources were not available; a new coach completely untested at this level of pressure and scrutiny was introduced; and Valencia rolled out a swarm of debutantes, fielding one of their youngest squads in living memory.
So for them to take the scalps of Real Madrid, Atletico and Sevilla while making champions Barca sweat; to play with brimming athleticism and aggression while finishing within the Champions League qualifying positions was a notable achievement. That should have been sufficient for their new majority shareholder, Peter Lim, to say: "Well done, chaps. More of the same, please."
But more of the same won't be enough over the next 10 months. Not nearly.
First of all is the challenge of Europe, one they didn't have last term. If they don't ease past Monaco over the next seven days to reach the lucrative Champions League group stage, then it will punch a hole in Lim's financial projections, undercut the club's power to repay debt and invest in new talent.
If they do unlock the door to the playground of the rich and famous, then their burden of work compared to last season will be huge. Less rest, more travel, far greater focus on the quality and maturity of their performances and a spotlight will be thrust upon charismatic coach Nuno Espirito Santo -- questioning whether he has the vision, research and know-how to mix with the elite while still being prepared for the cut and thrust of La Liga.
There are more reasons why Valencia's report card must read "have done better" by next May. Ostensibly, the snapping pack of Sevilla, Athletic Club, Villarreal and Real Sociedad have all improved. So have Atletico. On paper, the race for the Champions League places and the Copa del Rey will be even fiercer this season.
The solutions are relatively clear cut. Nuno must find a remedy to correct Valencia's greater vulnerability away from home and coax greater efficiency from his forwards. Between them, Alvaro Negredo, Paco Alcacer and newly signed bundle of energy and brio Santi Mina must find more decisive goals than were available last season.
The race for third was wonderful last season, decided in the second half of La Liga's final games: Atletico on 78 points, Valencia 77, Sevilla 76. Los Che drew 11 times. With two or three decisive goals yielding a couple more wins, they finish third.
Goals: the magic elixir. A recipe for more points this season if they can find them.
Valencia wouldn't have chosen to start this challenge without their superb keeper and leader Diego Alves, who tore his ACL in last season's finale. So it's Aussie Matt Ryan who must prove those who see Iker Casillas-like talent and one-on-one ability to be correct.
Enzo Perez must finally start to demonstrate why he merited such a huge investment -- and claim a specific position in Valencia's XI.
Testing assignments all round. Watching how Nuno's pupils score will fascinate.
Graham Hunter covers Spain for ESPN FC and Sky Sports. Author of "Barca: The Making of the Greatest Team in the World." Twitter: @BumperGraham.