Sergio Ramos advises Gerard Pique over Real Madrid and Barcelona rivalry
Gerard Pique should think about his actions towards Real Madrid considering the rivalry with Barcelona, according to Spain international teammate Sergio Ramos.
Pique has been barracked by a large section of Spain fans in recent times because of jibes he directed at Real Madrid while celebrating Barcelona's Treble-winning campaign and also after the Catalans' European Super Cup triumph over Sevilla last month.
While Ramos defended Pique after Spain's 2-0 win over Slovakia on Saturday in Oviedo after the Barca player was jeered repeatedly during the match, he was less supportive of the 28-year-old following Tuesday's 1-0 win at Macedonia.
He told AS: "It's clear that everyone makes mistakes and I'm the first to do so. I've made many mistakes. But it's true that due to the rivalry that exists between Barcelona and Madrid, the latest actions don't help with respect to the treatment he [Pique] has had."
North Macedonia

Spain
Game Details
In June, with Barca celebrating their Primera Division, Copa del Rey and Champions League treble-winning campaign at a packed Camp Nou, Pique said to the crowd: "We are the best team in the world! Thanks to all and thanks to Kevin Roldan, it all started with you."
Colombian singer Roldan had been hired for Cristiano Ronaldo's 30th birthday party in February and sang at the event that took place hours after Real were soundly beaten 4-0 by Atletico Madrid.
Photographs were leaked to the press of the party which incensed Real fans, and the team endured a decline in results afterwards.
Pique also took a swipe at Real after his team edged Sevilla 5-4 in a UEFA Super Cup thriller on Aug. 12 in Tbilisi, Georgia.
After the game, Spanish TV, as reported in El Mundo newspaper, caught Pique telling his teammates on the pitch: "Come on guys, let's celebrate.
"Screw those at Madrid, let them see us make the lap of honour."
Ramos says that in times of euphoria, things can be said that one might regret later on but insists Pique should know better.
"When you are celebrating, one can lose it a little bit," he said. "I'm not going to evaluate that but it doesn't enter my mind [when celebrating a title] to remember others that are not in my group.
"I've already stated that whether or not we agree with those actions, it doesn't help the reception. But it doesn't surprise us coming from him [Pique]."
Ramos, who celebrated his 100th victory with Spain on Tuesday, nevertheless says that Pique is a crucial player for the national team.
"He is not a problem," he said. "On the contrary, he's a magnificent player for the national team. I don't think Pique is influenced by what people say. We like calmness.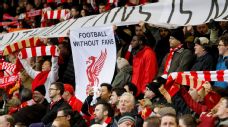 "We live with this type of noise but that should not make us lose the focus of achieving our aim."
Spain host Luxembourg on Oct. 9 in their last home qualifier in Logrono.
Ramos hopes La Roja fans will have forgiven Pique and moved on for the good of the national team.
Pique said earlier this week: "The sooner we forget this, the better it will be because in the end, by talking about it we only incite for this issue to continue."