Bastian Schweinsteiger explains Manchester United move
Bayern Munich star Bastian Schweinsteiger has posted a message explaining his decision to join Manchester United.
Schweinsteiger, 30, has spent his entire career at Bayern but he has agreed a move to United after informing the German club's CEO, Karl-Heinz Rummenigge, that he wished to leave.
On Sunday, he used his personal Twitter account to post a message to the club's supporters explaining his decision.
140 characters cannot express how I feel for @FCBayern. #MiaSanMia pic.twitter.com/EFNX2Jvh00

- Basti Schweinsteiger (@BSchweinsteiger) July 12, 2015
He posted a further message to say he was looking forward to the new challenge at Old Trafford.
One last dream in my career come true. I am excited about the next chapter in my life with @ManUtd. pic.twitter.com/aWnz9mnuD8

- Basti Schweinsteiger (@BSchweinsteiger) July 12, 2015
The Germany captain had one year remaining on his contract at Bayern and coach Pep Guardiola had said he had the right to decide his own future.
Rummenigge had explained the club's decision during a news conference on Saturday.
"I won't hide the fact that I'm wistful," Rummenigge told reporters. "I regret it. We tried to convince him to stay with Bayern, but I can also understand a player seeking to gain new experience at the end of his career."
Thanks for everything, @BSchweinsteiger. All the best in England - see you soon! #DankeBasti pic.twitter.com/9CcZL97zx9

- FC Bayern English (@FCBayernEN) July 11, 2015
He added: "It will be an interesting new challenge for Bastian, giving him renewed power. It's a decision that will be beneficial to him in his life. I'm convinced he'll play well there. The Germany squad will profit from that too."
On the discussion he had with Schweinsteiger over his future, he said: "It was a very serious and thorough conversation -- we were very honest to each other.
"He told me he had thought about it during his vacation. He wants do to something new towards the end of his career.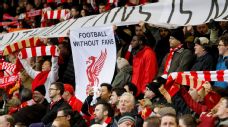 "He asked me to grant him his request and agree transfer terms with Manchester United. It was not an easy decision made in five minutes."
Schweinsteiger will be allowed a testimonial at Bayern when he finally retires, and Rummenigge said: "Then we'll also consider whether there's a future, a second career for him at FC Bayern. The door is always open for him."