Real Madrid sack Rafa Benitez, name Zinedine Zidane as coach
Real Madrid sacked manager Rafa Benitez after seven months in charge and replaced him with France legend Zinedine Zidane on Monday.
Benitez, who began his playing career with the club's reserve sides and later held several coaching roles at the Estadio Santiago Bernabeu, returned to Real Madrid after last season following the dismissal of Carlo Ancelotti.
The former Valencia, Liverpool and Napoli coach never won over a dressing room that included vocal supporters of Ancelotti, and he was under serious pressure since a 4-0 home defeat to Barcelona in the Clasico.
Zidane, who was Ancelotti's assistant in 2014 when Madrid won the Champions League, has been coaching Madrid's Castilla reserve team in the third division.
The former World Cup winner spoke briefly during Monday's news conference, promising to "give it all his heart to make the team successful." A full conference to unveil the 43-year-old is set for Tuesday.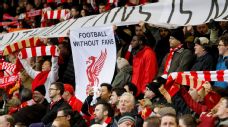 Club president Florentino Perez announced the news after a club board meeting on Monday afternoon.
He called Zidane "one of the greatest figures in football history" and told him: "This is your stadium, your club, you have all our confidence. Madridismo is at your side. As president, I am proud to have you by my side. I know for you, the word 'impossible' does not exist."
Last month, Perez said that Benitez was the "solution," not the problem at the club, and blamed a media campaign and violent ultras for souring the mood at the stadium, where the team and their coach have been whistled regularly in recent months.
On Monday, Perez called the decision to replace Benitez "difficult."
"I am here to say that the board has just decided, a difficult decision, especially for me, to end the contract of Rafa Benitez as first-team coach," Perez said. "He is a great professional and a magnificent person, and we thank him for his work during these months."
There were suggestions that some of Real's most senior players -- having been vocal supporters of Ancelotti -- did not back Benitez from the outset. He came under more serious pressure after the Clasico defeat on Nov. 21, while the club's expulsion from the Copa del Rey after fielding an ineligible player did little to calm tensions.
Madrid are currently third in La Liga, four points behind neighbours Atletico, after Sunday's 2-2 draw at Valencia.
Benitez was the 10th different manager to lead Real Madrid under Perez, who has held the position two separate times for a total of 12 seasons. No manager has lasted longer than three seasons at Madrid while Perez has been in charge. Of the six permanent managers hired by Perez, four have failed to make it to their second season.
The last time Perez changed coach mid-season was when Wanderlei Luxemburgo was replaced by then-Castilla coach Juan Ramon Lopez Caro in December 2005. The construction magnate himself resigned from the position just two months later following a Champions League exit to Arsenal, only to return to the job in summer 2009.
The Madrid-born Benitez, who worked as an assistant for the club in 1994-95, has won 12 titles with five clubs since 2001, but he hasn't won a league title since 2004. Benitez has managed 12 different teams in his career, with only two of those stops spanning more than three calendar years -- 2001-04 with Valencia and 2004-10 with Liverpool.
He leaves Real Madrid with a .740 win percentage, his best at any club since 2001. However, for the first time since 2001, Benitez will have failed to win a trophy with a team, because he did not have an opportunity to play in any finals as Real Madrid manager.
Real are worse off through 25 games this season than they were in each of the previous two seasons. They have struggled in big games under Benitez, recording just one point in three matches against the other teams in the top four of La Liga this season (Atletico Madrid, Barcelona and Villarreal).
The club have not won La Liga since 2011-12. Should they fail to win the league this season, it would be their longest drought without a league title since 1990-94 (also four seasons).
Although Zidane's playing career ended in infamy as he was sent off for head-butting Marco Materazzi in the 2006 World Cup final, he was part of Perez's Galacticos at Real Madrid who won La Liga and Champions League titles in the early 2000s.
David Beckham, his teammate from those days, emphatically backed Zidane in an Instagram post, calling him "the best person for the job."
Zidane's first season in charge of Real Madrid Castilla ended in disappointment as they missed out on promotion. The young side are currently in second place in their Segunda B division, having drawn 2-2 at La Roda this past weekend.
Perez said he felt confident that Zidane would know how to manage the club.
"He knows more than anyone what it means to lead the Real Madrid squad and knows how difficult it can be," Perez said. "He also knows these players, has worked with many as assistant coach and won La Decima [2014 Champions League]. Through all his life he has taken on the biggest challenges in football with bravery and talent."
Zinedine Zidane: new coach of Real Madrid. READ: https://t.co/G53STYLVJu #RealMadrid pic.twitter.com/eHOhA8BeDp

- Real Madrid C.F. (@realmadriden) January 4, 2016
Zidane said he was optimistic about the opportunity. His first game in charge will be on Saturday at home against Deportivo La Coruna in La Liga.
"First I want to thank the club, and you presi, for giving me a chance to coach this team," Zidane said. "We have the best club in the world, best fans in the world. What we must do now is try and do the most possible so that this team wins something at the end of the season. I will do everything possible with all the players, and hope it will all come out well.
"Tomorrow I will be with the team -- and get to work. Thanks to everyone. This is an important day for me -- like all new coaches, I have emotion, more than as a player. But from tomorrow it will be something else. I will give all the heart I have for this club. And try for everything to come out well."