'Angel Di Maria wants Real stay'
Real Madrid winger Angel Di Maria does not want to leave the Bernabeu, according to his teammate Sergio Ramos.
Madrid president Florentino Perez is thought to be keen to sell Di Maria after spending 80 million euros on James Rodriguez, although Los Blancos coach Carlo Ancelotti appears eager to hold on to a tactically useful player who was key to the club's Champions League and Copa del Rey successes last term.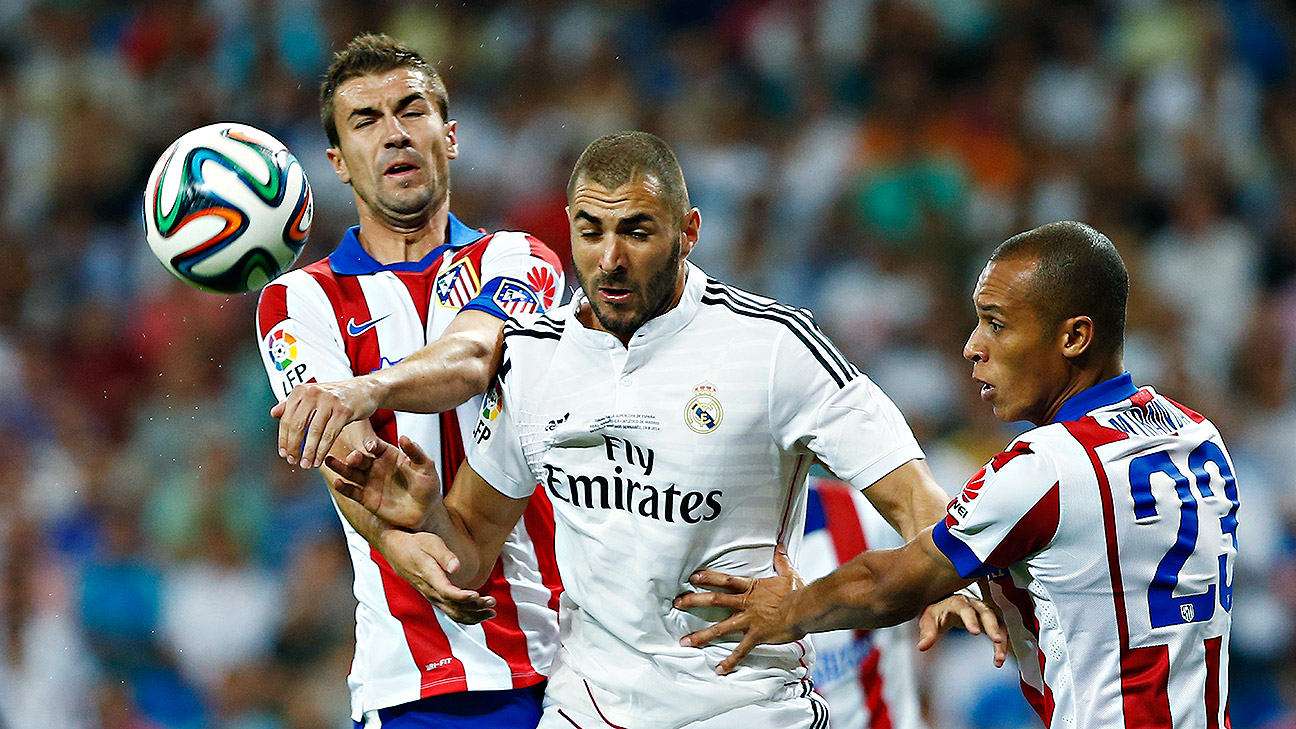 Spanish Supercopa: Real Madrid vs. Atletico
Paris Saint Germain had seemed best placed to sign Di Maria, but even the super-rich Ligue 1 club reportedly baulked at Madrid's 75-million-euro asking price.
Manchester United are now reportedly prepared to pay such a price with the Premier League club struggling to secure high-profile signings after another frustrating transfer window.
Asked about the issue after Tuesday's Spanish Supercopa 1-1 first-leg draw with Atletico Madrid, Ramos told reporters that he did not want to influence his teammate's decision, but had the feeling that Di Maria was happy to stay at the Bernabeu.
"I am not one to recommend what to do, we live in a democratic country," the Spain defender said. "[Di Maria] knows what it is like abroad, and what it is like being at Madrid. I do not believe 'El Fideo' intends to leave. I would sign for him to stay here all his life."
James also spoke with reporters after the game, and rejected a suggestion that he and Di Maria were too similar to play together in the same team.
"Of course we are compatible," the former Monaco player said. "That there are great players is always good, and he is a great player."
Madrid's newest galactico had started on the bench, and was then quiet on the left wing after replacing Cristiano Ronaldo at halftime.
He did, however, pounce late on to score what then seemed to be his side's winner, only for Raul Garcia to equalise even later equalise for Atletico and leave the tie neatly balanced ahead of Friday's second leg at the Estadio Vicente Calderon.
ALL-TIME HIGHEST TRANSFER FEES
1) £85m Gareth Bale -- Tottenham to Real Madrid, Sept. 2013
2) £80m Cristiano Ronaldo -- Man Utd to R. Madrid, June 2009
3) £75m Luis Suarez -- Liverpool to Barcelona, July 2014
4) £71m James Rodriguez -- Monaco to Real Madrid, July 2014
5) £59.7m Angel Di Maria -- Real Madrid to Man Utd, Aug. 2014
6) £56m Kaka -- AC Milan to Real Madrid, June 2009
"The victory was within reach, but now we have to go out to win in the Calderon," James said. "We have to be patient, look for spaces, pass the ball and try to score there. As a great team we have to go out to win no matter what. Hopefully I can score again in the Calderon and try to help my team win there."
James added that he had felt good playing in front of an appreciative Bernabeu crowd, although he felt he was still working his way back to full sharpness after the World Cup.
"I'm happy because it is day I had dreamed of," he said. "I scored a goal, but we wanted to win and that wasn't to be. I'm getting there bit by bit and training session by training session I'm improving. Hopefully I can score many more goals."