Newcastle's Aleksandar Mitrovic wants to be No. 9 'legend' like Alan Shearer
Aleksandar Mitrovic wants the responsibility of following in Alan Shearer's footsteps with Newcastle United's No. 9 shirt ahead of Sunday's Wear-Tyne derby against Sunderland.
Mitrovic, 21, signed for Newcastle from Anderlecht this summer, and has scored two goals in seven Premier League outings for Steve McClaren's side so far.
The Serbia international currently wears No. 45 for the Magpies, but is eager to prove himself at St James' Park and follow club legend Shearer -- starting against rivals Sunderland at the Stadium of Light on Sunday.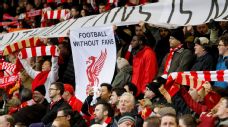 "Here it is like a religion to have a real No. 9 strong striker -- a box player, always in the box, [to] give the ball [and] score a goal," he told the Mirror.
"This is the most special place for strikers to play. All strikers who score here are big players and they come after legends. It is an honour to be a striker here. I hope I have a lot of goals here to celebrate."
Speaking about Shearer's Newcastle record of 206 goals in 450 appearances, Mitrovic said: "I have 204 goals to go! I have time! Shearer came here when he was 26 until 36. Why not?
"I always look at those legends. Shearer is No. 1 here. Everyone was behind him. He did a lot for this club and this is how I want to play. Maybe one day I can become a legend. It is just beginning.
"I hope to meet him. He is my idol. I only came here two months ago, and I don't want to leave soon, so it will happen. I want to earn the No. 9. It is a big responsibility at this club.
"We know who was No. 9 before, and you need to earn that. You earn it by scoring big goals in games like Sunday. For now, I am happy with No. 45."
Mitrovic scored as Newcastle beat Norwich City 6-2 last weekend to climb from the foot of the table to 18th, leaving Sunderland bottom.
The forward is aware of the importance of Sunday's game to both struggling clubs, adding: "This game is different. Sunderland-Newcastle is sport. That game is politics! A different rivalry. [It's a] big game! We need to win. We did not win five in a row [against Sunderland]. That is really difficult.
"I say we go there to try to play football, stay calm and give it a go. We have a good team, we believe in ourselves and we know we can win it -- although we respect Sunderland."