Liga MX approves 10-player limit on foreigners and naturalized players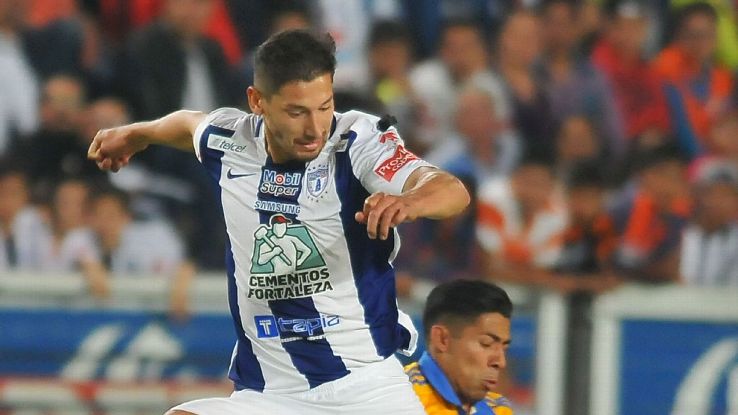 Liga MX club owners voted on Monday in favor of a proposal to limit the number of foreign-born players allowed in each matchday squad to 10.
The previous rule allowed each team to field five foreigners and an unlimited number of naturalized Mexicans, but the prevalence of players gaining fast-track Mexican citizenship -- just two years for people from Latin America and the Iberian Peninsula -- caused concern about the lack of opportunities for homegrown talent to develop and get first team minutes.
"There are no longer limits on [registering] foreigners," explained Liga MX president Enrique Bonilla in a news conference on Monday. "[But] with the change there will have to be at least eight [players] with a Mexican birth certificate [in the matchday squad]."
The limit will come into force for July's Apertura 2016 and was approved unanimously, according to a statement on the Liga MX website.
The new Liga MX rule will make a distinction between Mexicans born in the country and naturalized Mexicans, which may cause resentment and even legal challenges.
There is a special clause for dual Mexico-U.S. citizens. Previously, the constitutional birth-right to Mexican citizenship for anybody with one Mexican parent meant Mexican-American players were counted as Mexicans when they registered with the Liga MX. That has now changed.
"Players with dual Mexican-American nationality will be considered as one of the eight [Mexican] players if when they first register with the FMF [Mexican federation] they haven't reached 19 years," read the statement.
With Liga MX clubs currently in limbo over whether FIFA rules allow them to bring in Mexican-American players below the age of 18, it seems as though the dynamic of recent moves from MLS and the United States in general to Liga MX may be affected.
Players like Santos Laguna's Jorge Villafana and Pachuca's Omar Gonzalez, who both moved from MLS to the Liga MX over the past winter, will no longer be classed as Mexicans, according to the new rule as it has been spelled out.
There will also be concern that the rule still leaves the door open to each of the 18 Liga MX clubs being allowed to start 10 foreign-born players each match, leaving relatively few spots for Mexicans, although Bonilla defended the league's positions.
"If you do an analysis of the rule as it is, you could have 18 [players] born outside of Mexico and now you will have [a minimum of] eight that are Mexican according to their birth certificate," stated Bonilla.
The change in the law represents a shift from Liga MX club owners, who opened the doors for naturalized citizens to count as domestic players in 2014. Previously, Liga MX rules stated the player had to have been in Mexico for at least five years to register as a Mexican with the league and not take up one of the five foreigner berths each club is allowed.
Since the alteration, the rise in the numbers of naturalized players has been rapid. Club America and Cruz Azul both had six naturalized Mexicans in their squad for the Clausura 2016, with Pachuca, Morelia, Queretaro and Pumas all having five, on top of the five foreign players allowed.
In other news coming out of the owners' meeting, Bonilla confirmed a group of investors is interested in buying Chiapas, although they will have to be approved by the Liga MX before the potential sale could take place.
The future of Monarcas Morelia is also up in the air, with the club having until May 2017 to sell the team, due to Grupo Salinas also owning Atlas and the Liga MX deciding than multi-ownership of teams should be eased out the league.