Could Colombian-born Liga MX star Aviles Hurtado become an option for Mexico?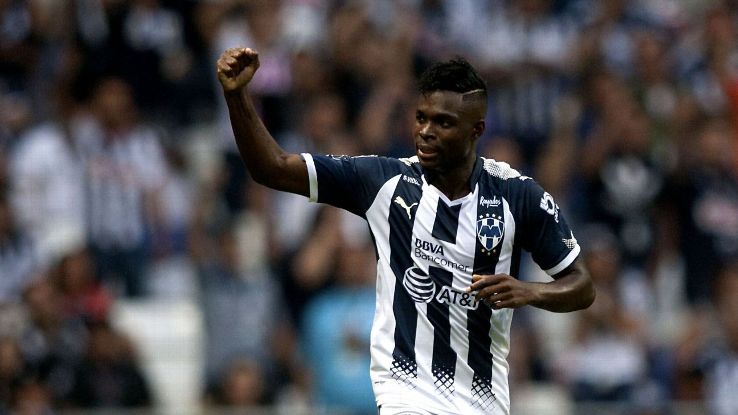 MEXICO CITY -- Aviles Hurtado is becoming a household name in Liga MX. The 30-year-old Colombian has been one of the league's most active attackers since the 2016 Apertura when he landed in Tijuana after three straight seasons at the now-extinct Jaguares de Chiapas. This past summer he once again changed clubs within the league, switching Xolos for Monterrey. It's been reported that Monterrey paid between $8 and $9 million to get the explosive forward.
After 11 Liga MX matches, Monterrey's decision to bring him on board can be seen as a wise move, especially when taking into account that Hurtado played several times alongside forward, Dorlan Pabon, during their days at Colombian side, Atletico Nacional. Now with Rayados, both are tormenting Liga MX defenders. Between the two, they've scored 11 goals and have combined for seven assists. Hurtado, alone, has scored seven times and is only two goals behind the league's leading goalscorer, Leon's Mauro Boselli.
Monterrey's dominant start to the season has taken the league by storm; it has been a spectacle to observe how they find ways to get on the scoresheet, even when the game looks highly complicated. Monterrey are the only unbeaten club in the Apertura and have scored in all of their matches except for the first week when they drew 0-0 against Morelia.
One of the goals Hurtado has set his mind on is finishing the season with 10 goals; he's only three away from achieving it, and he should also be aware that since his Liga MX debut on Jan. 2013, he has never scored in a Liguilla game. Shattering records in the regular season doesn't resonate as much as scoring goals that could potentially lead your club to glory. Monterrey might finish the regular season undefeated, but if in December, they are not lifting the league trophy, then the scintillating regular season will not receive the rightful acclamation.
But there's another dream in Hurtado's mind that he always tries to find moments to remind everyone. He wants to play for the Colombian national team. He covets for the golden chance of representing his country. Recently in an interview with Colombian radio show, Alargue, he reiterated his principal dream. "My dream is to wear the Colombian national team's jersey and hopefully I can get this opportunity, which I've been waiting for a long time. If I get the chance, I will be prepared to take advantage of it."
Los Cafeteros manager, Jose Pekerman, has had a tendency to call up Hurtado's teammate at Monterrey, Stefan Medina, which means that Pekerman and his coaching staff are closely following the developments at Monterrey. Pekerman must be aware that in the last three regular seasons, including the current one, Hurtado has tallied 19 goals in Liga MX, yet he has chosen to give call-ups to other forwards.
In the last World Cup qualifying matches, the forwards he called up were Monaco's Radamel Falcao, Atletico Junior's Teofilo Gutierrez and Yimmi Chara, Villarreal's Carlos Bacca, Sevilla's Luis Muriel and Sampdoria's Duvan Zapata. Of the six forwards, two play in Colombia -- Chara and Gutierrez -- and both have a recent Liga MX experience. It's still unknown how set Pekerman is with this list of forwards; Hurtado, certainly, hasn't lost hope.
However, something could start taking form starting in January. Come that month, Hurtado would have been living continuously for five years in Mexico, which would grant him the possibility to play for Mexico's national team per FIFA rules.
In early March, Mexico manager Juan Carlos Osorio was asked by newspaper Excelsior about Hurtado's chances of being included into El Tri's roster. Osorio responded: "The naturalized players that we have considered, which include Guido Pizarro, Ismael Sosa and now Aviles Hurtado, can't be considered because of FIFA regulations. But I want to reiterate that we're not closing the possibility of including a naturalized player. First that player must prove that he's ahead of other Mexican players in a certain position, and second, they must fulfill the prerequisites per FIFA rules."
This statement is important because Osorio admitted that Hurtado is a player that his coaching staff is closely following, but Hurtado has also made known several of his sentiments toward the possibility of hypothetically receiving the opportunity to play for Mexico. "It has never crossed my mind to play for Mexico's national team," he told ESPN Digital in the summer of 2016. "Because, when you think about your country, you want people from your country to play for the national team.
"If that possibility comes [getting a call from the Mexico manager], I'll welcome it, but it's not something that makes me lose sleep. Because, really, I prefer for people who were born here to represent their national team. They [coaches] have to give opportunities to those who were born in Mexico."
In that same interview, Hurtado recalled the days when Osorio coached him at Atletico Nacional. "He likes keeping the group happy and content. He wants everybody to participate; it's his coaching style. He can do rotations or not, everyone has a different opinion. He's someone I respect a lot."
Late Monday night, TV Azteca football analyst, David Medrano, picked a list that included 17 names who he sees with their place secured in Mexico's final 23-man roster for next year's World Cup. Medrano's list makes sense because it includes the bulk of players who have seen the most minutes since Osorio took over the Mexico job in 2015, and also includes names that had made a significant contribution to El Tri during the last Hex. One of the notable absences in the list was that of Giovani dos Santos, whose production in the national team has significantly stalled since the 2014 World Cup.
Another significant absence is that of Tigres' Jurgen Damm, who this season has only played 403 minutes. Elias Hernandez, who has four goals and six assists this season for Leon, is another player to follow, but he didn't even get a single look from Osorio in the last Hex games against Honduras and Trinidad and Tobago. One assumes that if Hurtado gets into the Mexico picture, his direct competitors for a place in the team would be G. dos Santos, Hernandez and Damm.
During the last Hex games, Osorio made note that he had 35 names in mind, and that his coaching staff had prepared individualized programs for each one ahead of the World Cup. Perhaps Hurtado isn't in that list, but what if Monterrey wins the league, and he finishes as the season's Most Valuable Player? What if that coveted Colombia call-up doesn't come next month when Pekerman might want to take a look at players he really hasn't given a shot?
Hurtado is in his prime, and he's averaging 2.3 successful dribbles per game this season. He possesses that dare that would make him a dangerous option in a 4-3-3 formation, playing on one of the wings. His dynamism is so noticeable and can be comparable to what Hirving "Chucky" Lozano and Jesus "Tecatito" Corona offer to the national team. A lot of things can happen from now until the World Cup, and without a doubt the Hurtado storyline can take a lot of turns in the next months.
Nayib Moran covers Liga MX and the Mexican national team for ESPN FC. Twitter: @nayibmoran.