Liga MX: Young Mexico stars shine; Chivas and Necaxa play game of the season
Gerardo "Tata" Martino takes charge of his first training session as Mexico manager on Monday, coaching a domestic squad with an average age of 24.9 years and including 14 players of 25 years or under.
The thinking behind Martino's squad is clear: get to work with players that will be in contention for a spot at the 2022 World Cup in Qatar as quickly as possible.
It's important because Mexico's player pool isn't as deep as the elite nations, partly because of the high number of foreigners in Liga MX, and also due to the comparatively lower number of Mexicans playing at top levels abroad.
But that doesn't mean there aren't youngsters coming through, even if the volume would ideally be greater. In fact, this weekend's Liga MX action was a good showcase for those young Mexicans not in Martino's first squad. (As an aside, it perhaps also highlighted some of the benefits of the league's youngsters rule, which is designed to encourage teams to play younger players.)
The player everyone in Mexico seems to be talking about at present is Veracruz goalkeeper Sebastian Jurado. At 21, the fact he is starting in Liga MX is impressive, even if the Tiburones Rojos are one of the weakest sides in the league and heavy favourites to be relegated.
Jurado is set to be included in Jaime Lozano's next U-22 squad and he has certainly made an impact in his first 10 games for Veracruz's first-team. The Veracruz native's technique appears sound and there's a confidence about him that radiates a maturity beyond his years.
It took Tigres 88 minutes to get past Jurado on Friday, despite almost totally dominating the game, and the youngster made seven saves -- a couple of them outstanding. Though, on the negative side, he was out of position for Tigres' late second to make it 2-0.
Shielding Jurado as the libero in Veracruz's defense was 20-year-old Edson Garcia, on loan from Atlas. He was playing only his second Liga MX game but doesn't look out of place in Mexico's top division.
The player who eventually broke the deadlock and struck the second goal in a breakout performance for Tigres in Liga MX was Francisco Venegas. The 20-year-old was a winter signing from Pachuca that largely went under the radar, but Venegas has played in Chile at Everton, has been part of Mexico youth national teams and was chosen ahead of Jorge Torres Nilo by Ricardo "Tuca" Ferretti, who isn't usually keen on throwing in young players.
Also included by Ferretti was right-sided centre-back Juan Sanchez, who has made his way up through Tigres' youth system and enjoyed a positive first start in Liga MX.
In Toluca's 1-1 draw on Sunday at home to Cruz Azul, tall 21-year-old centre-back Adrian Mora equalised for Toluca and is settling nicely into life in Mexico's Liga MX, while it was Orbelin Pineda -- included in Martino's squad this week -- who opened the scoring.
In Estadio Azteca, 19-year-old Chivas loanee Jose Juan Macias was on target from a tight angle to give Leon the lead and 22-year-old Jose Rodriguez -- a holding midfielder -- played his part as La Fiera recorded a 3-0 win over Club America.
Over in Necaxa, 22-year-old Ronaldo Cisneros netted in the 89th minute and looked to have given Chivas the three points against Necaxa before they levelled in the fourth minute of injury time.
Other youngsters involved this weekend were Atlas duo Edgar Zaldivar (right-back, 22) and Jose Hernandez (goalkeeper, 21), who lost 2-1 on Friday to a Puebla side featuring 20-year-old right-back Vladimir Lorona.
Also, Alan Mozo (right-back, 21) and Ideal Dominguez (left-back, 18) started in Pumas' 2-0 win over Queretaro, while Aldo Cruz (Lobos BUAP), Roberto Meraz (Morelia), Marcel Ruiz (Queretaro) and Jose Hernandez (America) all got minutes.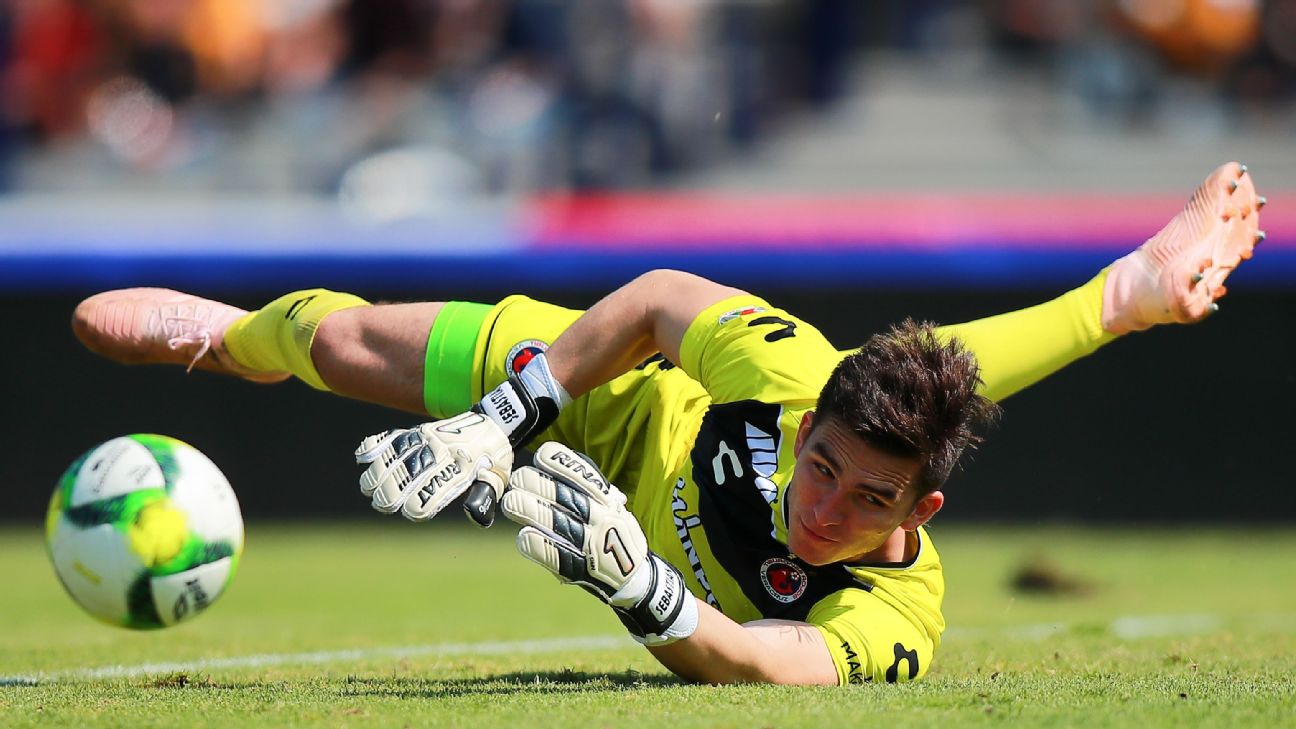 Take note of ...
Club Leon. Was the 3-0 win the best performance of the season from any team? It certainly takes some beating. La Fiera was clinical on the counter-attack in the Azteca and new signing Joel Campbell is starting to click. More than anything, however, Ignacio Ambriz's side had a steely determination in defense that laid the foundations for the famous victory, which ended an 18-game undefeated home streak in league play.
Moments of the weekend
Concluyó la #Jornada6 que nos dejó grandes emociones. No te puedes perder los #MomentosDeLaJornada de la #LIGABancomerMX#CreandoOportunidades ⚽ #PorLaEducación pic.twitter.com/erfYUdipJe

— LIGA Bancomer MX (@LIGABancomerMX) February 11, 2019
Player of the week
Angel Mena -- The Ecuadorian netted twice for Leon in the Azteca against the reigning champion. The audacity to take the ball around Agustin Marchesin for the third goal was a little bit special. Mena will have had few more memorable evenings in his career.
Team of the week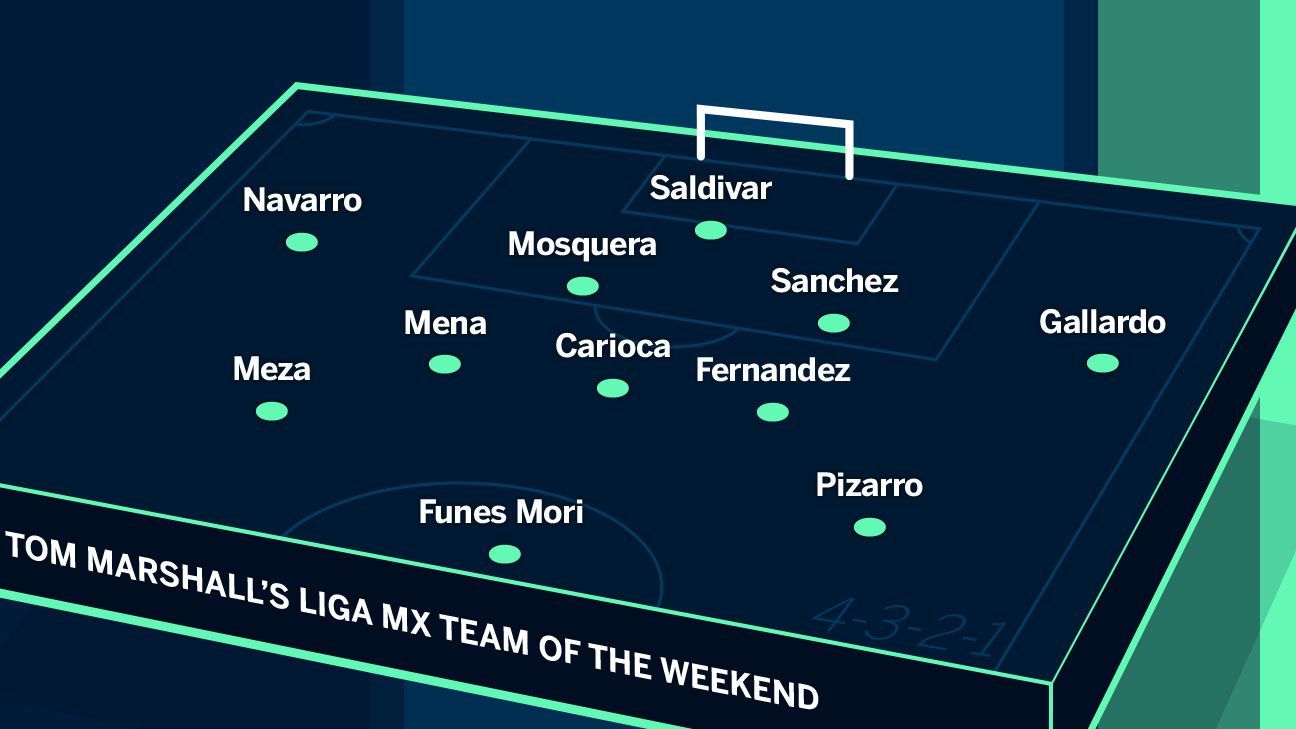 Goal of the week
Brian Fernandez (Necaxa) -- Who gets the ball by the sideline with nothing apparently on and thinks about heading into the box and scoring? Brian Fernandez does. A golazo to put Necaxa 2-1 up against Chivas.
Otra superlativa of the week
What a game on Saturday night in Estadio Victoria as Necaxa drew 3-3 with Chivas! Ok, it wasn't one for defensive purists and Necaxa defender Ventura Alvarado will want to forget it as soon as possible, but in terms of emotion, it was arguably the best game of the Clausura to date.