Liga MX Review: Tigres, Monterrey continue their dominance in the Clausura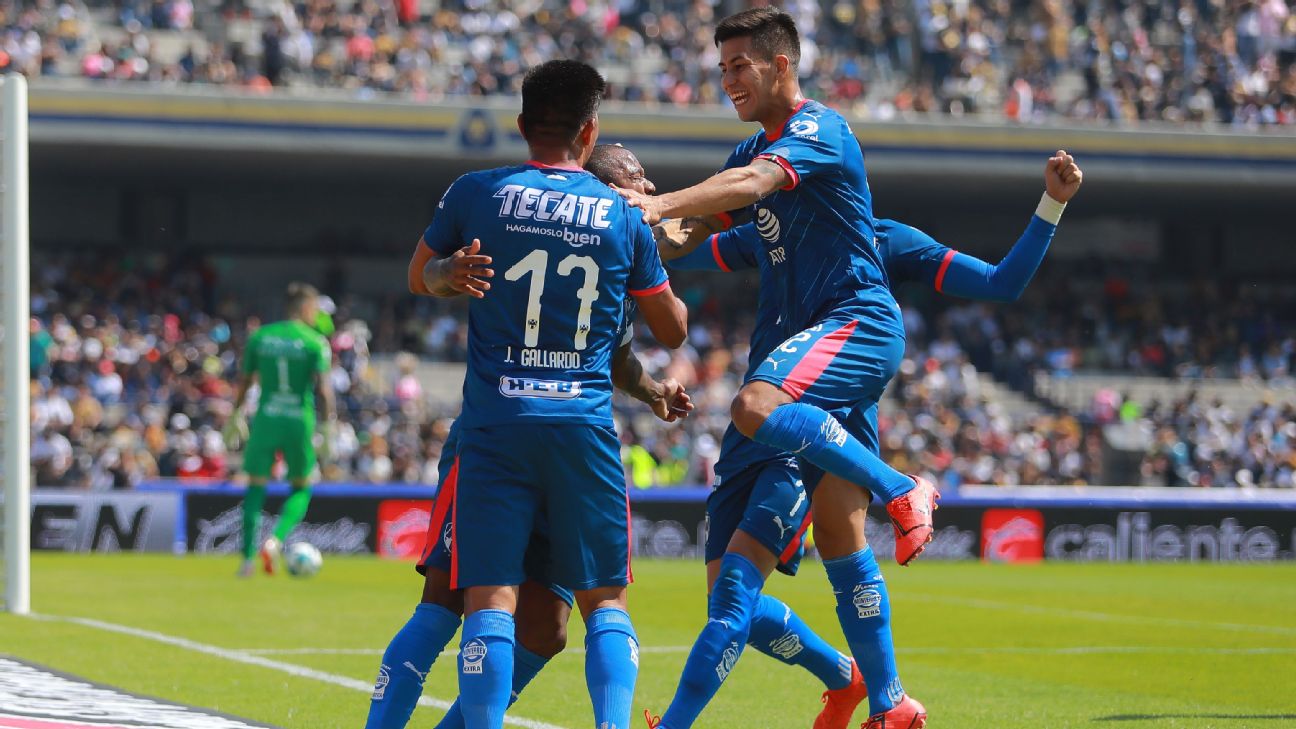 It just wouldn't be a Liga MX tournament without at least one of the Nuevo Leon teams taking charge.
After passing the quarter mark of the regular season, both Monterrey and Tigres are sitting in two of the top three spots in the league table. With some of the biggest names in the Mexican first division populating their rosters in recent years, it's no shock to see the crosstown rivals maintaining their dominance in the early stages of the 2019 Clausura.
Looking at Tigres, Saturday's 2-1 win over Santos Laguna did plenty to highlight the team's attacking capabilities. With 62 percent possession, 12 corners and 22 shots (three of which hit the woodwork) against Los Guerreros, Tigres were a bit unlucky to only have two goals. Defensively, the team will only get stronger going forward. Following the addition of Carlos Salcedo -- a key player for the Mexican national team and a former starter for Eintracht Frankfurt -- Tigres will become an even more daunting challenge for Liga MX opposition.
Nonetheless, fans have very high expectations for the club, and after going through 2018 without a Liga MX or CONCACAF Champions League title, very few supporters would be happy with another year without a major trophy. Tigres still have a long way to go before claiming another crown, but at the very least, 10 points in five Liga MX games is a sign of more good things to come from long-time manager Ricardo "Tuca" Ferretti.
As for Monterrey, if we're talking about maintaining dominance, we have to bring up the incredible streak that the team has held onto. First in the league table, Los Rayados have yet to drop out of a playoff spot since July of 2017.
However, as envious as some teams will be of this run, Monterrey has also yet to clinch a league title since 2010. Powerful as Los Rayados are -- especially after the signing of Miguel Layun -- there's something still left to be desired by the highly talented team that has had its fair share of hiccups. For example, in Sunday's game at lackluster Pumas, Monterrey struggled to find a winner in the 1-1 draw. Even after Pumas went down to 10 men in the 25th minute, Los Rayados looked listless in the final third as they finished with only three shots on target in 90 minutes.
All that said, Monterrey will surely bounce back. There are far too many stars that can help drag the team to numerous victories, and if manager Diego Alonso can iron out the small wrinkles in his tactics, there's no doubt that Los Rayados will continue be one of the title favorites in the Clausura.
Take note of ...
- Cruz Azul slumped to a second defeat in four games after losing 2-0 to Leon. New signing and former Orlando City player Yoshi Yotun earned his first-ever start for Cruz Azul in Saturday's match ... and then earned a straight red after just 18 minutes.
- Once the laughing stock of the 2018 Apertura, Atlas has now marched into fourth place after securing a 2-1 win at Morelia on Friday. For those keeping track, Los Rojinegros just need to score once more to match their dismal 11-goal tally from last season.
- Necaxa's undefeated streak has now stretched to four games after defeating Puebla 4-1 over the weekend. A much-needed attacking revival appears to be underway with some help from Brian Fernandez and Angel Sepulveda.
- Although Club America had a bit of an off game against Queretaro, a wonder strike from Renato Ibarra and a Roger Martinez penalty pushed Las Aguilas to a slightly complicated 2-0 win.
Player of the week
Brian Fernandez showcased why he is regarded as one of the most agile players in the league on Friday. Thanks to his pace and playmaking, the Argentine finished with two impressive goals for Necaxa in the 4-1 thrashing of Puebla.
Team of the week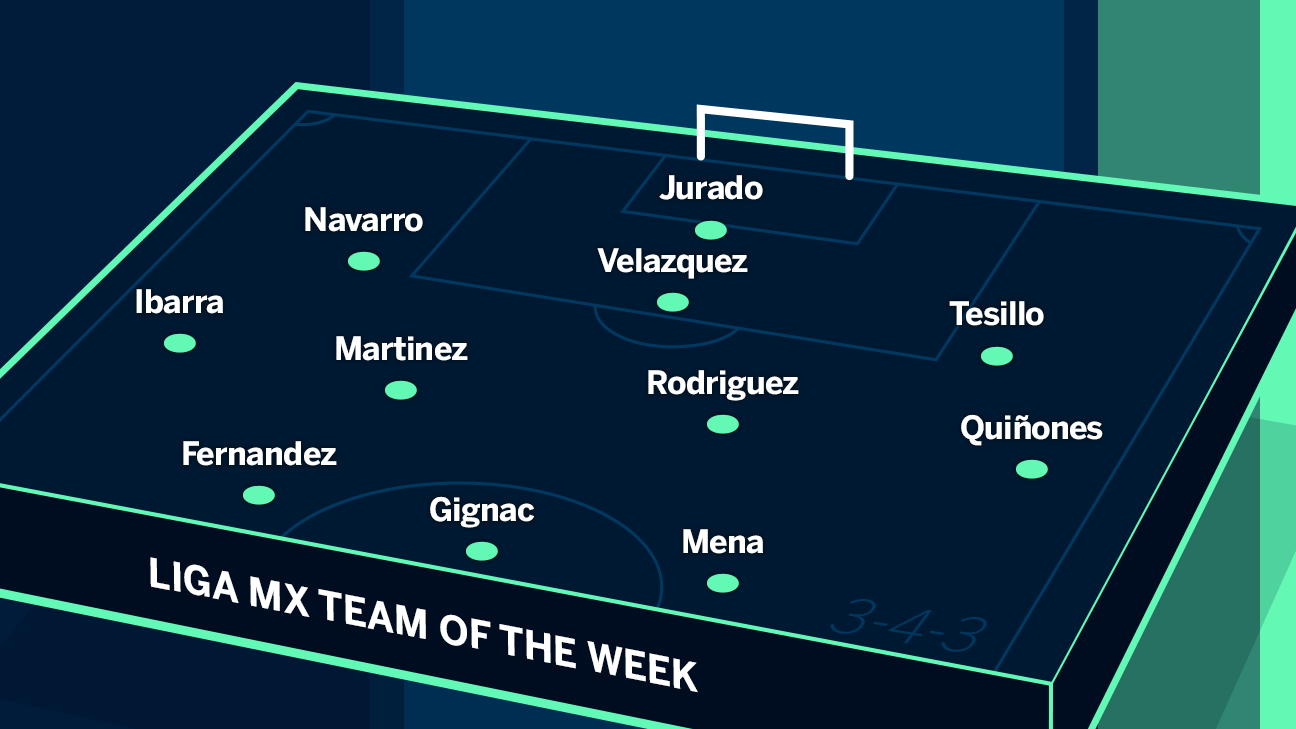 Goal of the week
Julio Furch should be given credit for his long-range attempt for Santos, as should Ibarra for his game-changing goal for America, but both pale in comparison to the golazo from Leon's Jean Meneses. Any hopes of Cruz Azul stealing an away win on Saturday were crushed when the Chilean rocketed the ball into the back of the net, making it 2-0 in Leon's favor.
Adios, Enrique Meza
Another week, another Liga MX manager gone.
After stumbling to the one-sided defeat by Necaxa, Puebla announced on Sunday that Enrique Meza would no longer be in charge of the club. The embarrassing 4-1 loss at home was the final nail in the coffin for the tenure of a manager who only claimed one victory in his first five games of the season.
All that said, Puebla's problems are much deeper than just Meza. The roster needs serious improvements, and no matter who takes over on the sidelines, complications will surely continue to emerge for a squad that lacks the necessary depth and talent to qualify for the playoffs. Were it not for Veracruz imploding in the past few seasons, Puebla would be a leading candidate for relegation.
At the time of writing, Tomas Boy and Jose Luis Sanchez Sola (commonly known as "Chelis") are both rumored to be in the running for Meza's former position.
Other superlative of the week
Kudos to Club Tijuana and new manager Oscar Pareja. Against Toluca on Saturday in a rain-soaked Estadio Caliente, Xolos had their best game of the season so far in the 2-0 victory. There's much work left to be done by Pareja in his first-ever run with a Liga MX side, but against Toluca there were exciting hints of serious attacking progress with Gustavo Bou, Miller Bolanos, Fabian Castillo and Ariel Nahuelpan all working together in an efficient and dynamic manner.
Pareja and Xolos still have plenty of catching up to do in the league table, but if their improvements continue, they should have no problems sneaking into the top eight.