Enner Valencia off to a good start to break Liga MX records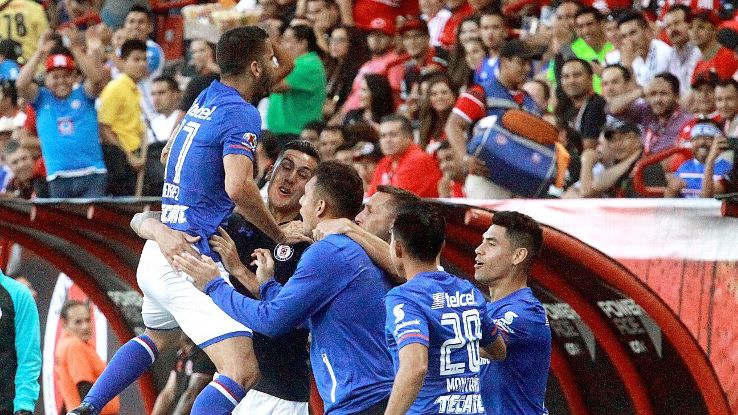 MEXICO CITY -- Liga MX's 2017 Apertura got underway, and the best scenes came from Tigres' Estadio Universitario, where Ecuadorian striker Enner Valencia got a hat trick. The trifecta of Valencia, Eduardo Vargas and Andre-Pierre Gignac looks to steal a lot of headlines this season. Here are five stories from Week 1:
1. When luck goes Cruz Azul's way
Adrian Aldrete missed a penalty when the clock showed 19:27 in Cruz Azul's match with Tijuana. A hard left-footed shot shook Gibran Lajud's crossbar. But when the clock read 19:54, Aldrete released a precise cross off a corner kick that found Edgar Mendez in the box. Mendez's header went toward Lajud, but Tijuana's goalkeeper committed one of the biggest blunders of the Apertura's first week, leading to Cruz Azul's first goal of the night. In a matter of 27 seconds, Cruz Azul's luck went from horrendous to brilliant.
Mendez went on to score a second goal in the 82nd minute after a terrific counter-attack, built mainly by Uruguayan striker Martin Cauteruccio. Mendez, who last season played at Alaves, had an inspiring debut. Manager Paco Jemez highlighted the importance of his addition to the squad. "He's a powerful player, who gives us a different style to our game, and if he continues with this current goal-scoring streak, it's great for us," he said after the game.
Cruz Azul hosts Chivas next weekend, in what will certainly be one of Week 2's best showdowns.
2. Tigres devour Puebla and put on great show to start Apertura
Ecuador's Valencia is on a mission to shatter records in Liga MX. Back in the 2014 Clausura wearing Los Tuzos' colors, Valencia scored 18 goals in 23 league games. In his first Liga MX game with Tigres, he scored a hat trick. Looking at how quickly the trio of Valencia, Gignac and Vargas has gelled should worry more than a few Liga MX clubs.
But in front of Tigres was Puebla, perhaps one of the weakest sides in the Apertura. The resounding 5-0 win highlighted the team's use of the 3-4-3 formation. Jorge Torres Nilo, a natural left-back looked impressive as left center-back, and Lucas Zelarayan was dominant on the ball when starting plays from the heart of the midfield. Ricardo "Tuca" Ferretti's Tigres are still a work in progress because players who are currently in the Gold Cup are set to return. There's a good chance the team will strengthen the squad by bringing in new players, especially one with similar characteristics to Guido Pizarro's, who left Tigres for Sevilla FC.
3. America has given two lackluster performances in back-to-back weekends
Miguel "Piojo" Herrera's America has lost back-to-back games against Queretaro, in different places, and with different starting lineups. In both matches, Las Aguilas couldn't score. In their recent 1-0 loss to Los Gallos, the team couldn't capitalize on its scoring chances with Oribe Peralta, Silvio Romero and Darwin Quintero on the field.
It's true that Queretaro's 1-0 win came thanks to a penalty in the 87th minute, but that shouldn't hide the fact that America had a hard time creating threatening plays in the final third. What Saturday's game showed is that Herrera will have a difficult time finding the right set of attackers, but when he finally finds them, a sense of normality will return to Estadio Azteca.
4. Even with all the absences, Chivas' fight is visible
Nobody said it would be easy for Chivas, the league's defending champions, to start off the season with up to six notable absences in their XI -- Jair Pereira, Orbelin Pineda, Alan Pulido, Jose Juan Vazquez, Rodolfo Pizarro and Oswaldo Alanis. However, in their first game against Toluca, where manager Matias Almeyda handed league debuts to Fernando Beltran, Jose Juan Macias and Angel Lopez, Chivas gave a valiant performance. The team's style and personality could still be seen even without their strong core. The scoreless draw against Los Choriceros demonstrated how stable Almeyda's squad is at Chivas.
5. A significant number of debuts to tip off the Apertura
Thirteen debuts occurred in Liga MX's Week 1, with Chivas leading with three new players. Monterrey saw USMNTer Jonathan Gonzalez and 20-year old Mexican striker Angel Lopez get their first minutes in Mexico's top-flight. The oldest of the bunch was Toluca's 30-year-old Rodrigo Lopez, who played for clubs like Chivas USA and Sacramento Republic FC.
Other debutantes included Leon's Alan Cervantes, who's on-loan from Chivas, Xolos' Daniel Lopez, Club America's Enrique Cedillo, Atlas' 19-year-old goalkeeper Jonathan Estrada, Pumas' Brian Figueroa, and Tigres' Raul Torres.
And lastly, Lobos BUAP, who drew 2-2 against Santos Laguna in their Liga MX debut, saw Eduardo Tercero get his first Liga MX minutes.
One of the reasons for the significant and rare number of debuts is that most of the teams are still making minor tweaks to their roster, while others have several of their starters participating with Mexico in the Gold Cup. Nevertheless, it's refreshing for Liga MX to see a good number of young players getting their shot in Mexico's First Division.
Nayib Moran covers Liga MX and the Mexican national team for ESPN FC. Twitter: @nayibmoran.