Liga MX Power Rankings: Monterrey remains king as Mexico City clubs flounder
MEXICO CITY -- If the playoffs started today, not a single one of Mexico City's three teams would be through. Furthermore, five of the eight teams who made the playoffs last season would make the cut this time around, including Queretaro, who last won a game in 2018.
One of the reasons why so many fans are drawn to Mexican soccer as a whole is its unexpected nature, the unique parity that can allow for a good number of teams to win the league on any given season. However, is there actually a rhyme or reason to this apparent randomness? Can we boil a team's success or lack of down to statistics?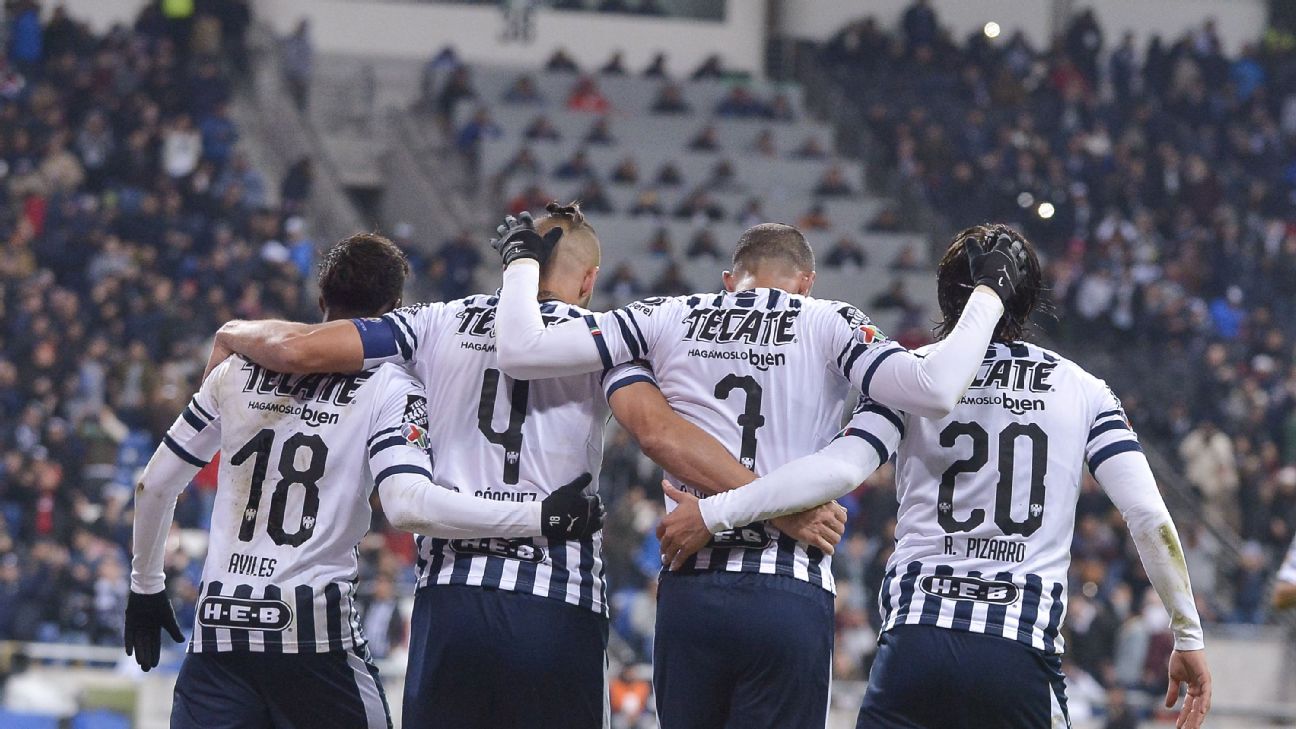 Expected goals (or xG, as it is abbreviated) is one of the easiest advanced stats to master in soccer. The more a team creates clear-cut chances, the higher the xG and the expectation to score. Barring truly horrid finishing or a goalkeeper having a career day, a team with a big number can be expected to win most of the time.
The folks over at Soccer Nurds have compiled xG for Liga MX teams, and we're putting those stats to use today in order to truly gauge whether teams' performances this season are a true reflection of their expected success.
Here are the Power Rankings after Week 7:
Previous rankings: Week 6 | Week 5 | Week 4 | Week 3 | Week 2

xG per game: 2.08. After seven games, Diego Alonso's boys have outpaced their expected goal number in a big way, scoring 20 goals thus far and seven in their last two games. Led by Rogelio Funes Mori, who cracked home a brace last Friday against Morelia in a 3-2 win, Los Rayados are looking like early favorites to win it all -- even if their real output (versus what's expected) starts to slow down somewhat in the future.
xG per game: 1.98. Angel Mena and Jose Juan Macias have put ten of Leon's 16 goals this season away. Both the Ecuadorian and the Mexican are in fine form, but their defense has also been a shining star. During their current four-game winning streak, Leon has scored 12 goals while keeping a clean sheet each time. Against Toluca on Saturday, they allowed exactly zero shots on target. Anyone can analyze those stats.
xG per game: 1.19. Through seven games, Chivas is outpacing its advanced stat prediction, with ten goals so far. Much like Leon, the defense has been the true star: Guadalajara's defenders have given up just four goals all season. On Saturday, their offense got a much-needed boost from Alexis Vega, who busted out with three goals (he had been held scoreless all season) against Atlas.
xG per game: 1.29. There have been several points throughout the season in which it appeared as if Pumas could bring more to the table, and their xG reflects that. They've scored just seven times this season, and finishing has been a problem. On Sunday, however, one crisp header from Carlos Gonzalez was all it took to down rival Club America in an intense, sloppy game.
xG per game: 1.33. With players like Andre-Pierre Gignac and Julian Quinones running the show offensively, it's pretty easy to assume a healthy xG for Tigres. Even then, the Monterrey side has been outclassing on offense, thanks in part to a stat-bending performance from Gignac on Saturday, which saw the Frenchman score two (one, a ridiculous back heel) in order to best Necaxa.
xG per game: 1.08. If there's one team bound for disappointment later in the season, it's Santos. The Guerreros lack punch up front, and the xG (as well as the harder stats) show that. Beyond Javier Correa and Julio Furch, Santos has been unable to generate true scoring opportunities for the better part of the season. Despite the 2-1 win against Cruz Azul on Saturday, they're bound to fall if they don't generate more up front.
xG per game: 1.57. Life is good in Aguascalientes these days, as Los Rayos look to be on their way back to the playoffs for the first time in a long while. Brian Fernandez is a big reason why, as the Argentine has scored six times this season. It's hard to hold a 3-2 loss against Tigres against them too much, but giving up six goals in the last two games should definitely raise some red flags.
xG per game: 1.39. Last season, the defending champs rode a scorer-by-committee approach to the league's best offensive unit. This time around, they'll rely more on the signing of Nico Castillo to generate danger up front. Castillo is noticeably rusty after spending most of 2018 on the bench at Benfica, and it showed on Sunday when he was unable to find the target against old club, Pumas.

xG per game: 1.44. Slowly but surely, Oscar Pareja has moved the team toward a more competitive state than in past seasons, though the model expects an even bigger boost if Xolos' forwards can find the target. Tijuana players have scored just seven goals this season, meaning many clear opportunities have been squandered. Even then, they managed to put three past hapless Veracruz last Friday.

xG per game: 1.02. Beyond Leo Ramos, this team just doesn't create that much offense. The good news for Lobos is -- it doesn't matter. At least not yet, as Ramos has been scintillating in front of goal, with five scores (and one in Sunday's 3-1 win over Queretaro) this season, half of his team's output.
xG per game: 1.50. Another team severely underperforming in front of goal, Pachuca could benefit from extra training to turn their performances around later in the season. With just eight goals so far, it seems like a missed opportunity to draw against Puebla on Friday, especially when they managed to get 15 shots off.
xG per game: 1.11. On the flip side, Puebla will feel relieved to grab two straight last-minute results courtesy of Matias Alustiza goals against Atlas and now Pachuca. The streak likely won't last, so it's up to coach Chelis to look to create better opportunities for his side moving forward.
xG per game: 1.16. Despite early success this season, the model is catching up to Atlas as the Clausura wears on. After losing to Puebla in the 89th minute last week, they were demolished by rivals Chivas on Saturday, due in part to their lack of creation.
xG per game: 1.16. It's been well-established that losing Ivan Marcone this offseason has severely hampered Cruz Azul's ability to defend, but the balance Marcone brought to the pitch also has a negative effect up front now that he's gone. The team has scored just five goals all season.
xG per game: 1.07. On Friday, Morelia put two past Monterrey in a thrilling match, but it was only the second time this season they'd scored more than one goal in a game. With five goals this season, Morelia is still lagging behind their modest xG after nearly half the campaign gone.
xG per game: 1.39. The good news? It can't get any worse than this. Toluca is a team that consistently gets to the opposing goal and creates chances. The finishes haven't been there this season beyond Enrique Triverio. Assuming they're able to return to the mean, the team can expect better results in the second half of the Clausura.
xG per game: 0.87. Time is up for Rafa Puente after a shocking start of seven straight losses. As has been repeatedly stated here, it's not all his fault. Queretaro did a horrible job of roster building this season, and though their xG is the second-worst in the league, they've managed to underperform -- scoring just three times.
xG per game: 0.61. The worst roster in the league has, unsurprisingly, the worst xG. The only surprise here is that Veracruz has managed to cobble together two draws this season despite not scoring a single goal.