Standard Liege's Victor Valdes felt 'very alone' at Manchester United
Victor Valdes said he felt so isolated at Manchester United that he was worried no one at the club would have noticed if he had been knocked unconscious.
Valdes has joined Standard Liege on loan, bringing an end to an unhappy spell at Old Trafford when he made just two first-team appearances.
He was denied a squad number or a place on United's preseason tour last summer after manager Louis van Gaal claimed he refused to play for the reserves, which Valdes refuted.
And the 34-year-old had to train alone with just academy goalkeeping coach Alan Fettis, leading him to fear the worst if he suffered a serious injury.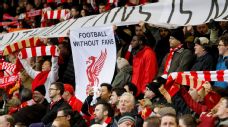 "What if I were to hit the post and were to lose consciousness, and if I swallowed my tongue?" Valdes told El Pais that he asked Fettis.
"Alan replied: 'I've got my phone in my pocket, I'd call and they'd come to help you.' I told Alan: 'I feel very alone.'"
Valdes has already made as many appearances for Standard as he did for United but denied he feels bitter towards Van Gaal, despite being exiled from the team.
"Rancour? Not at all," the triple Champions League winner added.
"He gave me the chance to debut at Barca, he picked me up when I didn't have a side and he gave me the chance to recover from my knee injury.
"I'll always be thankful. Deep down, if it wasn't for him, I wouldn't be here.
"I was training alone [at United]. Do you know what is that? Here [at Standard] I am happy just to be in the dressing room. For me [Standard] are the best club in the world."